The 15th London Design Festival celebrates innovative design and creative solutions, with the participation of several 3D printing startups.
Don't Miss: Batch Works use Ultimaker 2+ as a Perpetual Printing Machine
Now in its fifteenth year, the London Design Festival is an annual event to celebrate and promote London as the design capital of the world. Between 16-24 September 2017, the festival organizes and supports hundreds of unique events across the city in multiple venues and institutions.
The goal is to celebrate design in its broadest scope, from the local to the international. And of course, newer technologies like 3D printing play a major part of the festivities. One institution taking part is Machines Room, an open access maker space located in Hackney, East London.
Machines Room's exhibition for the London Design Festival is called A New Normal; entry is free and it's taking place 18-23 September 2017. The premise is to ask the question; 'Who is making products for a world beyond mass-production?'
The participants — many of which were incubated by Machines Room — are taking part on the basis of their groundbreaking work in the design and production of their goods through online customization and digital manufacture. And these aren't mere concepts; each exhibit is a real business that invites visitors to actively participate in the manufacturing process.
Fancy laser cutting your own jacket, for example? Or parametrically designing a table for your living room? Here"s your chance.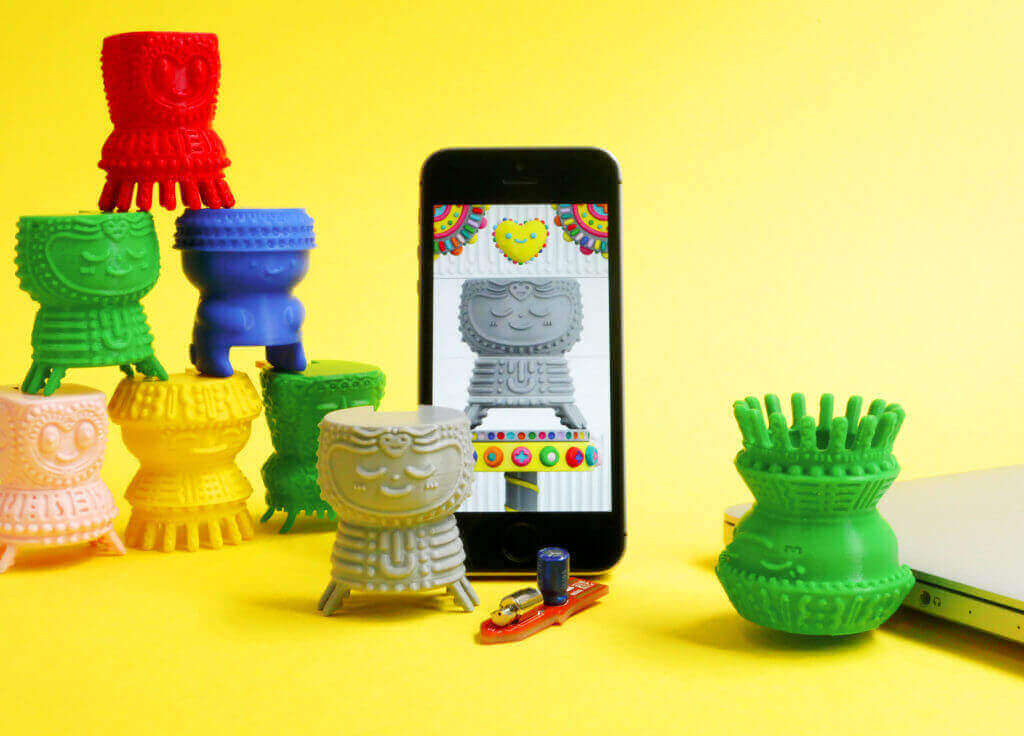 3D Printing Innovators at the London Design Festival
Intrigued? You should be. This is a can't miss event. Contributors to the show are a veritable who's who of creative 3D printing in London.
Batch.Works is the 3D printing lab in residence at Machines Room, run by Julien Vaissieres and Dylan Bahnan. Their aim is to manufacture things closer to the individual user — the right thing, at the right quantity, at the right price. After trying to make their own products they realized the normal way of getting things made was a little constraining. Small batch seemed to mean expensive and bespoke whilst big batch meant cheap at 10,000+. To make things in the middle of the city at a small scale, the obvious choice was digital tools. They print for and collaborate with others, making 3D printed consumer products part of people's everyday lives. With their 1mm nozzle they try to print faster; with their auto-print technique they print more easily, and with years of printing experience they print better.
Disrupt Disability are using parametric design, digital fabrication and distributed manufacture to make customized wheelchairs accessible, affordable and attractive. They have created the first ever modular wheelchair system so wheelwearers can interchange parts and optimize their wheelchair for their body, lifestyle and their environment. They are creating a platform so customers can fit and customize parametric module designs. They are establishing a network of designers and makers, to sell modules on their platform. Born out of a series of hackathons for wheelchair users, designers and makers, Disrupt Disability are making wheelchairs people want to wear.
Wonderbots is democratizing 3D printing by creating an app that allows people to customize their own robots using a simple swipe action. The app plugs directly into the manufacturing platform 3D Hubs where the customer can then easily get their bot 3D printed, ready to play with at home.
Finally, Kniterate is a desktop digital knitting machine that brings fashion fabrication into small workshops. It allows designers, artists, illustrators and makers to automatically create custom knitted products and share their work across its platform. Kniterate predicts a world of completely personalized garments which will be embedded in daily life. The machine aims to recover artisanship in fashion manufacturing while bringing modernity to its users. Kniterate was enabled by the crowdfunding platform Kickstarter and Machines Room's Maker in Residence programme.
BONUS: Want to hear about another 3D printing innovation at the London Design Festival? Check out the OurOwnsKIN event on 20 September. The theme of discussion is 'Can understanding our body's material make up inspire product design for the future?' Have fun!

License: The text of "Creative 3D Printing Startups at the London Design Festival" by All3DP is licensed under a Creative Commons Attribution 4.0 International License.
Subscribe to updates from All3DP
You are subscribed to updates from All3DP
Subscribe
You can't subscribe to updates from All3DP. Learn more…