University of Tokyo researchers have recently shown off their developments in projection mapping, giving us a glimpse at a real time system that dynamically projects 8-bit color images at almost 1,000 frames per second.
We're partial to the occasional off-topic story here at All3DP, and the imagery in this story is just too good to pass up.
A research team based at the Ishikawa Watanabe Laboratory at the University of Tokyo has been developing a new system of projection mapping fit for a world in which virtual reality and augmented reality are the norm.
An effort to fuse the digital world with the real, unconstrained by physical hardware — "Reality X" as they refer to it on the laboratory's website — the researchers' solution is to turn to uncannily reactive projections.
Imbuing the objects, or people as demonstrated in the latest video, with trippy, unnatural characteristics complete with the appearance of reflective lighting, it's a sensation to see.
Reality X: Real Time Projection Mapping
Initial efforts by the lab to create faster-than-perception projection mapping involved the use of a black and white projector linked to a speed matching sensor system. Dubbed DynaFlash, it is capable of switching images 1,000 times per second, dynamically projecting images onto a hand-held moving plate instantaneously.
That was back in 2015. The next challenge for the team was to conquer color. DynaFlash V2 builds upon the work behind the first projector, a new high-speed projector capable of casting 8-bit color imagery at near-DynaFlash V1 speeds of 947 frames per second.
Consisting of 3 LEDs and 1 DMD (digital micromirror device – a common component in DLP projection), the new projector is capable of mapping complex textures and simulating light to give the effect of deformation and a false surface finish where there is none. It achieves this via a marker-based 3D tracking method the researchers developed in 2017.
Potential uses for this technique of projection mapping include performance art, but it strikes us as an ideal fit for the likes of Amazon's blended reality "try before you buy" mirror. Imagine stepping in front of your mirror and a prospective outfit appearing on you in an instant — twisting and turning as you check yourself out. Or you could go for the amorphous green dude look, demonstrated in the gif below. We don't judge.
Source: New Atlas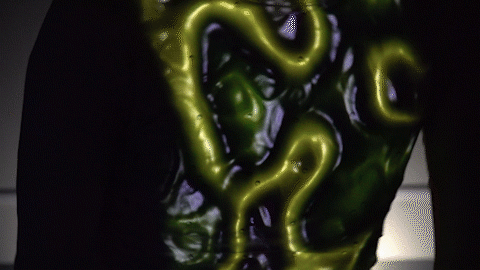 License: The text of "Check Out This Insane Real Time Projection Mapping" by All3DP is licensed under a Creative Commons Attribution 4.0 International License.
Subscribe to updates from All3DP
You are subscribed to updates from All3DP
Subscribe
You can't subscribe to updates from All3DP. Learn more…