Does your daily commute need an extra push? This 3D Printed bicycle boosterpack converts your ride into an e-bike for a fraction of the cost.
E-bikes and e-bike conversion kits are everywhere, but that doesn't make them particularly affordable. That's why one maker decided to go ahead and build his own.
Hoping to avoid a thousand dollar price tag to upgrade his bike, engineer/designer/bike rider Michael Graham designed and printed a detachable bicycle boosterpack that clips onto the back of an ordinary bike.
When engaged, it presses against the wheel, giving riders a big boost. There's only one cable, too, making it less confusing for non-engineers and non-makers.
Check out the Bicycle Boosterpack in action:
Bicycle Boosterpack? Gimme the Deets!
Wanna make your own? Folks can buy the necessary STL files via Pinshape for $10. The parts are printable in ABS, but haven't been tested in PLA.
After you've got the files from Pinshape, go to Instructables for the bill of materials, bike requirements and mounting process.
Once fully assembled, the little battery has a 600 watt output and can reach up to 25 mph with pedal assist. It offers 5 minutes of pure boost or about 10 minutes of assisted riding. It weighs only 4 pounds and is easy to remove. The pack also fully disengages from the tire when not in use, meaning it won't drag you or your tires down.
The kit can be attached and transferred to almost any bike. Graham notes that the booster pack does not, however, work with bikes that have rear wheel suspension. The pack is designed to be mounted on round seat posts or frame tubes between 21 and 39 mm in diameter, which covers pretty much all adult bicycles. And, while it's safe to have attached during rainy weather, it can't be used to boost wet tires.
On top of being a cool and practical design, it's incredible to see what just one maker and his printer can accomplish. Not content to rest on his laurels, Graham is now experimenting with expanding the concept to scooters.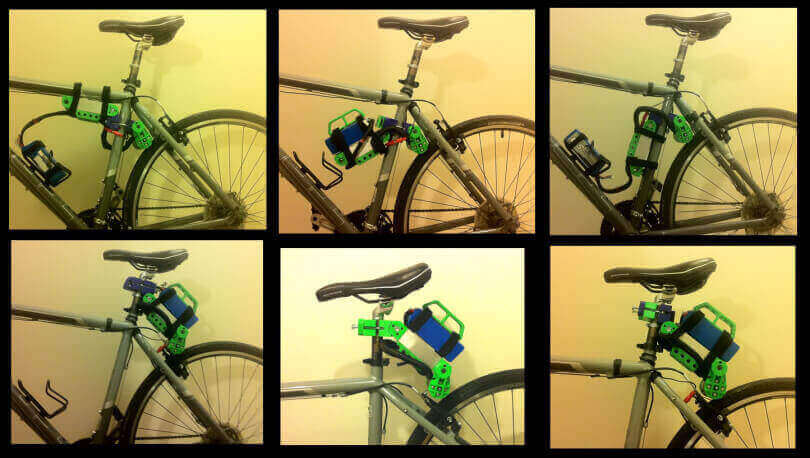 License: The text of "Bicycle Boosterpack is an Awesome E-Bike Conversion Kit" by All3DP is licensed under a Creative Commons Attribution 4.0 International License.
Subscribe to updates from All3DP
You are subscribed to updates from All3DP
Subscribe
You can't subscribe to updates from All3DP. Learn more…