Banksy art pieces are being brought to homes with the use of 3D printing (and probably not to his knowledge).
The British street artist Banksy has an extremely unique style, and now his 2D artwork has been turned into 3D sculptures to grace your home, from coffee tables, desks, and all of your shelves!
Render3Dart is a Chicago-based startup created by three art enthusiasts who asked the question — when it comes to displaying art within the home, why should your walls get to have all the fun?
So they decided to start a company for the purpose of creating 3D printed renderings of famous street art.
Banksy — with his stencilled graffiti and satirical social and political commentary — has been called both a vandal and a genius creating hundreds of pieces from books to street art, yet still managing to keep his identity a secret.
Street Artist Banksy As A First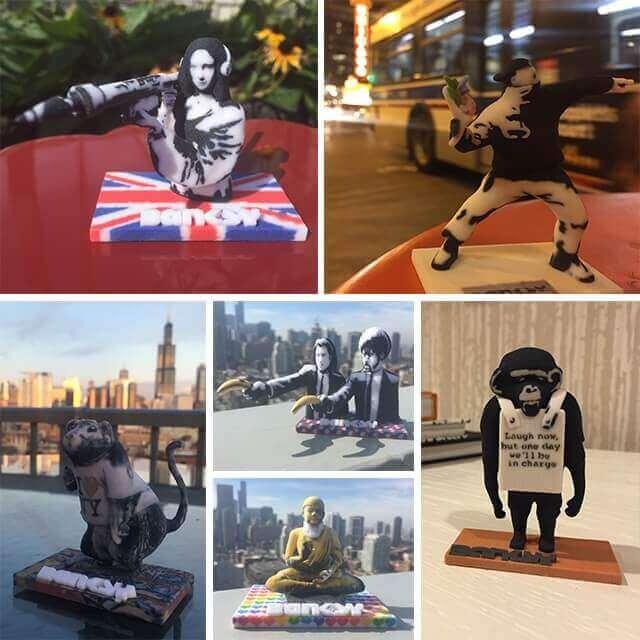 Render3Dart has launched their Kickstarter campaign, currently based entirely on Banksy.
Printed in high-quality multi-color sandstone, some of Banksy's most well-known works have been recreated as 2- to 3-inch-tall figurines.
As above, the first printed set includes Mona Lisa, Flower Chucker, I Love NY Rat, Pulp Fiction, Injured Buddha, and Laugh Now Monkey.
If you feel your home needs 3D models of famous Bansky work in advance, then the team are offering special treatment for those who come early. Backers who pledge at least $45 to the campaign will receive their choice of one of the six pieces. While the company estimates this pieces will have a retail price of $85.
If you're a huge fan, then you can pay $85 and you'll get two for the price of one, while a pledge of $160 or more gets you your choice of four. $255 will get you a full set of six!
The 3D printed models were rendered using Photoshop, Zbrush 4r7, 3Ds Max, Blender, and Maya. Each print is quality checked twice and their models were perfected after going through several prototypes.
By November 3rd, the company hopes to raise $10,000 and begin shipping in time for Christmas.
Does Banksy Know Of This?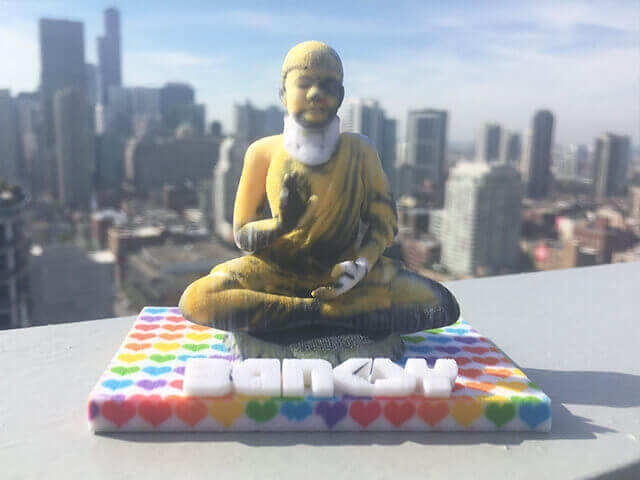 If the campaign is a hit then the team at Render3Dart hope to begin creating the works of other artists in 3D printed form too. The company says:
"With the success of our Kickstarter campaign we hope to bring to life many more 3D renderings of 2D art, so we can do our part to push the boundaries of possibility in the art world. What better artist than Banksy, a man who made a name for himself by taking thought provoking art into places where it 'should not be', to represent us as our first featured artist."
Speaking of provocation, we can't find any statements on the Render3Dart Kickstarter campaign that Banksy is officially involved or even knows about this 3D makeover.
Legally, it's a difficult case, because Banksy's art pieces are displayed in a public space. A worst case scenario to the backers would be a cease-and-desist from the artist himself, like in the Marcel Duchamp Chess Set case (All3DP reported). In this case, the company wouldn't be able to deliver.
We'll keep you updated.
https://d2pq0u4uni88oo.cloudfront.net/projects/2070707/video-590634-h264_high.mp4
License: The text of "Banksy 3D Printed Figurines For Your Home" by All3DP is licensed under a Creative Commons Attribution 4.0 International License.
Subscribe to updates from All3DP
You are subscribed to updates from All3DP
Subscribe
You can't subscribe to updates from All3DP. Learn more…