The beautiful 3D printed "Chess with Mustaches" set is a satirical response to threats of legal action by the estate of Marcel Duchamp.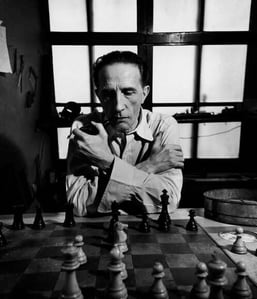 There's one consequence of 3D printing that isn't being talked about, although the implications are staring us in the face every day. It's the debate about intellectual property, and whether IP ownership can peacefully co-exist with artistic expression.
You can create a 3D model, sure, and whack it up on the internet for anyone to download and 3D print… but what if it's a statuette of Mickey Mouse?
Better yet, what if it's a trio of statuettes, of Mickey Mouse, Darth Vader and Spider-Man holding hands and dancing in a circle? Disney (and many other corporate behemoths) have a fierce reputation for calling in lawyers to protect their trademarks.
A real-life example that gives us much to think about is the "Chess with Mustaches" 3D printed set by artists Scott Kildal and Bryan Cera. This beautiful work also happens to be a light-hearted response to a bruising encounter with the litigious estate of Marcel Ducamp.
This is an extremely fascinating case, with a couple of knotty tangles. Let's follow the trail in chronological order, just so everyone is on the same page. Ready? Let's dive in.
Readymake: Duchamp Chess Set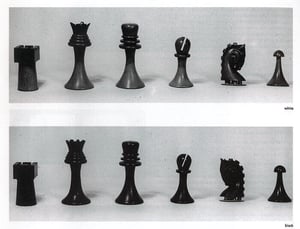 First of all, Marcel Duchamp, a important artist of the 20th century. Duchamp pioneered a "readymade" philosophy, where he would select an ordinary object and then present it for exhibition, modified only by his signature. The Fountain (1917) is a classic example.
Duchamp said in the 1960s of his readymade creations, "I'm not at all sure that the concept of the readymade isn't the most important single idea to come out of my work."
Among his many other achievements, Duchamp was an avid chess player. He crafted a beautiful chess set at the beginning of the 1900s, which has since been lost to the ruins of time. To clarify, the original work no longer exists.
In 2014, Kildal and Cera used a photograph of the chess set to build a 3D model, and then shared the printable files on Thingiverse and Instructables. The accompanying statement read:
Readymake: Duchamp Chess Set is a 3D-printed chess set generated from an archival photograph of Marcel Duchamp's own custom and hand-carved game. His original physical set no longer exists. We have resurrected the lost artifact by digitally recreating it, and then making the 3D files available for anyone to print.
Such a project seems wholly sympatico with Duchamp's work, bringing the concept of the appropriated object into the realm of the internet and 3D printing. Duchamp would have been tickled to see imperfect copies of his chess set manufactured on a multitude of 3D printers.
Here's where it starts to get weird. The pair received a "cease and desist" letter from the Duchamp Estate. The Estate did not see the artistic value of the 3D printed replica. They threatened a lawsuit, whereupon Kildal and Cera chose to take the 3D model down to avoid litigation (but it can still be found on the Internet Archive).
Enter Chess with Mustaches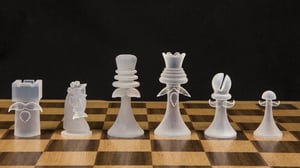 But the story doesn't end there. The artists have now released a "mustached" version of the chess set, in reference to another famous Duchamp work, L.H.O.O.Q. (1919) a.k.a. the Mona Lisa with a mustache.
This time, however, the STL files for "Chess with Mustaches" are not available for download. The set is only available as a 3D printed, physical product. According to an interview, this gives the pair greater protection from a possible lawsuit.
While this chess set is definitively better than Readymake design, it continues to stir debate, as seen on this Reddit thread.
Did the artists have the right to recreate and share the chess set, since they did so from a photograph and not from the actual chess set? If they copied a real chess set, would they have been able to share it on the web for free? Should they have given it a name that made no references to Duchamp?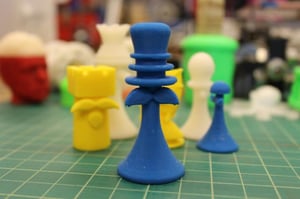 From the perspective of the Duchamp Estate, they evidently don't believe that this kind of project is beneficial to Duchamp's legacy. But how long do copyrights last for such artistic works? Which country has jurisdiction, if the original work originated in France, and the newer work came from the United States?
The law seems to be on the side of the Duchamp Estate, especially as far as the Readymake version in concerned. But "Chess with Mustaches" falls into a greyer area of parody, which hopefully doesn't violate copyright regulation.
Nevertheless it might be the discussion around these objects, rather than the objects themselves, that make a greater contribution to global culture. And Duchamp himself would likely have approved of that.
Image sources: Kildall.com
License: The text of "Chess With Mustaches a Hilarious Response to Legal Quagmire" by All3DP is licensed under a Creative Commons Attribution 4.0 International License.
Subscribe to updates from All3DP
You are subscribed to updates from All3DP
Subscribe
You can't subscribe to updates from All3DP. Learn more…