Leap forward with technology: Audi has used metal 3D printing technology to create a half-scale replica of the 1936 Auto Union Typ C.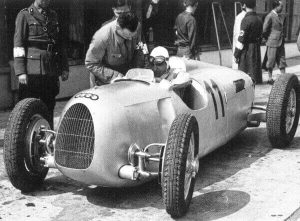 Carmaker Audi has used the Volkswagen Group's 3D printing technology to create a half-scale model of its 1936 Auto Union Typ C Grand Prix sports car.
The tiny replica of the Typ C, which can just barely fit a full-sized adult, is intended to demonstrate the potential of metal printing technology in the production of complex components.
All the metallic parts of the Silver Arrow model Auto Union Typ C were printed using a selective laser sintering (SLS) process, where layer upon layer of metallic powder are melted into shape.
The grains in this powder measure just 15 to 40 thousandths of a millimeter, or roughly half the diameter of a human hair.
Audi is excited about 3D Printing
Head of Toolmaking at the Volkswagen Group, Prof. Dr. Hubert Waltl, says the company's ultimate goal is to use metal printers in the series production process:
"We are pushing forward with new manufacturing technologies at Audi Toolmaking and at the Volkswagen Group. Together with partners in the area of research, we are constantly exploring the boundaries of new processes. One of our goals is to apply metal printers in series production."
Industries like carmaking and aerospace are increasingly attracted to metal 3D printing techniques. A process like laser sintering allows for the creation of intricate aluminum and steel components that are otherwise impossible to manufacture with traditional methods.
Components printed using this technique are also denser than those made using die casting or hot forming. Currently, the company's SLS machines are capable of creating shapes and objects up to 240 mm (9.45 in) long and 200 mm (7.87 in) high.
If you've been following the headlines this week, it's not just Audi that's keen on using 3D printed components in its cars. Local Motors is planning to produce a production car that is roughly 75 percent 3D printed.
Source: Audi
License: The text of "Audi 3D Prints a Scale Replica of a 1936 Grand Prix Race Car" by All3DP is licensed under a Creative Commons Attribution 4.0 International License.
Subscribe to updates from All3DP
You are subscribed to updates from All3DP
Subscribe
You can't subscribe to updates from All3DP. Learn more…