We're excited to announce that All3DP is partnering up with the popular 3D model marketplace Cults to integrate our price comparison engine into their platform, bringing affordable and professional 3D printing to users across the globe.
Whenever we want to find a unique (and usually free) project or part to 3D print, most of us will explore the depths of a 3D model marketplace to obtain the perfect design. It's always fun to make an action figure from our favorite movie or a useful household item, but sometimes you come across a 3D model that deserves professional-grade production. The main problem here is that most makers only have access to a low-cost desktop FDM 3D printer, which restricts the quality you can ultimately achieve.
There are numerous 3D model marketplaces out there that offer STL files for free download, one of our personal favorites being the French platform Cults.
Cults was originally founded in 2014, becoming the first fully independent platform for printable 3D models. With around 225,000 members located across the world, the 3D design marketplace is growing at a rapid rate, adding over 500 new makers and enthusiasts to their ranks on a daily basis. You can find more than 25,000 uploaded designs from a community of 3,000 designers and 3D printing specialists.
Unlike other 3D printable model marketplaces, Cults is carefully curated to provide only highest-quality 3D models. The platform is loaded with an endless stream of free and paid models, all of which are neatly divided into categories to make browsing easier.
By integrating All3DP's 3D Printing Price Comparison Service into the Cults platform, users can now print their favorite models with low-cost professional-grade additive manufacturing. The process is quite simple. After you find the 3D model you want on Cults, you'll have the option to download it or, if you want to have it printed on a professional-grade 3D printer, select the second option to compare different 3D printing prices with All3DP.

After selecting the material you wish to have your selected Cults model printed with, our advanced engine will compare and share prices from different professional 3D printing services from all over the world.
When you press the "Compare Prices With All3DP" button on the Cults website, your selected model will be automatically uploaded into our price comparison engine, allowing you to select from a plethora of materials, including various metals, plastics and even castable wax. You can even select the finish for your Cults 3D model.
Once you've sorted out the material and finish, All3DP will instantly bring you different prices from all available 3D printing services and hubs. To find the best price for your professional 3D printing needs, All3DP works with some of the top 3D printing service bureaus, including Shapeways, i.Materialise, Sculpteo and many others.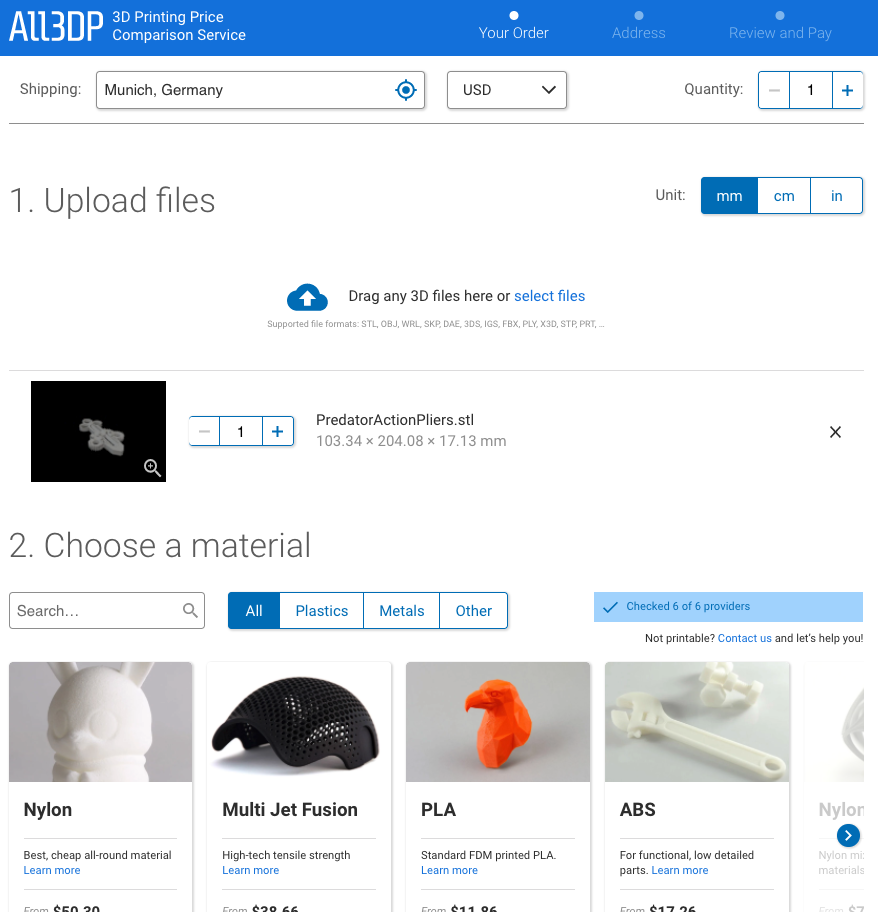 License: The text of "All3DP and Cults Strike Partnership to Bring Professional 3D Printing to the Model Marketplace" by All3DP is licensed under a Creative Commons Attribution 4.0 International License.
Subscribe to updates from All3DP
You are subscribed to updates from All3DP
Subscribe
You can't subscribe to updates from All3DP. Learn more…