Christmas comes early to users of the LulzBot 3D printer range. Aleph Objects announce 10 new products to enhance the 3D printing experience.
Don't Miss: LulzBot Mini Review: This Mighty 3D Printer Does the Job
Aleph Objects, makers of the popular LulzBot Desktop 3D Printers, have announced 10 new products for their 3D printing ecosystem.
LulzBot 3D printers get some hefty optional upgrades, with 10 new products from Aleph Objects.
The products span the entire gamut of free Software, tool heads, printer accessories, and filaments. The only thing missing are new 3D printer models. But this is still a significant boost in functionality and user experience.
Aleph Objects president Harris Kenny affirms that the new products demonstrates the company's continued commitment to 3D printing innovation and collaboration.
"Free, Libre, and Open Source development respects user freedom, drives better products, accelerates innovation, and strengthens user communities," he says. "With these new products, the LulzBot ecosystem offers users more evolved tools to make everything."
The most exciting items are the LulzBot TAZ Dual Extruder v3 Tool Head, a LuzBot Modular Print Bed System, and a new version of LulzBot Cura. Also intriguing are smaller releases; a graphical LCD controller for the LulzBot Mini and a set of toolheads built around the Titan Aero Extruder from E3D.
Season's Greeting from Aleph Objects
The new and improved Cura LulzBot Edition is released today on 22 November 2017. New features include a redesigned user interface, improved automatic support material generation, and many new slicing options for advanced users looking to fine-tune their g-code.
What remains present and correct are the inclusion of factory-tested print profiles for over 30 filament materials across the range of LulzBot 3D Printers and tool heads. The new Cura LulzBot Edition remains easy for new users, but is now more powerful than ever for experts.
The new LulzBot TAZ Dual Extruder v3 Tool Head was released on 21 November 2017. This tool head allows the use of dedicated support material, including soluble filament that dissolves and separates in water.
The Dual Extruder v3 does not require nozzle leveling or offset calibration; is lighter and more compact than its predecessor; and features improved heat sink and part cooling.
"With these new products, the LulzBot ecosystem offers users more evolved tools to make everything."
The LulzBot Mini Modular Print Bed System was also released yesterday. It promises to make maintaining your LulzBot Mini's heated print bed simpler, and enables easy experimentation with after-market build surfaces.
Also releasing soon are the LulzBot Mini Graphical LCD Controller and the Aerostruder Tool Head for both Taz and Mini models. This toolhead features the popular and powerful E3D Titan Aero Extruder and Hot End for high quality 3D printing of both rigid and flexible filaments.
For details on new products as they are released for purchase, sign up here: https://LulzBot.com/product-updates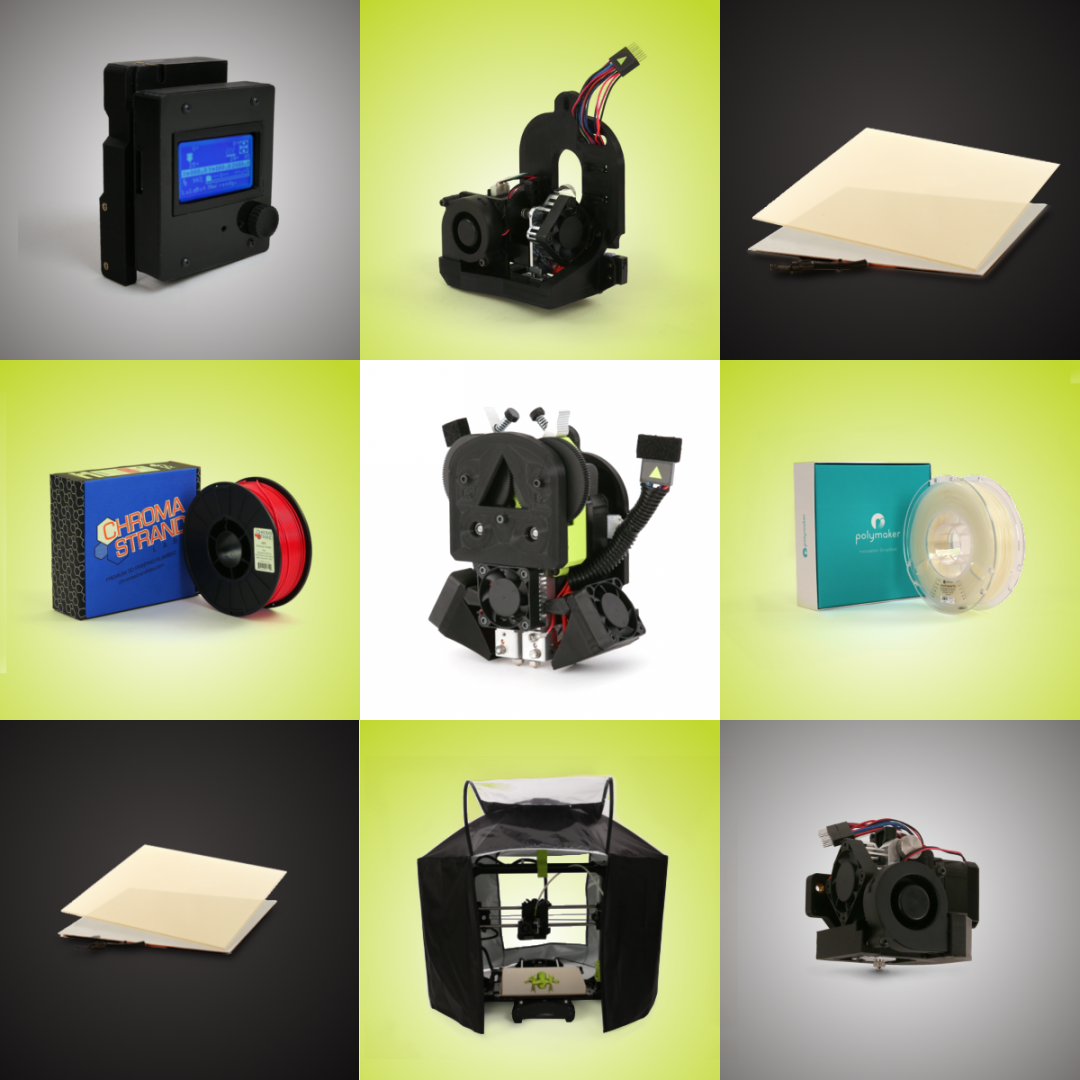 License: The text of "Scads of New LulzBot 3D Printing Products from Aleph Objects" by All3DP is licensed under a Creative Commons Attribution 4.0 International License.
Subscribe to updates from All3DP
You are subscribed to updates from All3DP
Subscribe
You can't subscribe to updates from All3DP. Learn more…