WASP was founded to 3D print homes from 100% natural resources. With 3D printed concrete, they could cut Carbon Dioxide emissions in half.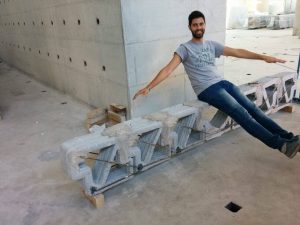 After 10 years of working in electronics and mechanics, Massimo Moretti founded WASP back in 2003. The company was formed to make the world a better place, and create houses and buildings that didn't cause damage to the environment.
This, of course, is a very tall order. They've already managed to 3D print with clay, but what about those of us that live in wood, brick, or concrete buildings? WASP shares their very honest, and realistic realization:
"Wisdom teaches that extremism is never a good thing."
This means that, after many years of research, it's time for a new approach. Now, they are set to tackle specific problems like CO2 generation.
It's no secret that our world is covered in cement. As WASP explains, generating a ton of cement also means generating a ton of CO2. Luckily, 3D printing means cutting down on all kinds of waste.
3D printed concrete means producing roughly 50% less CO2. While concrete printing is certainly not what WASP first intended, it's a wonderfully practical step in the right direction. The WASP printer is able to produce concrete elements that can then be assembled with steel bars and beams or used alongside reinforced concrete as pillars.
The WASP printer is getting a lot of TLC from different researchers. Thus far, it's been examined at the University of Naples, the University of Pavia, and the CeSMA Service Center.
Currently, the printer can, "streamline the forms and save materials, thus lightening the reinforced concrete elements." It is also capable of "curved, hollow elements" that would normally be complicated and expensive.
The researchers at WASP are the real-deal, and clearly want to make a substantial contribution to the environment. Their projects thus far have been self-financed, and earned revenues will go towards more research and production. The Earth will definitely appreciate their dedication.
License: The text of "50% Reduction in CO2 Emissions with 3D Printed Concrete" by All3DP is licensed under a Creative Commons Attribution 4.0 International License.
Subscribe to updates from All3DP
You are subscribed to updates from All3DP
Subscribe
You can't subscribe to updates from All3DP. Learn more…