It's been a busy week for Zortrax, manufacturer of the Inkspire LCD SLA 3D printer. First off, the company has launched three new castable resins, ideal for a wide variety of jewelry pieces and other projects that use the lost-wax casting technique. You can read more about this on the Zortrax website.
Secondly, and perhaps most interestingly for the broader community of resin-printing enthusiasts, is the company's opening up of its flagship software, Z-Suite, to accommodate LCD-based resin 3D printers other than its Inkspire system. As of update 2.11.0 Z-Suite, users of Z-Suite can create custom profiles for third-party LCD-based printers.
On the face of it, this doesn't sound like much, but the move is big news for a couple of reasons.
For one, this is the first time Zortrax has opened up its software to play nicely with other manufacturers' hardware. In the past, we've seen the company — notable for its closed source hardware and software — loosen its tight control of material compatibility for its machines. Outside of this, it has always been Zortrax software for Zortrax machines.
With this update though we see Z-Suite — itself a fairly advanced solution for 3D model slicing — suddenly become a viable slicing option in the notoriously sparse LCD/SLA printing segment. A welcoming embrace, perhaps, and one that leads us to the second significant aspect of this news — this could well be one of the most advanced free slicers going for users of budget desktop resin printers. Where else can you get auto-model orientation prioritizing maximum platform contact, the minimum necessary supports or a blend of the two?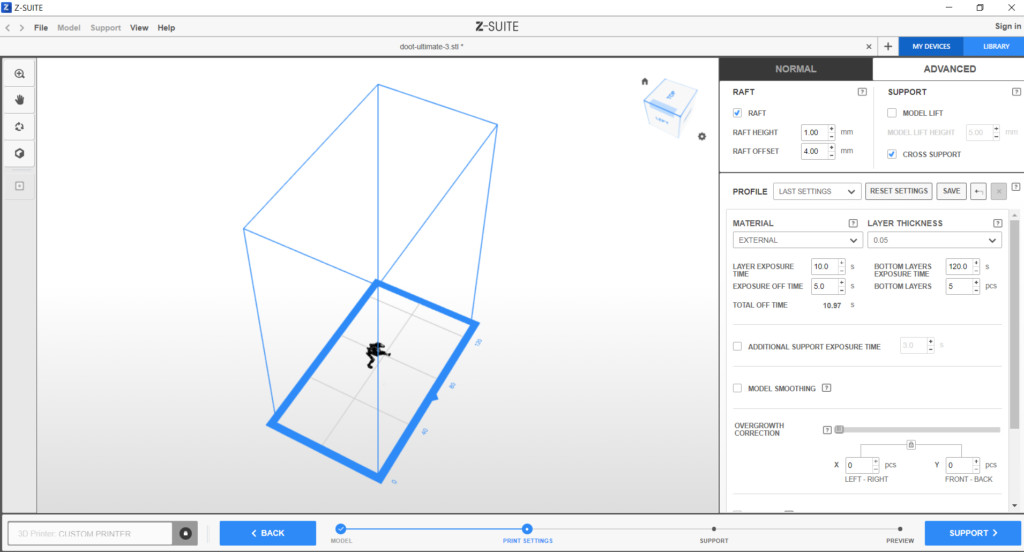 Options, Options, Options
Of late, the number of free slicers available for desktop resin 3D printing pales in comparison to those for desktop fused filament fabrication (FFF.) Perhaps the most robust free offering out there is ChiTu's ChiTu Box software, which sees regular updates and offers the majority of necessary tools for day to day resin printing.
Z-Suite distinguishes itself somewhat by offering the aforementioned auto-model orientation — a boon to those mostly too lazy to spend time optimizing (read: this writer) a part's layout for better printing — alongside a project-based workflow and additional tools such as axis-based model splitting and a well-illustrated support generation wizard.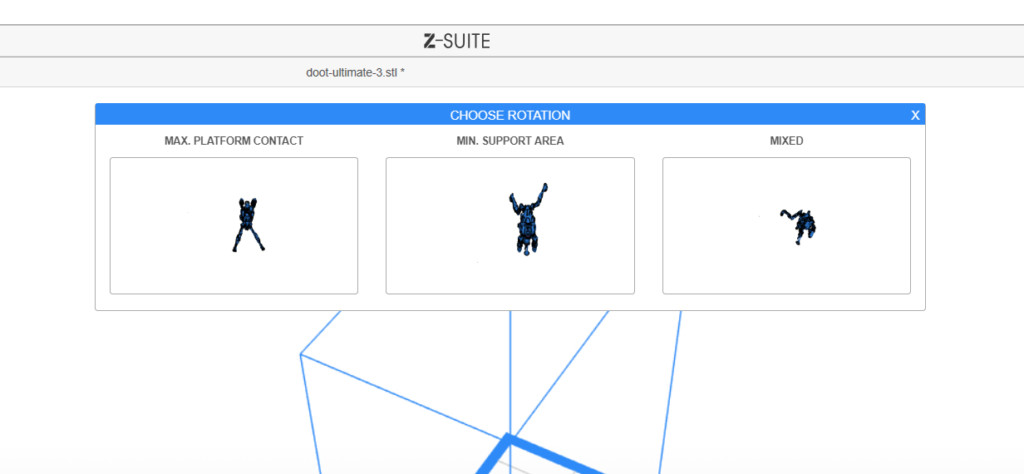 As of version 2.11.0, Z-Suite can export CWS, ZIP, PHOTON, PHOTONS, SL1, and CBDDLP file types. Such a spectrum of files even accommodates machines that use their own unique file type for printing, such as the Anycubic Photon, Photon S, and the Original Prusa SL1.
Clicking around the software, it seems like it has a lot going for it. We haven't tested exporting models for printing on other machines, so can't speak for the results just yet. What do you think? Will you ditch your slicer for Z-Suite?