The printing of end-use carbon fiber-filled composite materials has mostly been the domain of high-end industrial machinery, running in the hundreds of thousands of dollars. Widespread demand across a number of industries for these lightweight and durable composite parts, however, is forcing manufacturers to rethink their offerings.
One such company to offer these carbon composites exclusively on its high-end production machines — costing as much as $350,000 — is Stratasys. But this is no longer the case.
"Our customers are pushing us for easier access to carbon fiber," says Stratasys Senior Vice President of Sales, Pat Carey. "They've told us they want an affordable solution but in a reliable, industrial-quality system."
Previewed in April at RAPID 2018, Stratasys' stab at the situation is a newly rejigged Fortus 380mc Fused Deposition Modeling (FDM) printer. Dubbed the Fortus 380mc Carbon Fiber Edition, this new industrial machine is dedicated solely to two materials — Nylon 12CF, a Nylon blend that is 35% chopped carbon fiber, and an ASA thermoplastic — and comes in at a comparatively trivial $70,000.
Focused on solely two materials, the company is able to offer the system at a dramatically lower price point that its higher-end and more versatile machines.
The Fortus 380mc CFE is capable of printing Nylon 12CF at 0.254mm layer height in a print volume of 355 x 305 x 305mm. To aid in the printing of complex geometries and cavities, is it possible to print water soluble support material in tandem with the main material.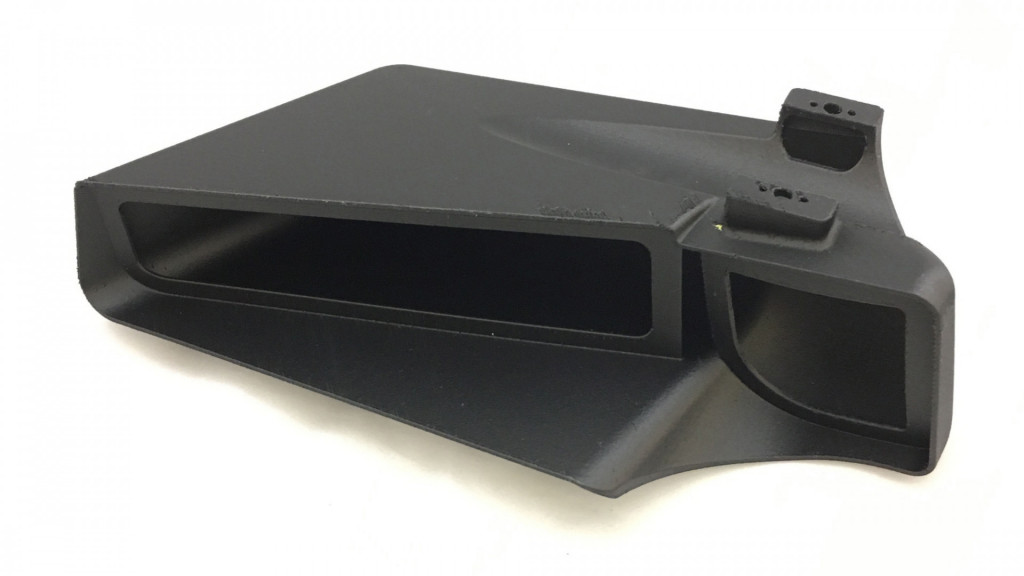 Fortus 380mc CFE: Custom for Carbon
Popularized in recent years for their ability to enable "lightweighting" in automotive applications, carbon fiber-laced composites have seen year on year market growth. Driven by their usefulness in tooling (stronger and lighter tools can mean less worker fatigue), functional prototype stand-ins and even as direct replacements for metal parts, the benefits of using them are clear.
A glowing test case of Stratasys' carbon fiber Nylon 12 material performing in demanding conditions can be found in motor racing's Team Penske and its NASCAR and IndyCar vehicles.
Creating both prototypes and end-use parts from the material, the team recently developed a mirror housing for its NASCAR team that was not only lightweight but exhibited sufficient impact resistance and stiffness for race conditions. The resulting part, a thin-walled piece printed via FDM, is inflexible in the face of high aerodynamic loads on the move.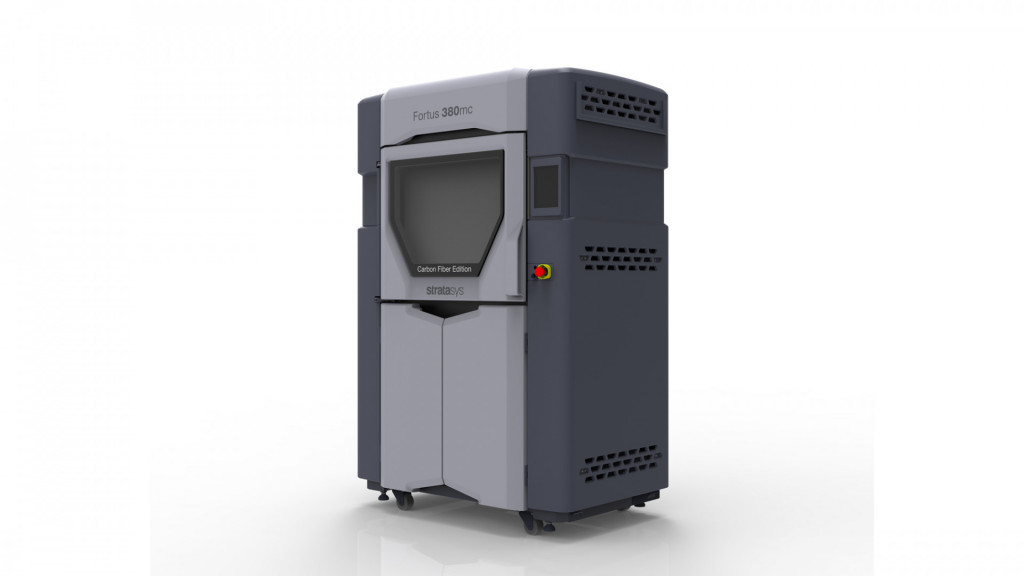 (Lead image: Nylon 12CF custom mirror about to be fitted onto the #22 Discount Tire car of Team Penske, via Stratasys)