As 3D printing technology continues to advance on all fronts, many companies and researchers are searching for ways to make these processes more environmentally sound. As a result, we've seen a number of recycled filaments hit the market, from trash collected on the beach to actual human waste.
Now, the maker community will have the opportunity to 3D print with a high-quality material that is sourced straight from the kitchen. The new High Impact PolyStyrene Plastic (HIPS) filament is made from the insides of recycled refrigerators, offering a more sustainable and environmentally-friendly way to 3D print with this popular support material.
The fridge-based HIPS filament is being developed in the Netherlands by Coolrec, a subsidiary of the international waste-to-product company Renewi, and Refil, the Dutch recycling filament specialist. Typically comprised of a polystyrene and rubber blend, HIPS material dissolves in a limonene solution, effectively doing away with the manual removal of pesky support structures from your prints.
Learn more: HIPS Filament – Explained and Compared
"This collaboration is a good example of two companies at the forefront of plastic recycling working together in their own field of expertise. Discarded appliances are made from and still contain many valuable materials. Using innovative techniques, we are able to recover the plastics and reuse it in the manufacturing of new products, such as 3D filament," says Arjen Wittekoek, Director of Coolrec.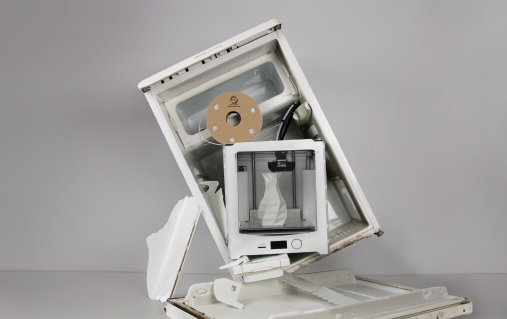 Refil and Coolrec Collaborate to Develop a Refrigerator-Based Filament and More
Despite being a more sustainable option, this recycled material also manages to improve upon certain characteristics that oftentimes hinders the 3D printing process. Branded under the Refil name, this HIPS filament is optimized to eliminate shrinkage and warping. It can also be easily removed from your print with a natural acid solution. Even the packaging for the filament is ecologically sound, as it comes in a fully recycled cardboard box.
According to Casper van der Meer, CEO of Refil, the HIPS filament took around three years to develop and bring to the market. The team had to overcome a number of challenges, such as obtaining a steady supply chain and maintaining consistency with every batch.
Refil and Coolrec are continuing its partnership in order to develop more sustainable options for the filament market, including a black filament that will be made from recycled televisions. The recycled refrigerator-based HIPS is already available on the Refil website, while the TV-based formulation is expected to be released early next year.
As we can infer from the new HIPS filament, Refil and Coolrec have a mutual aim to promote environmentally-friendly 3D printing and pushback against plastic pollution, a fight that will likely prove critical to the success of sustainable manufacturing in the near future.
"Developing HIPS and the collaboration with Refil is another way to protect the world against pollution, preserve finite resources and enable our partners to achieve their sustainability targets. We are therefore very proud to be involved in this circular collaboration," Wittekoek concludes.
The "Recycled HIPS" filament is available for €34.00 from the Refil website. It comes in a diameter of either 1.75mm and 2.85mm.