Meet the Mycusini: it's a chocolate printer starting at €198, soon to make its debut on Kickstarter. Quite simply, it's German startup Print2Taste's (also known as Procusini) second shot at making a splash in the food printer segment. They've proven successful once already with the Bocusini, "the world's first plug and play food printer", which was also met with a warm welcome on Kickstarter back in 2015 – now they're back with an even more accessible machine.
Mycusini is a compact little chocolate printer which will fit in any kitchen – at 19 x 19.5 x 27 cm, it's "smaller than most coffee machines," according to Procusini. Even with this minute form factor, the Mycusini is capable of producing respectable chocolate objects in text outlines, as you can see in the pictures below. Typically, such prints only take approximately five minutes to produce, and another five minutes to cool. In fact, Procusini visited our office to give a live demo of this machine not long before the Kickstarter campaign launched. In our brief experience, the machine completed a print from scratch within the span of a single conversation.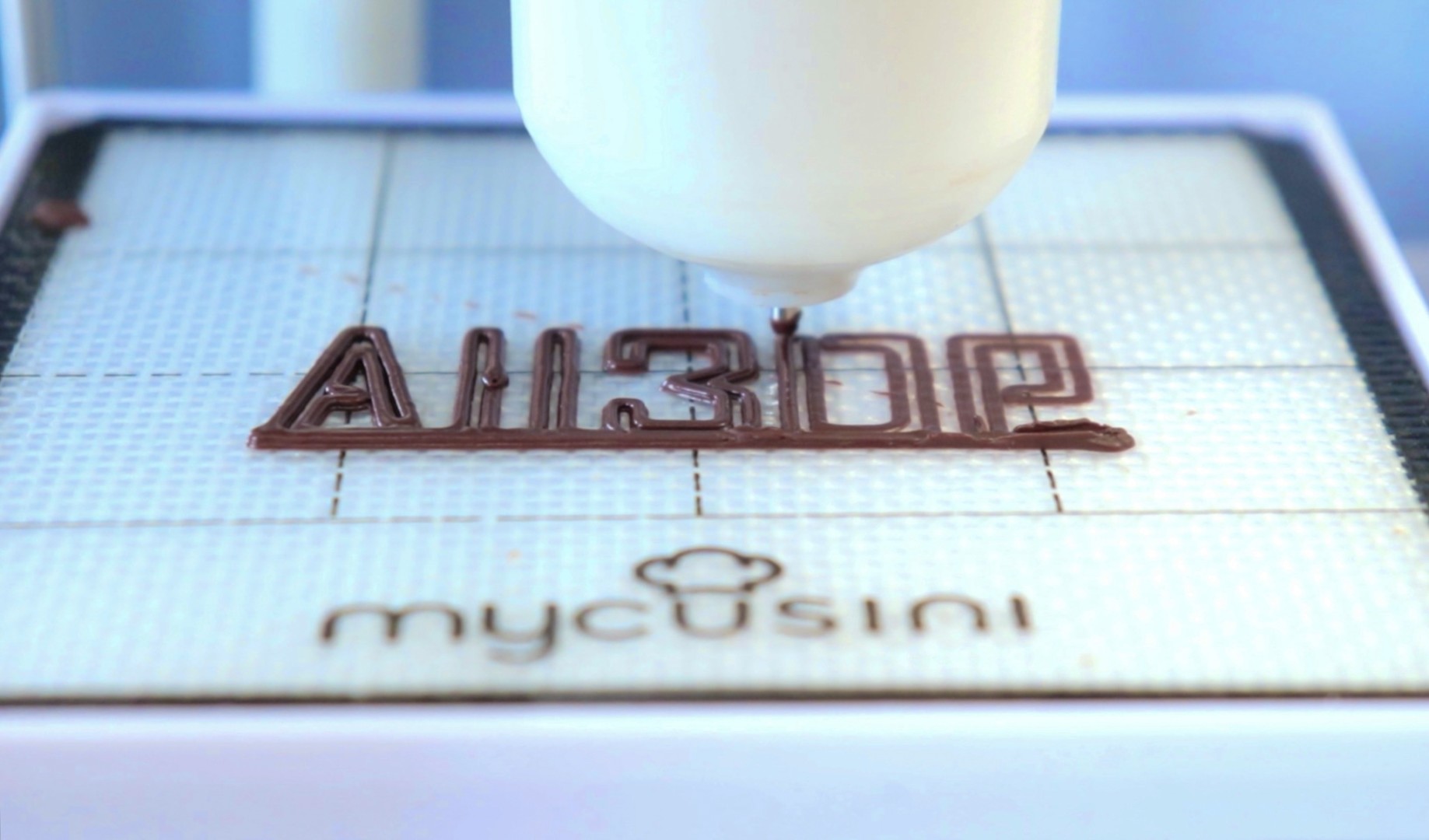 The machine is powered by special chocolate refills provided by Procusini, and a library of more than a hundred different print templates is also available for free. That means certain common designs can be produced on the Mycusini with virtually no effort in the design department. Given that most users of this machine are likely more interested in the final product rather than tuning the layer height of their chocolate text, this free library might prove to be a helpful convenience.
Sending files to print can either be done either via app (wirelessly) or SD card. It's important to mention, however, that this machine doesn't print just any regular STL – the mechanical properties of semi-liquid chocolate aren't really compatible with overhangs of any kind, and the chocolate cartridges aren't of the right size for 3D Benchy's, either. The Mycusini does text outlines and some outlined shapes/ patterns, but not closed volumes. And if this kind of chocolate printing isn't fancy enough for you, Procusini is offering a fully wireless version of the Mycusini which can run for about two hours, untethered.
In terms of fulfillment, things look solid, as well. The quantity of available Mycusini units is capped to allow for a guaranteed delivery by December (or backers get their money back). So this chocolate printer could very well be the "hottie under your Christmas tree" this year, as the manufacturer muses, if all goes to plan.