Successfully funded via Kickstarter way back in 2016, the original Mosaic Palette was a sleek white brick of potential, taking an input of four filaments and intelligently splicing them into one. This single thread, synchronized with your sliced 3D model, would then feed into your printer to create clean multi-color or multi-material prints.
It is a novel solution that has not really been replicated elsewhere, save for Josef Prusa's Multi-Material upgrades for Original Prusa printers (including the releasing now-ish Multi-Material 2.0 upgrade for the Prusa i3 Mk3).
Last summer Mosaic launched the Palette+ which improved upon material compatibility for the system, allowing for TPU and other flexibles alongside the likes of PETG and others.
Now, fresh for 2018, the company has taken a leap forward with the Palette 2. Ditching the brick bod for a slab-like design that wouldn't look out of place mounted to the side of a printer, such a design change nods to perhaps the biggest new thing of the Palette 2: deep printer integration.

Expanding Desktop 3D Printing Horizons
The rise of dual extrusion in desktop 3D printing means that the ability to print two colors, materials, or even geometrically complex parts without a drop in quality is no rarity. However, such an ability is often baked into the hardware of the printer itself.
The real rarity, it would seem, would be in a platform agnostic solution; a multi-material upgrade that is not machine dependent and can carry through generations of printer. The original Mosaic Palette was just that.
The Palette 2 refines this, bringing ease of use via a literal plug-and-play operation.
Indeed, the Palette 2 is said to require connection to the printer by USB and filament feed tube only. Automatic detection and synchronization between printer and Palette would presumably take over, allowing the user to continue printing with their machine as before, except with new four-material printing potential.
That is if the manufacturer of said printer is an integration partner of Mosaic's. At the time of writing the company is working on Palette 2 integrations with Raise3D, MakerGear, Robo, gCreate, MAKEiT and Dremel.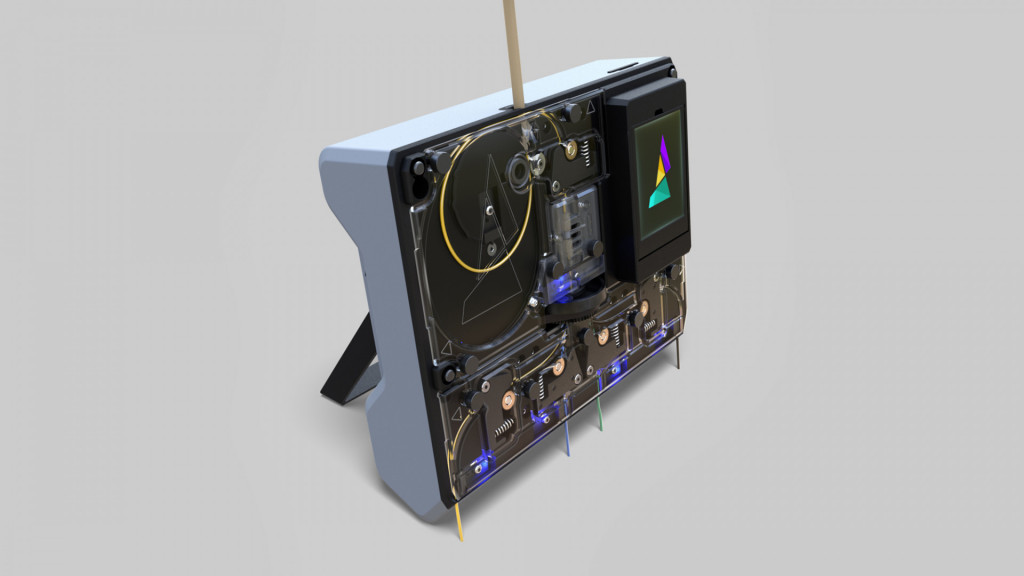 Those working outside of such integrations are not out of luck, though. The process of using Mosaic's machines is not difficult, requiring only a middle step in addition to the expected workflow in passing your G-code through the company's Chroma software.
Mosaic is also working toward improving this aspect of multi-material printing by launching CANVAS, the company's first slicing engine, in tandem with the Palette 2. This browser-based slicer places emphasis on usability with upcoming features including the "painting" and colorization of models for 3D printing.
Available for pre-order for $499, the Mosaic Palette 2 will have an MSRP of $599 — a significant drop from the Palette+'s $799.
A Palette 2 Pro will also be available, which the company claims will be 20% faster than the vanilla Palette 2 in order to keep pace with professional printers. It is currently listed on the Mosaic website for $599 (with an MRSP of $699).
Shipping for both versions is expected to commence in October.