From fully 3D printed cars to habitable concrete homes, the ongoing advancement of large-format 3D printing has started to impact a wide range of industries. And, let's be honest, when you're able to avoid the inherent size limitations that additive manufacturing presents, the possibilities of what you can create grow substantially.
However, there are still a number of limitations that have hindered the adaptation of large-format 3D printing, one of the most noticeable being the lengthy amount of time it takes to produce a gigantic object in a layer-by-layer fashion.
Massive Dimension, a Vermont-based company that specializes in large-format 3D printing, is looking to overcome this hurdle with its new product. The MDPH2 is a direct pellet head extruder that offers higher productivity and increased print times for large-scale 3D prints.
But can you use it on your own 3D printer? Well, the manufacturer claims that the MDPH2 can be mounted onto any movement system, and has already been installed on both industrial robotic arms and XYZ-based systems.
Priced at $4,949, this direct pellet head extruder is a heavy duty option that seems marketed toward professionals and small businesses that want to print large objects at a faster speed. By using a direct pellet head instead of filament, the thermoplastic material can be extruded at a faster and more consistent rate.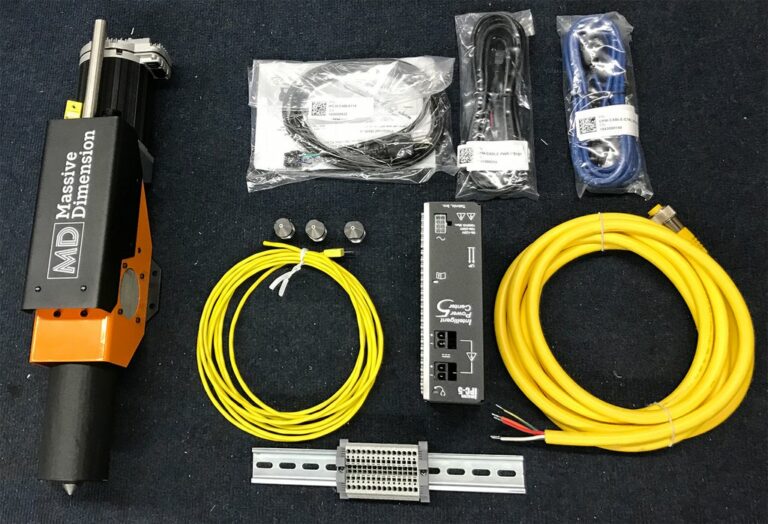 The MDPH2 is equipped with a high power motor, dual PID temperature controllers, and a high-pressure screw. In order to achieve uninterrupted pellet feeding, the extruder has a single part feed tube that is powered by a servo/stepper motor with multiple data input modes. It also has an active cooling mechanism that keeps the feed tube cool throughout the entire printing process.
According to Massive Dimension, the extruder has an impressive output of 2 lb per hour. It's compatible with all common 3D printing materials, such as PLA, ABS, HIPS, TPU, as well as performance-grade materials like ULTEM, PC, PEEK, PS, and others. In fact, the extruder has a maximum temperature of 450°C, so there shouldn't be any issue with industrial-grade thermoplastics.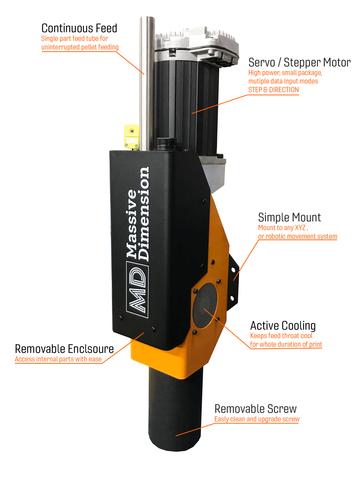 The company has also boasted a number of other features in its MDPH2, stating that it's easy to operate and maintain. The extruder comes with a removable enclosure that allows the user to access internal parts, as well as a removable screw that is easy to clean and upgrade.
As of now, we haven't seen the MDPH2 in action. But it's release could mark a new phase of innovation for large-format 3D printing – one that favors plastic pellets over filament spools.
You can learn more about the new extruder on Massive Dimension's website.