Have you ever wondered what would happen if MakerGear were to supersize its M3-ID 3D printer and shroud said super-printer in riveted sheet metal? No? Well, the result of this particular pseudo-thought experiment is real, and it has a name: the MakerGear Ultra One.
Revealed ahead of the International Manufacturing Technology Show (IMTS) next week, it would seem the MakerGear Ultra One is a sign of the Ohio-based company throwing its chips even harder at the professional/low-level industrial markets.
The MakerGear Ultra One has a lot in common with its predecessor, the MakerGear M3-ID. Independent direct-drive dual extruders for one. That, and an assisted bed-leveling system with automatic compensation, plus extensive connectivity options powered by an onboard print management system based on Octoprint.
While the M3-ID is also positioned as being for professionals in need of repeatability in high-quality multi-material prints, the Ultra One takes this approach further with a versatility in what it creates, catered to by a mahoosive build volume and a fully sealed enclosure.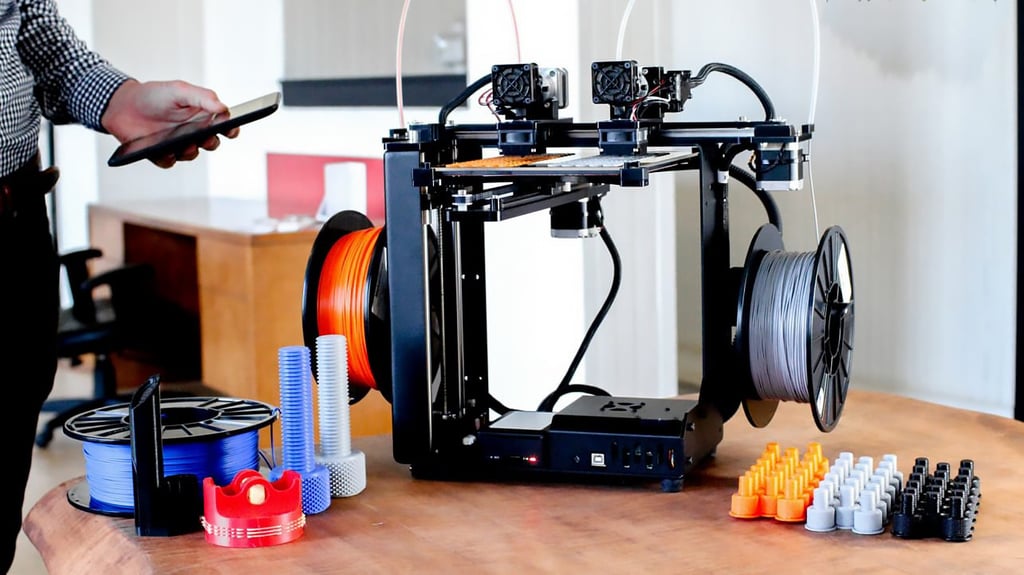 MakerGear Ultra One: What's it Got?
For one, the MakerGear Ultra One features MakerGear's extraordinary Independent Dual Extrusion (IDEX) system, which appears to have carried over from the MakerGear M3-ID. What sets it apart from other IDEX 3D printers is that each print head carries its own direct-drive extrusion system.
Also carried over from the M3-ID is a touch probe bed leveling system, a feature that both assists in the manual bed-leveling procedure and automatically provides smaller adjustments from print to print.
A motion system underpinned with linear rails that are "industrial-grade components for true CNC reliability" will go part way to proving the machine's chops as the Industrial-Grade printer it is pitched as. Consistent material performance is likely guaranteed from the full printer enclosure.
Wireless operability via a MakerGear-ified version of OctoPrint should make the Ultra One highly configurable through plugins, and controllable from any web browser. Those with idle hands can prod and poke their way to prints using the Ultra One's color touchscreen.
In all the MakerGear Ultra One looks to be a robust beast of a machine. Further details, including pricing, will be available once the printer makes its first public appearance at IMTS in Chicago, Illinois, from September 10.