A Utah boy is overjoyed after receiving a 3D-printed prosthetic arm made for him by a family friend.
3-year-old Robert Noyes was born without half of his left arm. A traditional prosthetic could cost upwards of $12,000, even after insurance, said the boy's mother, Brandi Noyes, to Deseret News.
Worse yet, since children grow quickly, prosthetic arms become uncomfortable and need to be replaced — all of which takes time.
So Robert's mother tried to see if there was a better option for her son. She came across the idea of 3D printing a prosthetic, which would not just cost less, but could also be created more quickly.
Eventually she reached out to family friend Ray Buckland, who had a 3D printer. As Noyes recalls: "He was on board immediately."
Slowly but surely, 3D printing is completely changing the availability and affordability of prosthetic parts. Since Ivan Owen produced a 3D-printed mechanical hand in 2011 and made the files open source, he set the wheels in motion for innovation.
The e-NABLE community, a group of volunteers from around the world who use 3D printing to create prosthetic hands and arms for those in need, was born from Owen's innovation.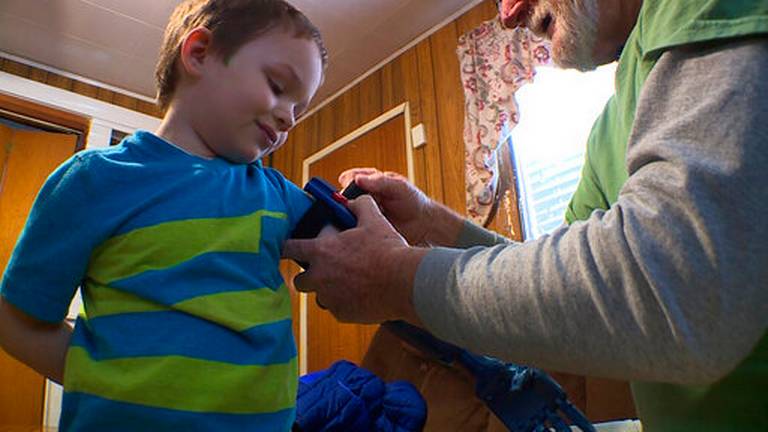 3D Printing a Prosthetic for 3-Year-Old Robert
Although Buckland was eager to help from the start, he didn't have any experience printing a prosthetic before. He'd used his 3D printer so far to create small household items like an ice cream scoop and a spatula.
Making a prosthetic was another matter entirely. But Buckland took on the challenge and got to work researching and practicing printing designs.
In the end, it took him 80 hours of printing to perfect the prosthetic. But, the family was extremely grateful and ecstatic with the result. Better yet, the resulting prosthetic cost only $25 in printing materials.
Noyes explains that her son hasn't stopped smiling since he put on the prosthetic.
"He wants the world to know he's got two hands," she said. "The first thing he wants when he wakes up in the morning is his arm. And he gets disappointed when I have to take it off of him at night. It has to be where he can see it."
Not only has this prosthetic brought a smile to Robert's face, but also to Buckland's. The two have become good friends and Robert now calls Buckland "Papa Ray".
Adds Buckland, "I'd seen that little boy's look on his face when he got this, and I said that's what it's all about."
Read more about innovations in 3D printed prosthetic parts here:
The Most Common 3D Printed Prosthetics
Source: Miami Herald