e-Nable online network. Originally established by Richard van As from South Africa and Ivan Owen from the US, this network of the engineers, designers, architects, computer scientists, inventors and doctors, has managed to do something incredible. They made it possible to manufacture basic mechanical hand prostheses at a total cost of about 50 euro, that is the cost of the plastic material plastic to be used in any home 3D printer.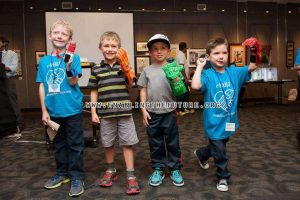 Although exact figures are difficult to find, in the world there are hundreds of thousands of people who need prosthetic hands and children are undoubtedly the most needy. This is because a prosthesis can cost tens of thousands of euro, and if a few months later you have to change it because the rest of the body has grown, it is easy to imagine that only very few can afford it. Now, thanks to 3D printing, but mostly thanks to the inventiveness and passion of thousands of people around the world, all this is changing at an amazing rate as, showing how the world can really become a better place if many people collaborate towards a common goal.
From the 1800's to Star Wars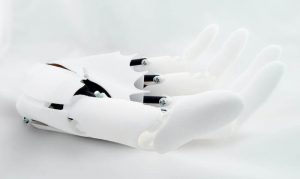 Since they created the first prosthesis, e-Nable has turned into a global network that now includes more than 2,000 people who create the prostheses and teach others how to do it. These are simple mechanical prostheses, based on a prototype from 1800's, and they only allow a limited number of finger movements activated by a movement of the arm or elbow, but for many children they represent a radical change of perspective. They can choose the color they want, personalize them and feel a bit like Luke Skywalker in Star Wars, living a little piece of what is one of humanity's biggest dreams: to replace a limb with an artificial one without noticing the difference.
This is also the goal of Federico Ciccarese, an Italian designer who started taking an interest in robotics and medical technologies as tools to concretely help one's neighbor. For his Youbionic project, together with Dr. Domenico Prattichizzo, professor of robotics at the University of Siena, he has created a "bionic" hand prosthesis, (where mechanics are augmented by electronic) that can move all fingers through five servo motors controlled by a low-cost Arduino board. The use of widely available electronic components, together with professional level 3D printing (laser sintering), allowed Ciccarese to keep the costs significantly lower than any other prosthesis produced through traditional processes, but no less technologically advanced.
Holding hands for research and development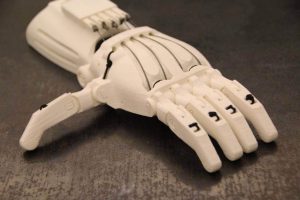 There are also several more projects relating to the production of bionic hands, even some that study how to send instructions to the fingers through ultra low voltage brain stimuli. However one must also consider that the reason why e-Nable is having so much success is that all of the designs of the prostheses are strictly "open source", that is they are available for free on the E-nabling the Future website. Anyone can download them for free and customize them, adapting them to the needs of each individual patient, or improve them and share the improvements with the whole community. This shared R&D allows the final cost of each prosthesis to remain extremely low.
Last week, hundreds of members of n-ABLE, including more than 400 doctors, orthopedics and prosthetics experts, gathered at Johns Hopkins University to discuss how to improve the prosthesis and make it available to more people. More than 200 implants were built and distributed to the participants, and a new more advanced design, the "Raptor", which will be easier to print in 3D and assemble, was presented.
Many of the people who make the prostheses for e-Nable are, in fact, makers or creative professionals, who find these projects to be the most stimulating, fascinating and useful; what some makers have already been able to achieve with e-Nable is remarkable, in some cases even moving. The stories of Shea, Sam, Ben, Keegen and now little Hayley are there to prove it but one of the most exciting is Daniel's.
Reaching out for Africa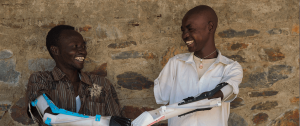 Moved by Daniel's story, in 2012 Mick Ebeling, co-founder of Not Impossible, traveled to Sudan with some computers and a Makerbot Replicator 2 3D printers, to help Daniel, a boy of 14 years who had lost both hands in an explosion, live his life independently. Helping him, with great difficulty and with the support from the same Van Has who founded Robohand (and e-Nable), Ebling taught local doctors to produce the implants directly. Since then they have been manufacturing an average of one personalized prosthesis a week. In this way they are trying to improve the lives of tens of thousands of people who, because of one of the longest and bloodiest wars that Africa has ever seen, are living without one or more limbs.
Ebling has contributed to making our world a little more human, helping one person in order to help many more and answering two questions that guide him in life: "If not me, who? If not now, when?". Thanks to 3D printing, the answers to those questions may be: "all of us" and "now."
https://www.youtube.com/watch?v=bzh5S-2H2oU
License: The text of "E-Nabling Everyone to Give a 3D Printed Hand" by All3DP is licensed under a Creative Commons Attribution 4.0 International License.
Subscribe to updates from All3DP
You are subscribed to updates from All3DP
Subscribe
You can't subscribe to updates from All3DP. Learn more…