Do you want to bring fun, curvy camera motion to your camera shots but find yourself on a tight budget? Edelkrone, the well-known creator of photography and film systems, has developed a product to suit you.
The Skater 3D is described as an easy-to-use, 3D printable, tabletop dolly for DSLR and mirrorless cameras. The company claims it is perfect for interviews and product shots.
This is a new product under the ORTAK umbrella, Edelkrone's branch for 3D printable products (All3DP reported). Edelkrone explains on its website: "ORTAK is a new co-manufacturing approach that allows anyone to own fully-functional, high-tech products at greatly reduced prices. With ORTAK method, products are manufactured by you and Edelkrone together."
The company believes that 3D printers will soon be commonplace. If you buy an ORTAK product, you will receive CNC machined critical parts and a 3D model. You are then left to print and assemble the product by following tutorials. So, they deliver the metal parts, you do the printing.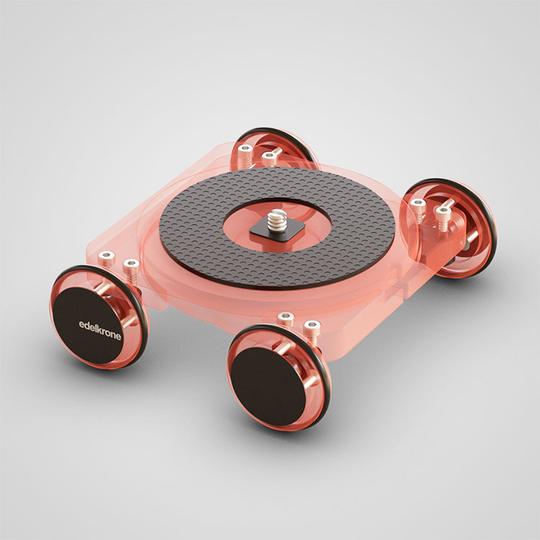 Blend Your Passions of Photography and 3D Printing
With the Skater 3D, you can achieve the "parallax effect" thanks to its two front wheels being bound. The user to easily set the motion curve without needing to adjust separate wheels. This results in your camera moving on the desired curve around your subject.
"Achieving slider-like, linear camera motion and dolly in/out shots is also effortless. Simply rotate the wheels by aligning the indents and you are good to go," adds the Edelkrone website.
This product can fit in a user's pocket making it a useful tool for travel. It can be used with all tripod heads and magic arms but the recommended camera load is less than 5.5 lb (2.5 kg). The parts you'll have to buy will set you back $29, which is a moderate price for such a product.
Edelkrone recommends using the Skater 3D with the FlexTILT Head 3D, which can also be 3D printed. Learn more about the company's 3D printable products over on its website.
Source: Edelkrone