Back in 2016, the 3D printing community became captivated by a small resin-based smartphone 3D printer called the ONO. The concept behind the ONO 3D printer (which at the time was named the OLO) was exciting for a number of reasons. For starters, it was an affordable and compact UV light source-based 3D printer that is supposed to utilize the light from your smartphone to print objects.
There's no denying that this innovative concept excited 3D printing enthusiasts, and that excitement eventually translated into over $2.3 million in crowdfunding (making it one of the most successful 3D printing projects in Kickstarter history). Even today, the idea still sounds extremely novel, a potential game-changer for the consumer market, which is one segment that the 3D printing industry has oftentimes struggled to make headway in.
Fast-forward two years later… There's still no ONO on the market, and the once-eager campaign backers that have long-awaited their smartphone 3D printer have grown irate with the San Francisco 3D printing startup. Every few months or so, the ONO team has resurfaced to share bad news about some sort of production setback, ranging from issues with electronics to problems with Bluetooth support.
But many in the Kickstarter community have deemed these updates to be inadequate excuses or deliberate lies. Despite the controversy that has shrouded this smartphone 3D printer, ONO is launching yet another crowdfunding campaign on the SmartEngine.
Unlike Kickstarter, SmartEngine is a more venture capital-minded crowdfunding platform, offering investors stock in the project they decide to fund. Although they have yet to deliver on the original product to the first set of backers, ONO appears to be looking ahead to developing new 3D printers and resins for the next round of production. Unsurprisingly, a recent update on Kickstarter about the StartEngine campaign has reignited the rage of the crowdfunding community.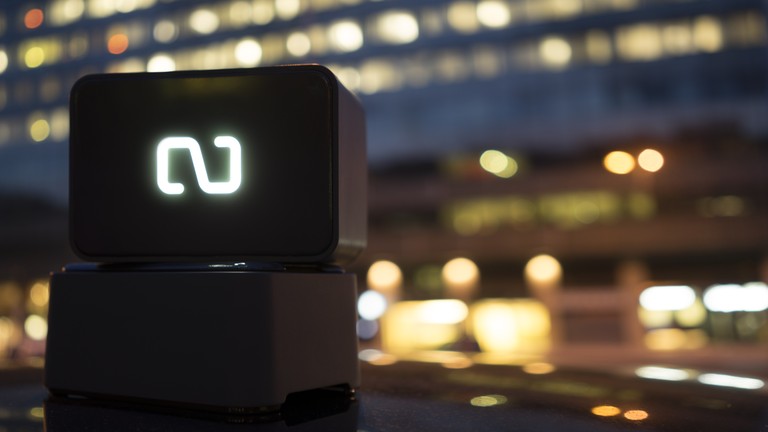 ONO Teases Kickstarter Backers by Announcing Another Crowdfunding Campaign
After launching the new crowdfunding campaign on StartEngine, the ONO team took to Kickstarter to let backers know about the new attempt to acquire additional funding.
"It's been a long road, and like all truly innovative projects, we have had our share of unexpected problems and surprising solutions, complexities of every kind to be overcome, and much to try, test, find, and especially learn," the statement begins. "With our dedication and hard work, we overcame problems, both big and small."
From there, the update looks to ease the frustration of backers by sharing the company's most recent accomplishments. This included news that they had finally obtained the proper certification, prepared themselves for production, distribution and sales, and have altogether made improvements to the smartphone 3D printer on a daily basis.
However, that positive news was soon followed with another disappointing revelation: the ONO team was on the hunt for more funding; this time on the more venture capital-minded crowdfunding platform StartEngine.
ONO claims that the funds will be used to build a more solid foundation for the company.
"We are so close to being able to fulfill our promises to you, and to do that, it's not enough to have a solid product, but a company with a solid base behind that product. Only then can we support international distribution to the 105 countries where you all live, provide quick assistance, resupply resins, maintain servers, and continue production," the Kickstarter update states.
The ONO team continues to break down the decision to launch a new campaign on StartEngine, claiming that they need more funding to help establish a more "solid foundation" for the company, and also prepare them to enter the mass market.
As for the constant delays, the statement goes on to explain that the company has had to deal with financial audits, compliance reviews, meetings with attorneys, contracts, licenses and other legal obstacles. In a sense, the ONO team seems like they're trying to make amends for their failure to deliver the smartphone 3D printer, even offering access to their balance sheets, which shows how the funding has been spent thus far.
"For those of you who are curious to know how we invested the funds collected through Kickstarter, you can find our balance sheets that have been checked by an Independent Certified Public Accountant (CPA) in California in the offering document on StartEngine," the Kickstarter update reads. "We hope that this will reassure each of you and be a further step in our transparency towards those who have helped us from the beginning."
The rest of the statement focuses on new developments that the company is making for the ONO ecosystem, including new resins for the consumer and dental market, partnerships with various 3D model companies that will make printable files available through the ONO App and even hinting at new 3D printers. The startup goes into new product development plans more in its StartEngine campaign page.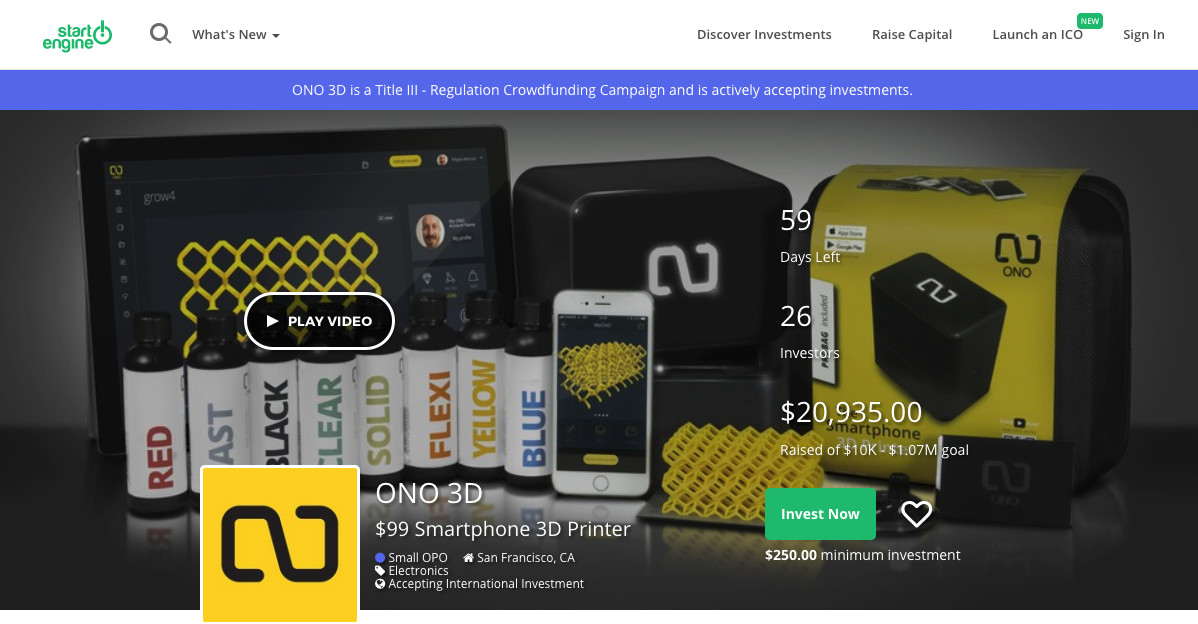 Kickstarter Backers Respond to New ONO Crowdfunding Campaign with Ire
Unfortunately for ONO, the announcement surrounding the new crowdfunding campaign and future business plans seem to have rubbed original backers the wrong way. In fact, the plan to expand the company before the first batch of smartphone 3D printers have yet to be delivered seems to have stirred even more frustration within the Kickstarter and 3D printing community.
Browsing through over 100 comments posted under the latest Kickstarter update, a majority of the responses are relentlessly negative. Disgruntled backers continue to rehash accusations about ONO of ripping them off by not delivering their product, while others are convinced that the new crowdfunding campaign is just another money grab. Thus far, the company hasn't responded to the rallying cries about giving out refunds or further explanations.
Here are a few of the more tame comments posted by ONO Superbackers on Kickstarter.
"Basically you refuse to deliver until we pay extra. Extortion. This strategy of trying to go legit and sell /deliver overpriced product to unsuspecting buyers to profitise before you deliver your promises to backers has failed everywhere else its been done. You have a legal obligation to fullfil even if you have to go broke to do it. Thats the risk YOU take starting a kickstarter. Deal with it, there's no reason we should care for your problems when you've done nothing but add to ours all the way." – Steven Bolton
"So again not even a mention of WHEN you actually plan on shipping the printer we backed. Most of this update feels like another slap in the face and more of an exit strategy and grab for more cash before bouncing on us. Something doesn't smell right with this one." – John Shoemaker
"I'm well aware that you guys typically don't dare venture into the comments, so I've been silent til now. It's sad but not unexpected to see that you need more funding to pay your factories, as well as warehousing and delivery costs. That said, the new funding is not a Kickstarter backer style fundraiser, it's an investment. I've been watching this unfold with increasing scepticism over the past few years. The lack of communication for months to what are effectively angel investors in your business and idea is concerning. I've seen nothing thus far to indicate that you would treat crowd investors with any more respect. On top of that you've not demonstrated a willingness to even showcase a working printer in full to prove yourselves. In the words of Shark Tank: "I'm out"." – Rick Laird
Whether the ONO team is pulling a fast one on backers or have really been battling constant setbacks over the last couple of years remains to be seen. Either way, it's clear that the company's lackluster updates and failure to satisfy backers has created an aura of irredeemability that the ONO might not ever be able to shed.