Lidewij Vera Arí van Twillert is an industrial designer launching a near-perfect custom-made 3D printed bra which is now on sale in Rotterdam-North, the Netherlands. The first collection available at the atelier is called The Fundamentals.
Van Twillert's company began as a masters project, called Mesh Lingerie, but has developed a lot since then.
Now, she believes her company, called Arí van Twillert, can revolutionize the bra. In a press release, van Twillert discusses the problem for every bra wearer, explaining that, if straps aren't digging in, then body fat is spilling out uncomfortably.
This is largely due, she states, to the fact that the sizing system for bras is insufficient and underwire hasn't changed since it was invented in the 1930's. van Twillert adds: "Every brand has its own fit, despite the same size. That's why women have an endless search for a bra that fits well. With us our system is custom-made: for example the distance between the cups, the width of the underwire and the depth of the cups."
As a result, it's thought that 80% of women are wearing the wrong size bra. To change this, Arí van Twillert is developing a truly customized bra which is supportive, comfortable and also stylish. To do this, the company uses 3D scanning and printing technology.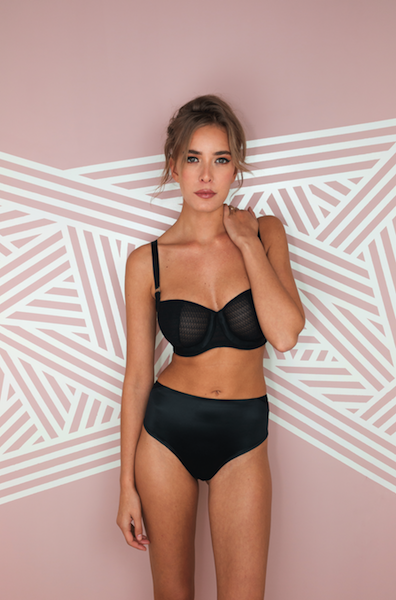 Creating an Arí van Twillert Bra from Underwire to Cup
The Arí van Twillert bra is truly customized as it requires 20,000 body measurements. These are taken using a 3D scanner which then determines where every element of the bra should sit.
After this data is collected, a software engineer uses in-house developed software to develop the bra. A 3D printer creates the support element of the bra called the Curvearis. Finally, a seamstress uses traditional sewing skills to develop the bespoke bra.
This process takes 3 full working days to create. The company explains that this is spread over 6 to 12 weeks depending on the final design selected as the bra undergoes each element of the process. The result, they claim, is accurate to 0.1mm.
As these bras as so comfortable and accurate to the individual's body, van Twillert claims they are better for the environment. She explains: "If you have five bras in the closet that you never wear because they look nice but they don't fit, that's a waste of production, is not it? Better to just have one that fits perfectly, less pollution, less waste and no returns."
Intrigued? To buy a bra from the Fundamentals collection, you'll need to make an appointment via the company website. Prices depend on your needs. But, for a bespoke bra and 3D printed support, you can expect to pay €895 and up. There is currently a waiting list and every bra is designed and made inhouse in Rotterdam.
Van Twillert adds: "This collection represents my promise to every woman that every lingerie piece should be comfortable and beautiful, that form and function can, and should, be one."
Source: Press Release