In 1901, archeologists excavated a Neolithic site in Cuween Hill Chambered Cairn, Orkney, Scotland. They found the remains of eight humans and 23 canines which they believed to be ritually buried.
Now, the Historic Environment Scotland (HES) is using modern technologies to give the public a better idea of how Neolithic people lived.
In its most recent project, it used 3D printing to shed some light on exactly what the 4,000-year-old Neolithic pet dogs looked like. This is the first time an animal from the Neolithic period has been reconstructed using modern technologies.
"Just as they're treasured pets today, dogs clearly had an important place in Neolithic Orkney, as they were kept and trained as pets and guards and perhaps used by farmers to help tend sheep," says HES interpretation manager Steve Farrar.
"But the remains discovered at Cuween Hill suggest that dogs had a particularly special significance for the farmers who lived around and used the tomb about 4,500 years ago. Maybe dogs were their symbol or totem, perhaps they thought of themselves as the 'dog people'."
Along with 3D scanning the dog skull, whose 3D model researchers shared with the public, researchers also took detailed 3D scans of the burial site.
As part of its project to use modern technologies to educate, HES commissioned forensic artist, Amy Thornton, to recreate the face of one of the Neolithic dogs from its ancient skull.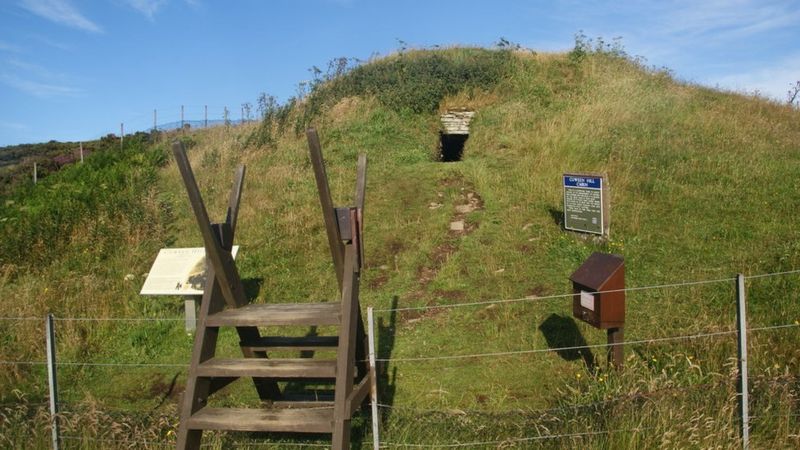 Reconstructing the Face of an Ancient Wolf Dog
Thornton began the reconstruction process with the 3D scan taken of the Neolithic dog. She 3D printed the skull but used traditional methods to build anatomy onto it with clay.
"This reconstruction has been a particularly interesting project to be involved in, as it marks the first time I've employed forensic methods that would usually be used for a human facial reconstruction and applied these to an animal skull," explains Thornton.
"This brought its own set of challenges, as there is much less existing data relating to average tissue depths in canine skulls compared to humans."
After this process was complete, Thornton cast the model in silicone then finished the project by adding a fur coat. Her work revealed that the creature resembles a European grey wolf that is the size of a Collie.
The Neolithic dog will go on display later this year, according to HES. However, if you're interested in learning more about the lives of Neolithic people, make sure to visit the Historic Environment Scotland website.
For more stories on 3D printing and dogs, check out these stories:
Source: Independent