A Staffordshire bull terrier puppy named Loca underwent extensive surgery after a savage attack. She's the first dog to receive a custom 3D printed mask.
When a poor puppy named Loca was viciously attacked by another dog, she suffered extensive damage to her face and neck. Sadly, her cheek and jawbones were badly fractured and she also received multiple puncture wounds.
Loca was rushed into "salvage surgery" to clean away her facial bone fragments. After the operation, the four-month-old Staffordshire bull terrier received a custom-made 3D printed mask to help her recover.
The 3D printed cast was designed to surround her fractured skull while it healed. To date, Loca is the first dog to receive the device created by members from UC Davis Veterinary Hospital's Dentistry and Oral Surgery Service (DOSS) and the UC Davis College of Engineering (COE).
Loca's CT scans showed that she was an excellent candidate for the first 3D printed cast. So, staff at the University of California's Davis School of Veterinary Medicine designed the mask for her post-surgery rehabilitation.
The team calls their 3D printed design the Exo-K9. Although this is the first time the mask has been used, the results look very promising.
"She almost immediately began eating soft food and remained comfortable on her pain medications. For the next month, Loca was not allowed access to any toys, bones, or anything else hard to chew. Her mask and neck collar remained on at all times except to allow her to eat and drink. She was fed a soft diet until her injuries healed," the staff explains.
3D Printing Helps Heal a Poor Puppy's Injuries
However, 3D printing is by no means a new technology for DOSS. In fact, they regularly used the COE Biomedical Engineering (BME) Department 3D printer for other cases. For example, the surgeons use it to create skull models and improve on surgery.
Thanks to 3D printing, they were able to create Loca's mask quickly and easily. In fact, it took only one night to 3D print the mask after Loca's surgery – meaning it was ready the next morning.
Better yet, the mask fit perfectly and helped to optimize the healing process. In addition to the Exo-K9, Loca was fitted with a padded neck bandage. This stabilized her head and limited her mobility.
The team explains that the puppy did "extremely well" during her three days in the hospital. Later, she returned to UC Davis for check-ups one month and three months after her surgery. She underwent two more cone-beam CT scans, which showed she was healing as expected.
The surgeons are happy to report that little Loca is recovering well from her injuries. Plus, the 3D printed Exo-K9 has proven to be a useful tool for healing similar injuries in other pets as well.
Source: UC Davis News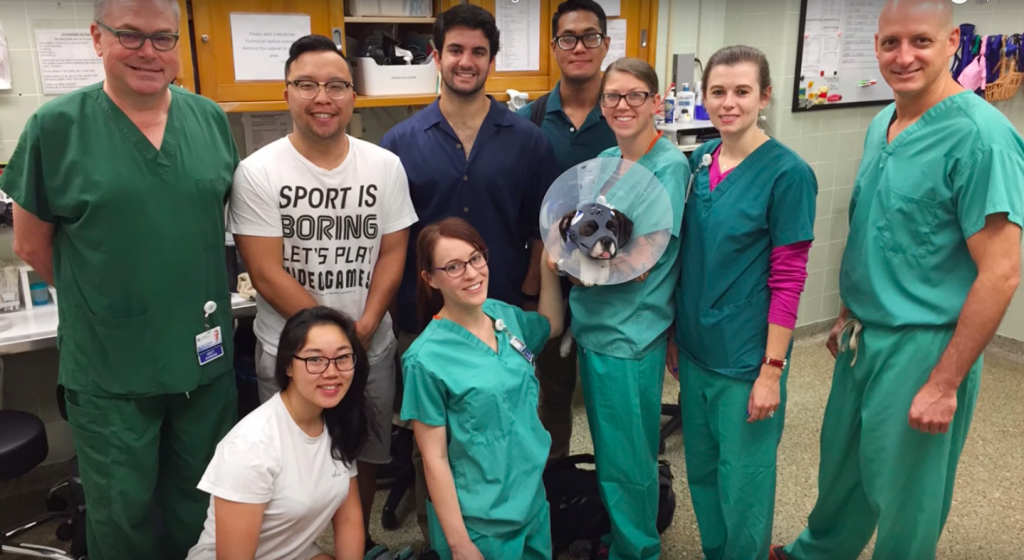 License: The text of "Puppy's Life Saved by 3D Printed Mask After Attack by Savage Dog" by All3DP is licensed under a Creative Commons Attribution 4.0 International License.
Subscribe to updates from All3DP
You are subscribed to updates from All3DP
Subscribe
You can't subscribe to updates from All3DP. Learn more…