Instructables user Nematic! details how to make your own portable powerbank from laptop cells, 3D printing and a little electronics savvy.
We've all experienced that unique feeling of helplessness and anguish that only a dead cellphone battery can bring. Cut off from the internet and contact with others it becomes impossible to navigate, and what the heck are you supposed to do while sitting around waiting for the bus/train/plane. It sucks.
Fortunately there's no shortage of inexpensive power banks knocking around to keep you topped up with juice on your travels. But for the thrifty with time to kill and a handful of old laptop batteries lying around (a common scenario, we know) there's an alternative.
In a short-and-sweet post over on Instructables, user Nematic! shows us how with nothing more than a few tools (3D printer, soldering iron and glue gun), a cheap powerbank module and some 18650 cells, you can make your own smartphone powerbank lickety-split.
Note the irony is not lost on us that assembling such equipment would far exceed the cost of just buying a powerbank. This is very much an experiment for the curious, not a viable alternative to professional pocket-sized power packs.
How to Build Your Own 3D Printed Powerbank
For this devilishly simple build, you must first check the voltage of the 18650 cells you've assembled. Before proceeding ensure each cell must be the same voltage, otherwise dangerous issues could occur when charging them.
With the cells all the same you can then solder them together in parallel. Following this, glue them together so that they resemble a flat strip. This is, of course, if you're sticking to Nematic!'s original design. The STL files (case, and top panel) provided are for a flat six arrangement, but in theory you could take this further with more cells or a different shape — you would just need to create your own case files to print.
With the power element of the powerbank arranged, solder it to the module. At this point Nematic! claims it's usable.
After 3D printing the case, it's just a simple case of slotting all the parts together and gluing them shut. It's a heck of a project, and one that we can imagine creative minds having a lot of fun with. Terminator fuel cell powerbank, anyone?
Source: Instructables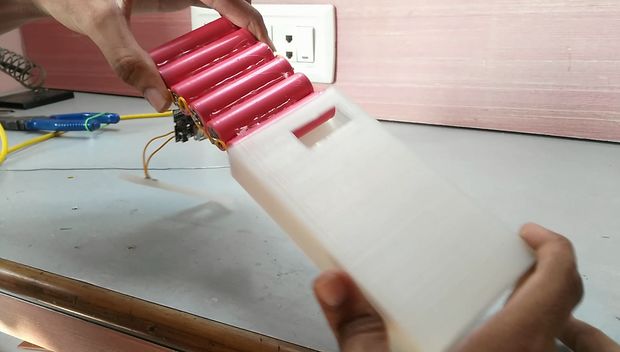 License: The text of "Build Your Own Inexpensive Powerbank with 3D Printing" by All3DP is licensed under a Creative Commons Attribution 4.0 International License.
Subscribe to updates from All3DP
You are subscribed to updates from All3DP
Subscribe
You can't subscribe to updates from All3DP. Learn more…