Can you 3D print music? Antivj doesn't want you to just listen, but to see and feel music through 3D printed visualizations.
What if you could, like, feel the music, man? Or if you could totally see sound? It's no joke. This label turned music into physical, 3D printed landscapes. The results are definitively artsy, but cool.
Brussels-based musician Thomas Vaquié is behind the dreamy, ambient, crackling, almost movie soundtrack-reminiscent, album Ecume. Belgian visual label Antivj, however, wanted to make the album even more impactful. The label, which focuses on live performances and installations, opted to transform the music into something not only audible but also visible and tangible.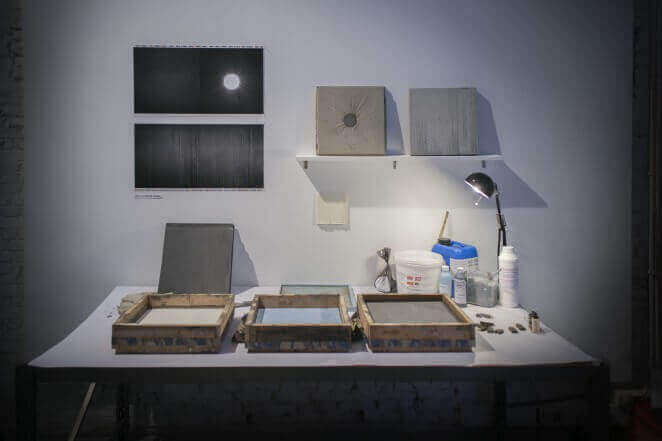 First, sound waves were visualized and cast in concrete by Swiss artist Yannick Jacquet a.k.a. Legoman using visualization technology developed by coder and artist Simon Geilfus. These waves were arranged into a sort of topographical image, and Jacquet explored both circular and linear visualizations.
3D Printed Music Lets You Visualize Sounds
Now that the artists had images of the music, the question was what to do with them. The affordable answer was 3D printing. The landscapes were printed, and a subsequently made silicone mold was then used to create a concrete cast.
But what purpose could 3D printed music really have on the art world?
"In the time of attention-deficit Antivj Recordings wants to believe in making time and space for active listening,"saysAntivj.
Given how easy it is to hop from Spotify to YouTube, from computer to phone, and never see a record or make it to the end of an album, Antivj seems to make a very good point, and they want to drive that point home.
"In a digital age, Antivj Recordings wants to release physical objects, carefully crafted, that may take the form of vinyl, a plate built in concrete, a 3D-printed object, an audio book or an application."
By bringing listeners into the present and making music something to be experienced with multiple senses, Antivj and 3D printing may bring a forgotten weight to modern music.
The artwork will be on display in at the Antivj studio in Brussels until July 18th.
License: The text of "3D Printed Music Landscapes Turn Sound Into Visualizations" by All3DP is licensed under a Creative Commons Attribution 4.0 International License.
Subscribe to updates from All3DP
You are subscribed to updates from All3DP
Subscribe
You can't subscribe to updates from All3DP. Learn more…