Singapore University professors use 3D printing to develop a stunning interactive structure for this year's iLight Marina Bay Festival, in Singapore.
At this year's iLight Marina Bay Festival in Singapore, a immense, interactive light sculpture is wowing visitors. The 3D printed design is reminiscent of neurons in the brain and information communication.
Behind the installation are Singapore University of Technology and Design (SUTD) professors, Felix Raspall and Carlos Bañón. The professors are using the design to continue their investigation into using 3D printing for architectural components.
It offers an exploration into parametric design and resulting 3D printed structures. But, also, the creators add that they: "address not only structural requirements but also power transmission, and information communication within a seamless and continuous aesthetic." The architects are calling the structure (Ultra) Light Network.
For this design, 715 polycarbonate squared tubes are evenly positioned in order to diffuse all of the light sources. Custom made LED bulbs then shine from 152 3D printed ABS and Nylon nodes which can light up interactively. The structure makes use of 50,000 individually controlled LED pixels.
Visitors can stand below the structure and, based on their movements, the display lights up. To do this, the team use microcontrollers and three ultrasonic sensors. The result is a stunning light display in front of the Singapore and Moshe Safdie's Marina Bay Sands towers.
Check out the video below to learn more about the (Ultra) Light Network from the creators.
(Ultra) Light Network Structure is Sturdy and Delicate
In order to achieve a tetrahedral form, parametric design (or algorithmic thinking) was essential. The professors worked on various geometries to get the 10 meter structure just right before the lighting system could be coordinated. As a result, the final dimensions of the structure are 10m x 6m x 3m.
Therefore, the final display is very sturdy, yet has a delicate appearance. It is able to absorb wind loads and punctual forces, as well as being able to withstand stresses of expansion and contraction.
As well as this stunning art installation, there are many artists across the globe using 3D printing in their designs. Check out Se Yoon Park's 3D printed tree installation and also Akinori Goto's Toki installation for more art inspiration.
Sponsors of the (Ultra) Light Network include Stratasys and the Center for Digital Design and Manufacturing at SUTD, as well as SUTD.
Source: DesignBoom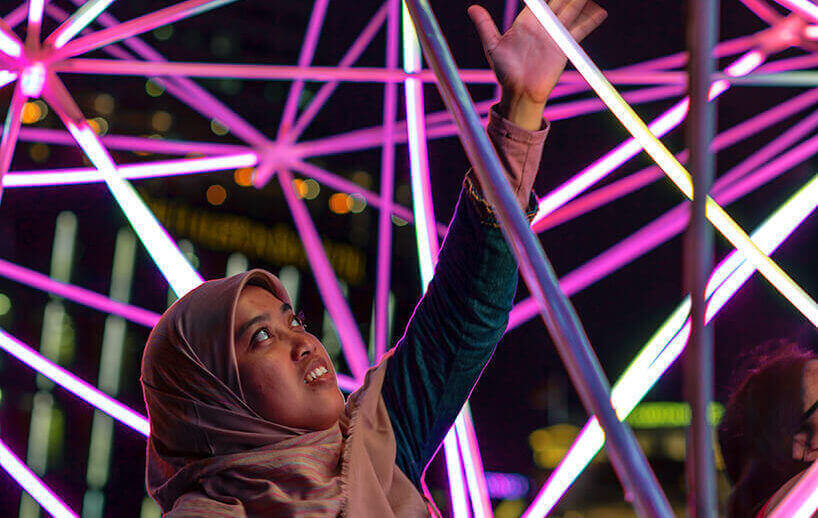 License: The text of "This Hypnotic Art Installation is Made Possible with 3D Printing" by All3DP is licensed under a Creative Commons Attribution 4.0 International License.
Subscribe to updates from All3DP
You are subscribed to updates from All3DP
Subscribe
You can't subscribe to updates from All3DP. Learn more…