On display at SXSW 2017 is a revamp of the old-fashioned zoetrope by artist Akinori Goto who uses 3D printing to project ballet dancers in motion.
Akinori Goto is a self-described Media Artist / Director who uses modern techniques, such as 3D printing, to create stunning artworks. One of his installations, Toki, is on display this week at SXSW 2017 in Austin, Texas.
For Goto's most recent piece, he has created three beautiful 3D animations of ballet dancers. To do this, he 3D prints wire meshes to create a similar effect to a zoetrope.
Goto has developed three structures which are all very different shapes but convey a similar image. Goto uses the same 3D printing method and technique to develop each piece. At SXSW, the structures are on display in a dark room allowing the viewer to get lost in the dancing projections.
It works by projecting beams of light onto the wire mesh. An image of a dancing ballerina then appears on the mesh and functions as an animation. It sounds simple, but the results are mesmerizing:
How Do the Toki Ballet Dancers Move?
To create these pieces, Goto shoots videos of real-life ballet dancers. He uses these 2D images and digitally places them onto a 3D axis. The movements are then translated into 3D animation using a computer.
To create the projections, Goto needs hundreds of frames to make up the fluid movements shown in the video. However, he can use 3D printing to create a precise image of the dancers. The final wire mesh design results is a stunning animation.
Goto uses a spinning table to move his continuous pieces and a light projection shows the dancing 3D images. It easily tricks you into believing you're watching tiny professional ballet dancers leap across the structure.
The three pieces on display at SXSW are made up of two continuous form structures and one larger piece involving 24 unique shapes. The technique behind the structures has been developed by Goto over a long period. It is now patent pending.
Want to see more of Goto's work? Head over to his website. Also, don't miss more of the artwork on display at the SXSW 2017. 
Source: Engadget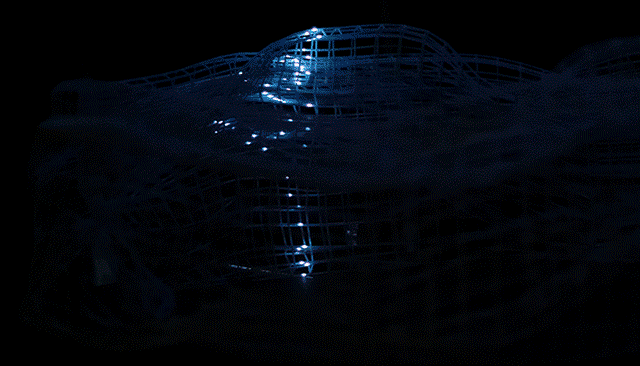 License: The text of "Stunning 3D Printed Art Installation Toki on Display at SXSW 2017" by All3DP is licensed under a Creative Commons Attribution 4.0 International License.
Subscribe to updates from All3DP
You are subscribed to updates from All3DP
Subscribe
You can't subscribe to updates from All3DP. Learn more…