Combine a toy racing track with a action camera for this epic 3D printed project from AdaFruit, a Hot Wheels GoPro mount.
The beauty of the compact action camera is its versatility. Whether you're tumbling out of an airplane or diving beneath the oceans, it's possible to film all the action in glorious HD.
Other folks, meanwhile, like to attach action cameras to moving objects like drones. This provides an exciting first-person view where humans can't normally go.
With this in mind, the latest project from the Ruiz Brothers at Adafuit is a Hot Wheels GoPro mount. With this 3D printed case, you can place a GoPro HERO5 Session camera on any Hot Wheels track, and create films from the perspective of a toy racing car.
The brothers say they were inspired  by the Hot Wheel stunt videos by FiveMadMovieMakers on YouTube. Check it out in action in the video trailer below.
Hot Wheels GoPro Mount is Simple… but Tricky
The Hot Wheels GoPro doesn't require any parts from a Hot Wheels car; instead it's fully 3D Printed. That should make this project pretty straightforward, except that it must be fabricated with a TPU based filament like NinjaFlex.
That's because the material is very flexible, with a rubbery texture that provides extra protection from any knocks and bumps sustained by the camera. It can also function as a standalone bumper for the GoPro.
Before starting the project, you should check whether your printer is capable of working with flexible filaments. A machine with a Bowden extruder — like the Ultimaker range, for example — will prove tricky because of the complexities of retraction.
The Ruiz Brothers are also inviting other makers to remix and experiment with the design. You can modify the mount for a different model of action camera, for example. Or experiment with the weight distribution so it has a lower-center of gravity (and less likely to topple on high slopes).
Visit Thingiverse, YouMagine or Pinshape to download the STL files. And if you make a mini action epic with the Hot Wheels GoPro mount, please share a link to the video in the comments.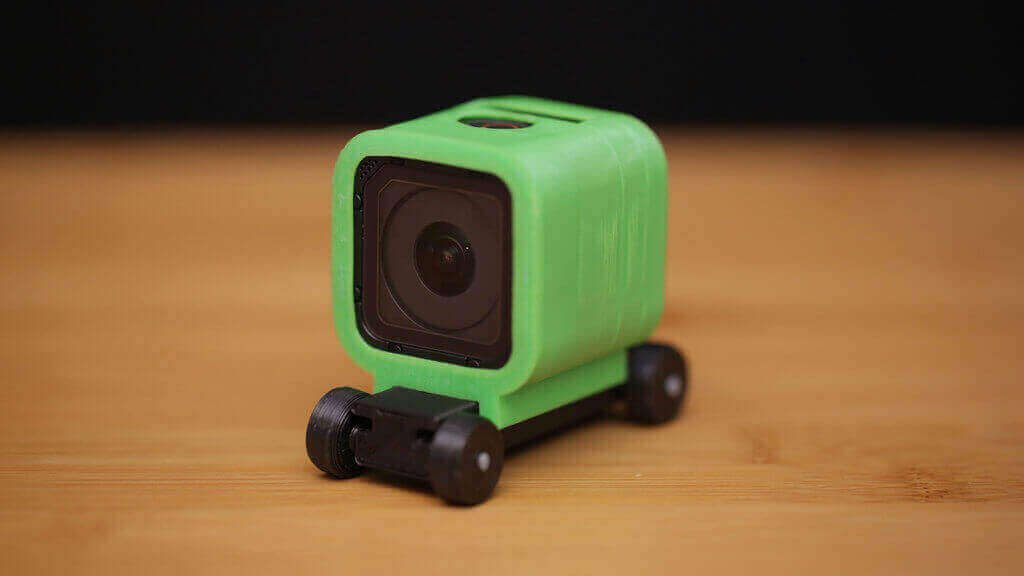 License: The text of "3D Printed Hot Wheels GoPro Mount for Thrills and Spills" by All3DP is licensed under a Creative Commons Attribution 4.0 International License.
Subscribe to updates from All3DP
You are subscribed to updates from All3DP
Subscribe
You can't subscribe to updates from All3DP. Learn more…