Researchers have created 3D printed biohybrid using sea slug muscle and a 3D printed exoskeleton. This experiment could help researchers and the environment alike.
It's not a combination you think of every day: Sea slug muscles meet 3D printing in an incredible biohybrid crawler. The project involves researchers at Ohio's Case Western Reserve University led by Ph.D. student Victoria Webster. The biohybrid could be perfect for scouring the deep sea or toxic waters without causing pollution from metal bits and pieces.
The two-inch long pieces are moved by a muscle taken from the mouth of a sea slug, Aplysia Californica, to be precise. The muscles are combined with flexible 3D printed components that make up the body.
"We want the robots to be compliant, to interact with the environment," says Webster. "One of the problems with traditional robotics, especially on the small scale, is that actuators—the units that provide movement—tend to be rigid."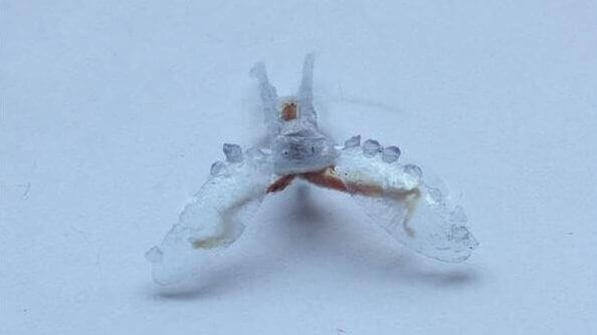 Future of Robotics = Sea Slug Mouth Muscles?
Luckily, sea slug mouth muscles are here to help. The muscles are more adaptable than many other muscles and are easily fueled by the nutrients surrounding them. According to Webster, they're also safer and have a higher power-to-weight than hard nuts-and-bolts actuators.
But… do these muscles move without a brain? Not quite. Researchers are trying to use the animal's ganglia, nerve bundles, for movement control. By utilizing either chemical or electrical stimuli, they can induce the nerves to contract the muscle in certain ways. Roger Quinn, director of Case Western Reserve's Biologically Inspired Robotics Laboratory, explains,
"With the ganglia, the muscle is capable of much more complex movement, compared to using a man-made control, and it's capable of learning."

Meet "Aplysia Californica", the californian sea slug (image: aac.asm.org)
Building a Fully Organic Biohybrid
The ultimate goal would be a completely organic machine. That would make the robot both more adaptable and less expensive as well as less of a pollutant if lost or left behind. To this end, researchers have already gelled collagen from the slug's skin to build a lightweight scaffold.
These biohybrid robots could go in swarms to harsh locations that would otherwise be tough to reach or examine for conventional robots (or humans). Thus, the surprising twist: "swarm of slug muscle bots" actually sounds pretty cool and not at all terrifying.
If you want to dig deeper, please go here.
License: The text of ""Biohybrid" Uses 3D Printed Shell And Slug Muscle" by All3DP is licensed under a Creative Commons Attribution 4.0 International License.
Stay informed with notifications from All3DP.
You get a notification when a new article is published.