Data visualization meets 3D printing with a map documenting hate groups in the United States. Learn about the intriguing work of Dano Wall.
This is a 3D printable map, but with a key difference. Based on data supplied by the Southern Poverty Law Center, it's a visualization of the 917 hate groups currently operating in the United States.
A 3D printed map showing the distribution of hate groups in the United States.
Yes, hate groups are still active in America. Much as they do in other parts of the world. And they're not likely to go away if we just pretend they don't exist.
Instead, this 3D printed map serves to illustrate how prevalent they are, and in which states they are greatest in number.
For example, California is far and away the leading state for hate groups, playing host to 79 organizations. Elsewhere, Texas has 55 hate groups within their state lines.
The SPLC classifies a hate group as an organization that holds beliefs or practices that attack or malign an entire class of people, typically for their immutable characteristics.
Hate group activities can include criminal acts, marches, rallies, speeches, meetings, leafleting, or publishing.

Not Just Hate Groups Rendered as 3D Printed Maps
The map is the work of maker Dano Wall, and is published on his Thingiverse account. Anyone is free to download the STL file and fabricate this map for themselves.
Moreover, this isn't Wall's first rodeo with data visualizations and 3D printed maps. He's responsible for a bewildering number of models illustrating many aspects of modern life in the United States.
These range from UFO sightings per capita by state, the price of weed in each state, population numbers, and air pollution.
Plus, Wall is encouraging other folks to come up with their own data visualizations using the same model. You can make your own with any set of data by visiting the Contiguous United States Prism Map and clicking "Open in Customizer".
Let him know if you make one, and he'll add it to the collection.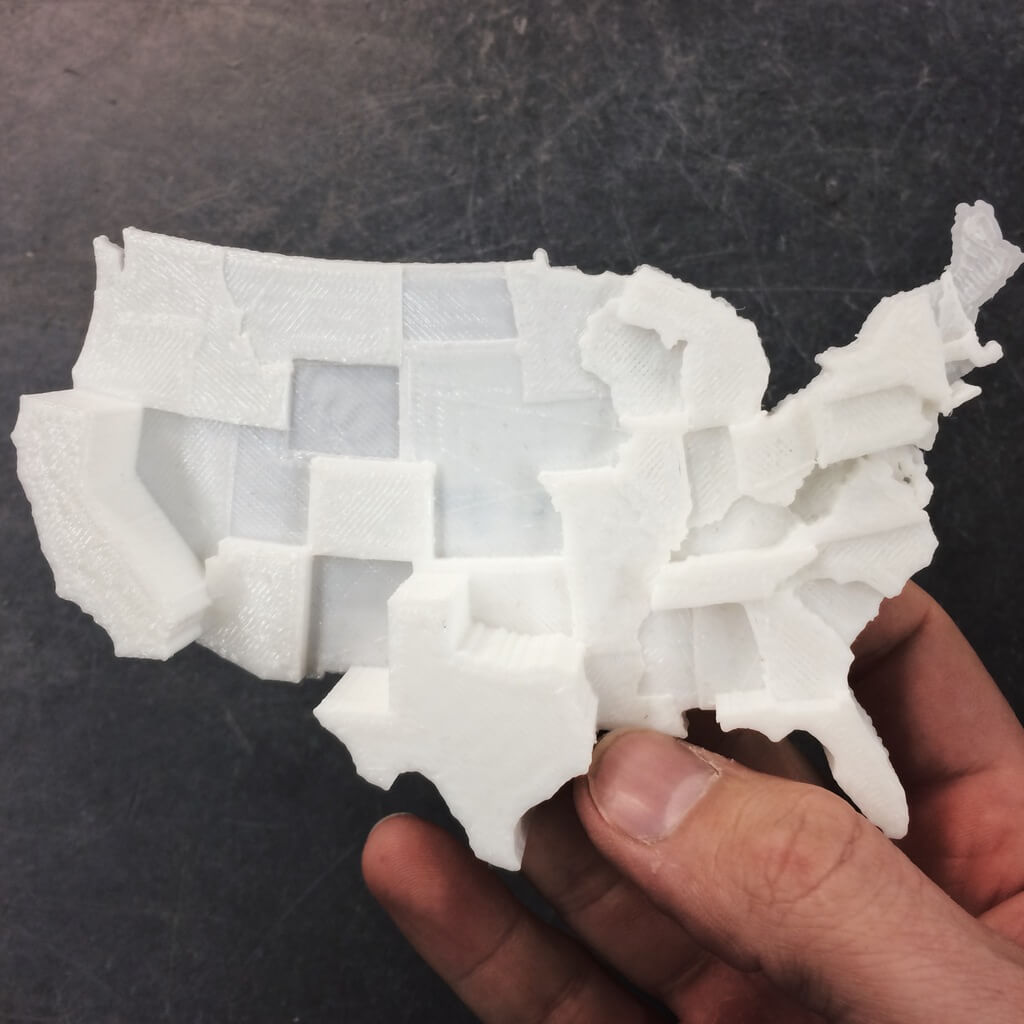 License: The text of "3D Printable Map of the United Stated by Hate Groups" by All3DP is licensed under a Creative Commons Attribution 4.0 International License.
Subscribe to updates from All3DP
You are subscribed to updates from All3DP
Subscribe
You can't subscribe to updates from All3DP. Learn more…