The humanitarian organization3D LifePrints creates replicas of unexploded landmines to aid education amongst locals and experts in conflict and post-conflict countries.
Every year, more than 5,000 people are killed or maimed by landmines. What's more, 110 million landmines are still predicted to be in the ground. However, according to Landmine Free, to clear these explosives would cost $50 to $100 billion. Not to mention the risk.
However, despite this, there are many organizations working on solving the problem. NGO's such as the UN and the Halo Trust run Extensive Mine Risk Education (MRE) programs. Also, some smaller organizations (like C-Turtle) are working on unorthodox solutions on clearing landmines.
Surprisingly, 3D printing plays a role in their operations. For example, 3D LifePrints is a UK-based organization which supplies the United Nations Mine Action Service and the International Committee of the Red Cross Weapons Humanitarian Department with 3D replicas of landmines.
These 3D prints enable locals and experts to learn about landmines before facing the real thing thanks to their similar color, size, weight, and shape. 3D LifePrints has been working on humanitarian projects for the past 3 years.
In fact, they have aided education in a range of conflict and post-conflict countries. For example, Turkey, Jordan, South Sudan, Mali, Kenya, Ethiopia, Zimbabwe, Iraq.

3D LifePrints uses Technology to Help Save Lives
3D LifePrints use desktop printers to create the landmine replicas. However, the filament used is bespoke and an enhancement on regular PLA and ABS. This is because regular filaments were not suitable for the dusty, hot and humid environments.
However, perfecting the material with which to print the replicas is only part of 3D LifePrints' struggle. Plastic replicas of explosives are categorized as "dangerous cargo" making them difficult to deliver via post.
Instead, 3D LifePrints now rely on local 3D printers set up in service shops to create the replicas. This not only means they avoid the issue of arguing with customs officials but also that the replicas can be produced quickly and easily. So far, 3D LifePrints have set up a number of 3D printing spots in countries such as South Sudan and Mali.
Although there is often worry about the dangers of 3D printed weapons, this use of the technology is hugely positive and beneficial. In fact, 3D printed replicas are saving lives and aiding humanitarian projects.
Source: Press Release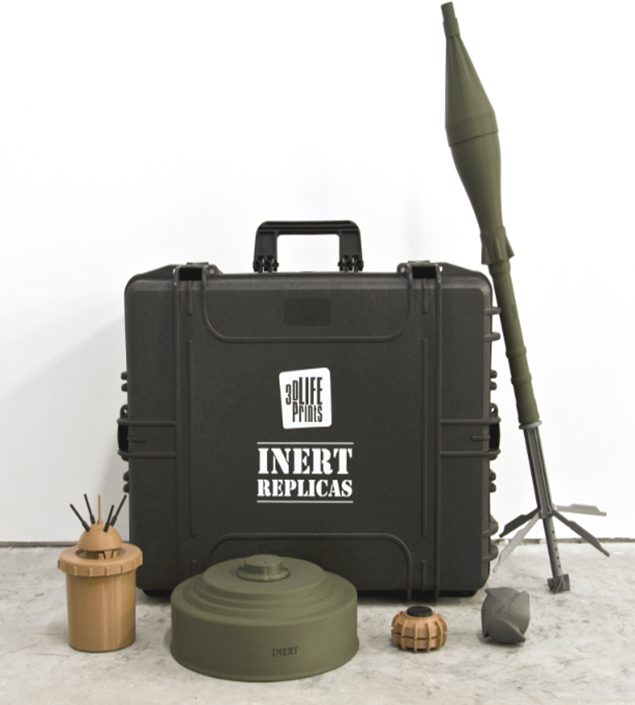 License: The text of "3D LifePrints uses Printed Landmine Mockups to Improve Risk Education" by All3DP is licensed under a Creative Commons Attribution 4.0 International License.
Subscribe to updates from All3DP
You are subscribed to updates from All3DP
Subscribe
You can't subscribe to updates from All3DP. Learn more…