These are the most popular 3D printing models on Pinshape in 2015, based on the activity of their members. How many have you 3D printed?
Pinshape is a 3D community marketplace stuffed to the brim with free STL files. Users can download or stream 3D printable objects and models, and the site makes it easy to find and successfully print quality 3D designs.
The website is neutral in terms of hardware support, and has community features like 'prints', that allow users to upload print settings & photos of models to help you print better models.
The team at Pinshape were kind enough to share data with ALL3DP on their most popular models in 2015. Here's the top 20 designs, based on several factors including download volume, views, likes, and collections over the past 12 months.
There are some classic designs in this list… and some surprises too!
1) Low-Poly Pokemon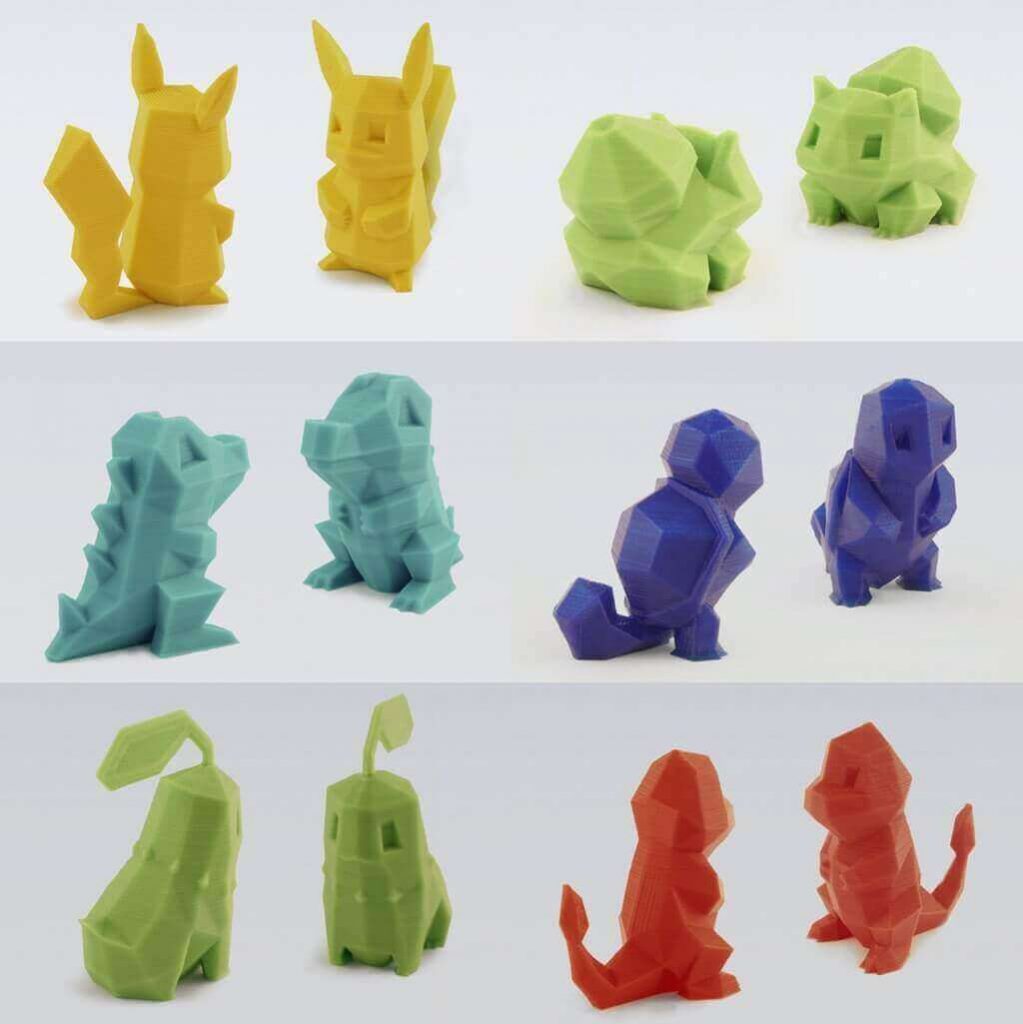 With 17185 views and 582 likes, and logged in 6305 collections, the Low-Poly Pokemon by Agustin Flowalistik is the big winner of the Pinshape popularity contest in 2015. Retro-modeled on one of the enduring franchises in video game history, the community just can't get enough of these little critters. Here's hoping that Agustin finds time to expand the collection in 2016.
2) Elephant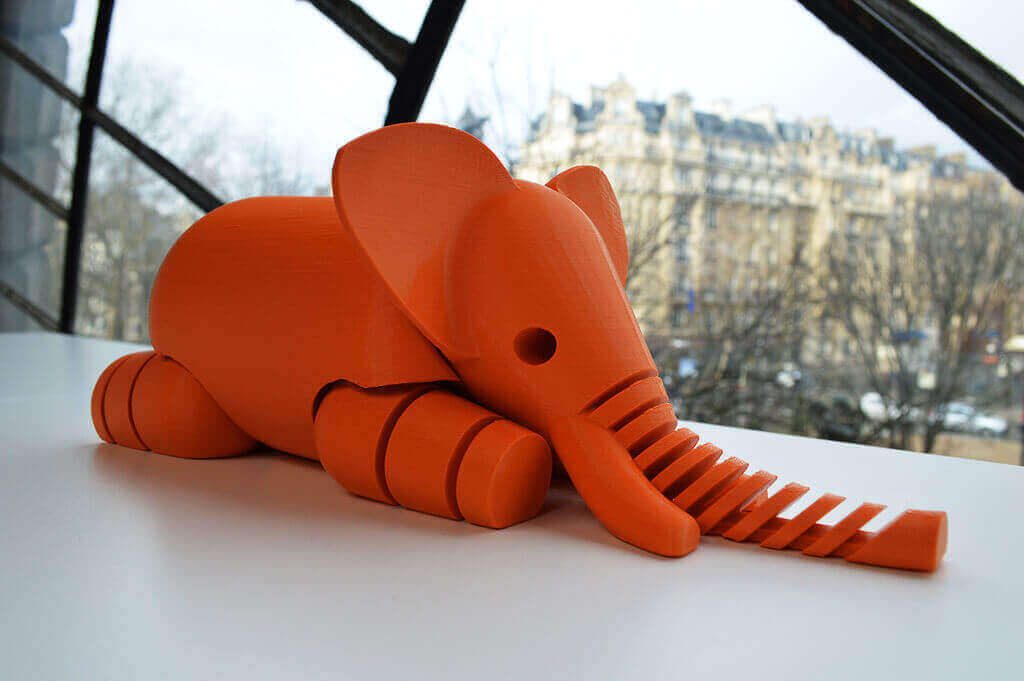 The Elephant from Le FabShop isn't just bloody cute, it's also — GASP — fully articulated. How so? While it's designed to print in one piece, the ball-socket joints for the head, front legs and rear legs are integrated into the design. So once you pop it off the print bed, give the limbs and head a little shake and it's ready strike a pose on a desktop safari. Latest stats are 11881 views, 312 likes and 7088 collections.
3) MakerTron Design Kit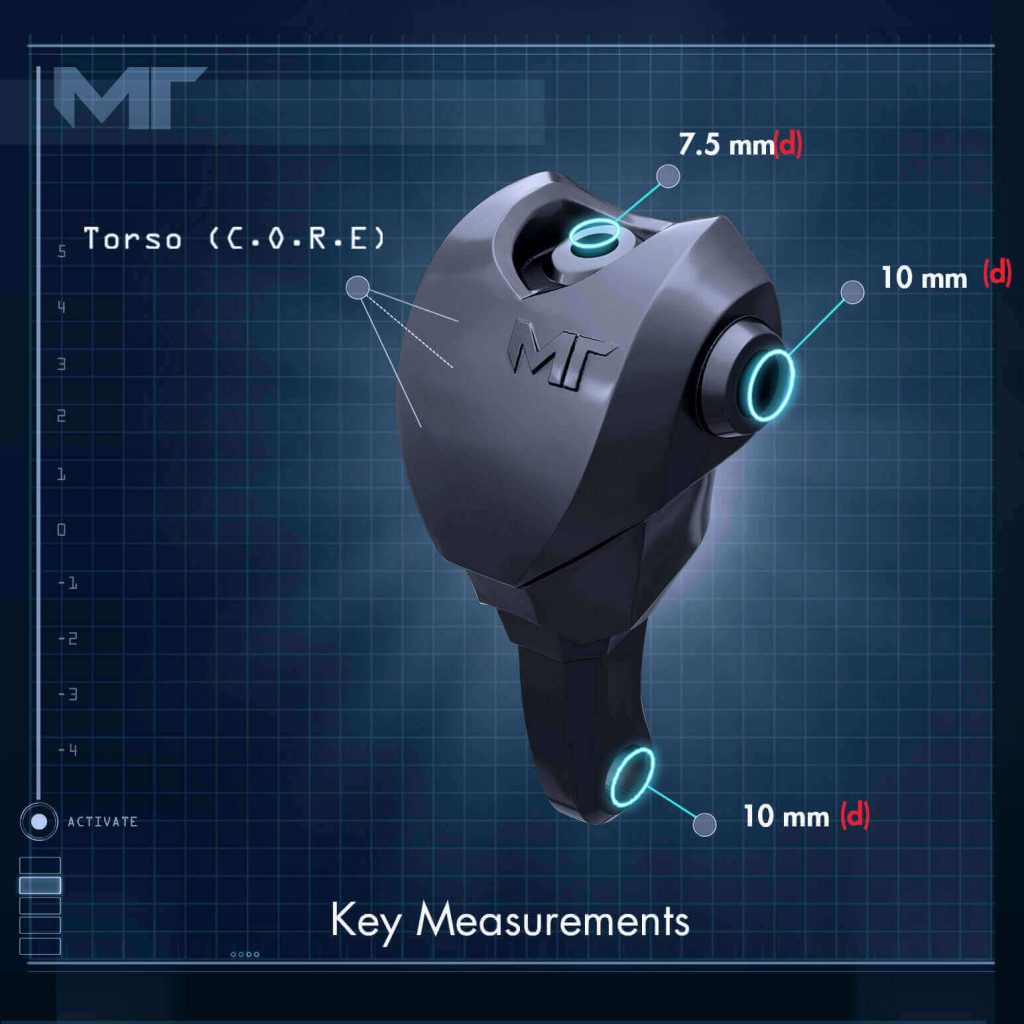 Swooping in at number 3 is the MakerTron Design Kit. These blueprints are exclusive to Pinshape, and it's part of an ongoing community contest to "rebuild the MakerTron population" with a growing library of interchangeable designs. With such heavy engagement and promotion, it's not surprising to find such a high ranking for 2015. Current tally is 14888 views, 58 likes and 12 collections.
4) Holder for Tablet Pens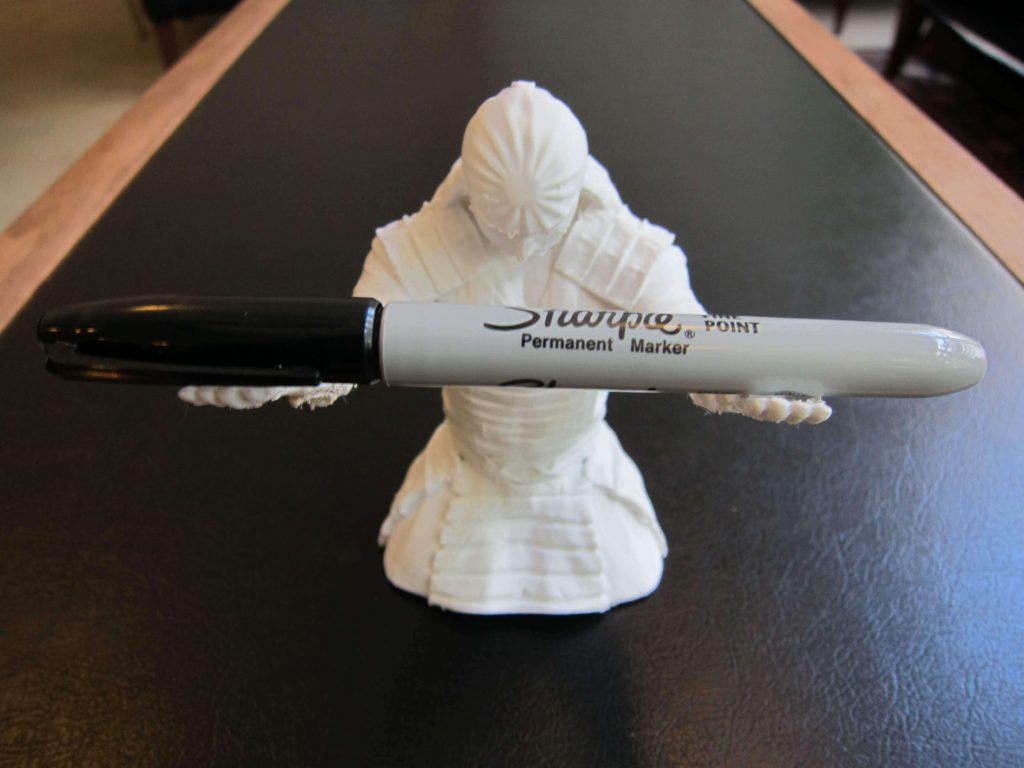 Add a touch of grandeur to your work space with this pen holder in the shape of a kneeling samurai. It was designed to hold tablet pens, but can also be repurposed for any other pointy objects you choose. Perhaps even a genuine samurai sword? This model cuts a swathe with 9897 views, 363 likes and 38 collections.
5) The Eiffel Tower Miniature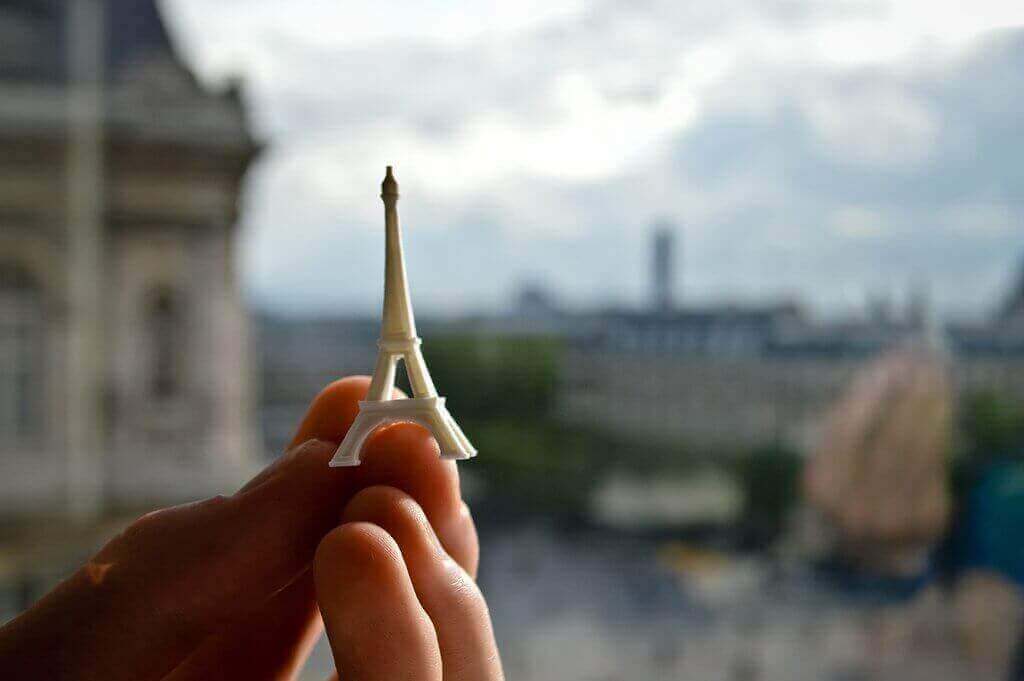 The whizz-kids at Le FabShop grab another spot in the Pinshape popularity contest, this time for a teeny-weeny sculpt of the Eiffel Tower. The value in something so small is not immediately apparent; at a best guess, it'd make a good test model for calibrating your printer. Or maybe a dainty little ornament for a keychain. This model has a combined tally of 4286 views, 61 likes and 29 collections.
6) Spiral Vase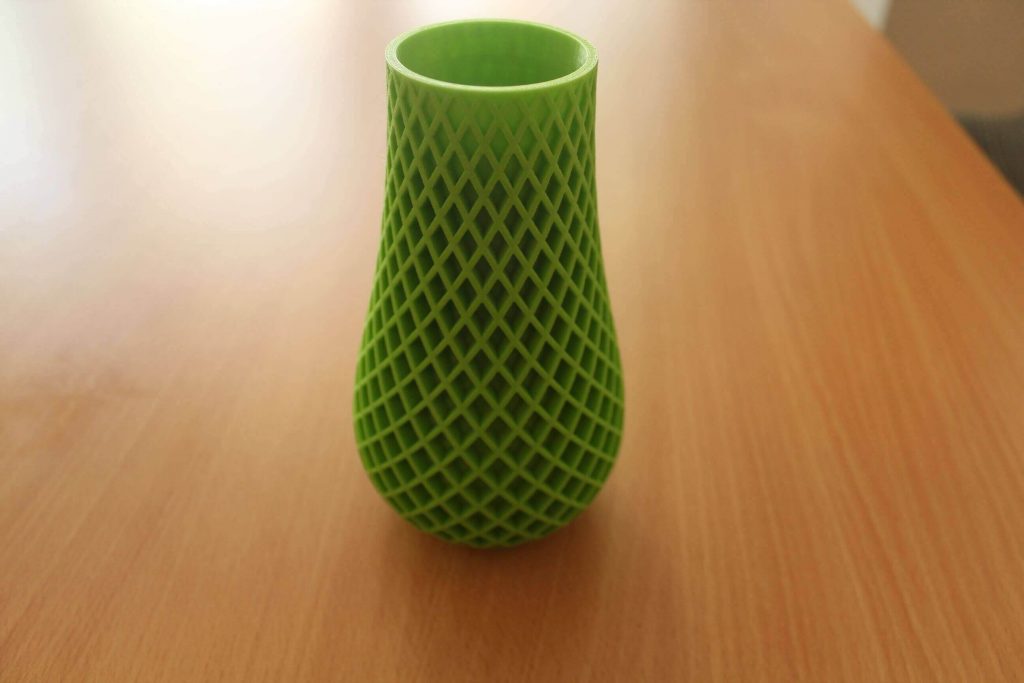 Sophisticated and simple, the Spiral Vase collection is a brilliant little project for your 3D printer. Choose from one of three designs, each of them featuring an elegant geometric design. Like a shower of flowers, this model has attracted 4821 views, 77 likes and 36 collections in 2015.
7) Fully Assembled 3D Printable Wrench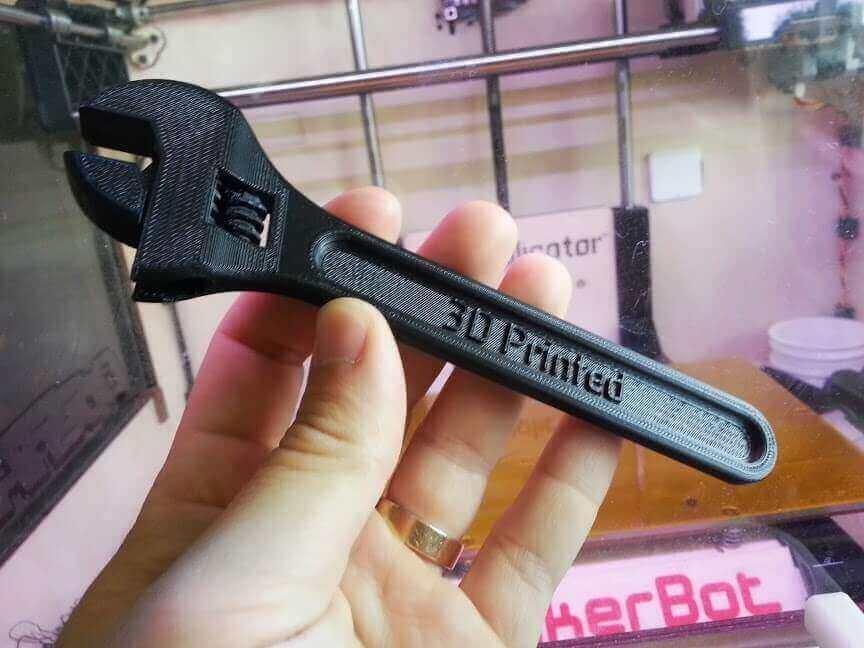 Designed by Daniel Norée — you'll be seeing his work again later — this is a fully assembled plastic wrench. Perhaps it's not as strong as a conventional wrench cast in steel, but as a single print job with moving parts, it's certainly an excellent proof of concept. The Pinshape community agrees, with 5141 views, 57 likes and 18 collections.
8) Yoda Bust Pencil Holder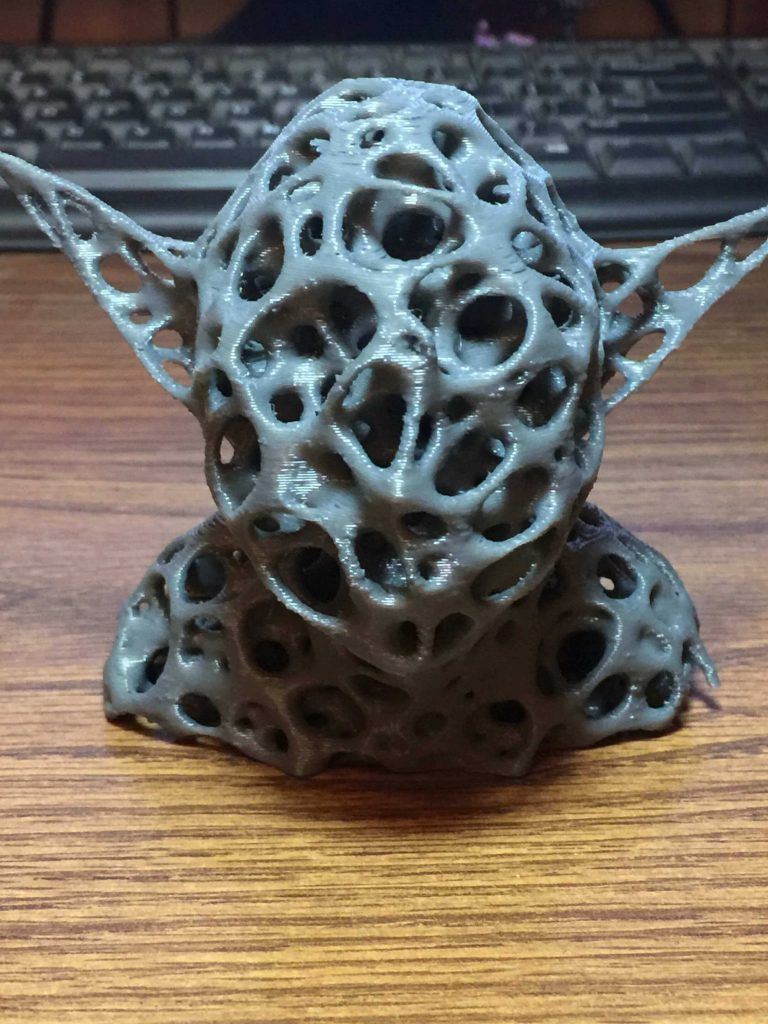 At first glance, this model could be mistaken for some weird artsy-fartsy sculpture made from mouldy Swiss cheese. But in actual fact, it's a weird artsy-fartsy sculpture of the iconic Star Wars character Yoda. Recognise the pointy ears, do you not? The holes serve a purpose too, keeping your pens and pencils safe from the dark lords of the Sith. 5494 views, 91 likes and 45 collections.
9) Terminator REX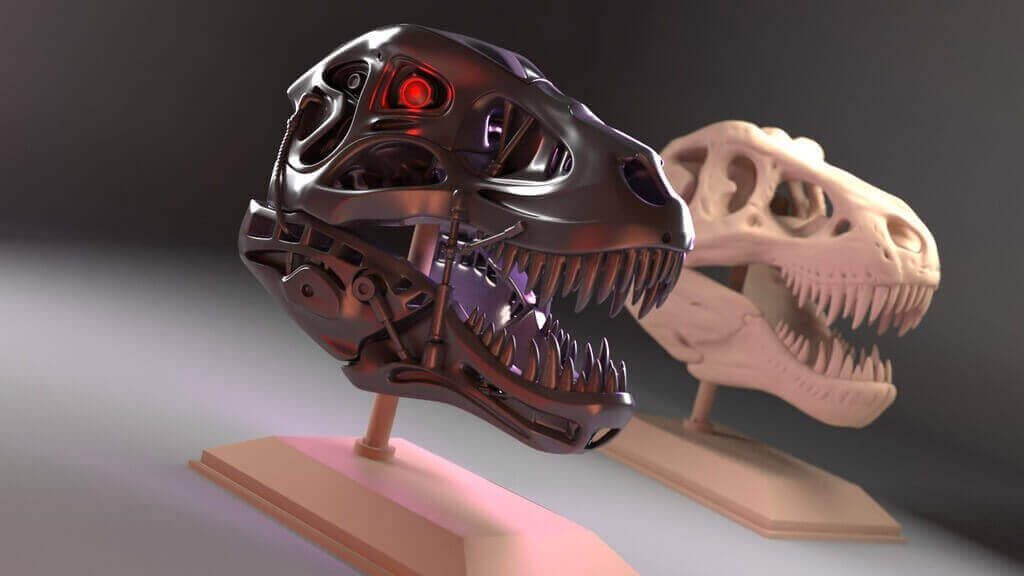 What's cooler than having the skull of a T-Rex on your mantelpiece? Why, duh, the skull of a TERMINATOR REX! This one needs no explanation. Current tally is 5386 views, 112 likes and 38 collections. Not even the emergence of Ah-nold in another crappy Terminator film this past summer could put a dent in its popularity.
10) 3DBenchy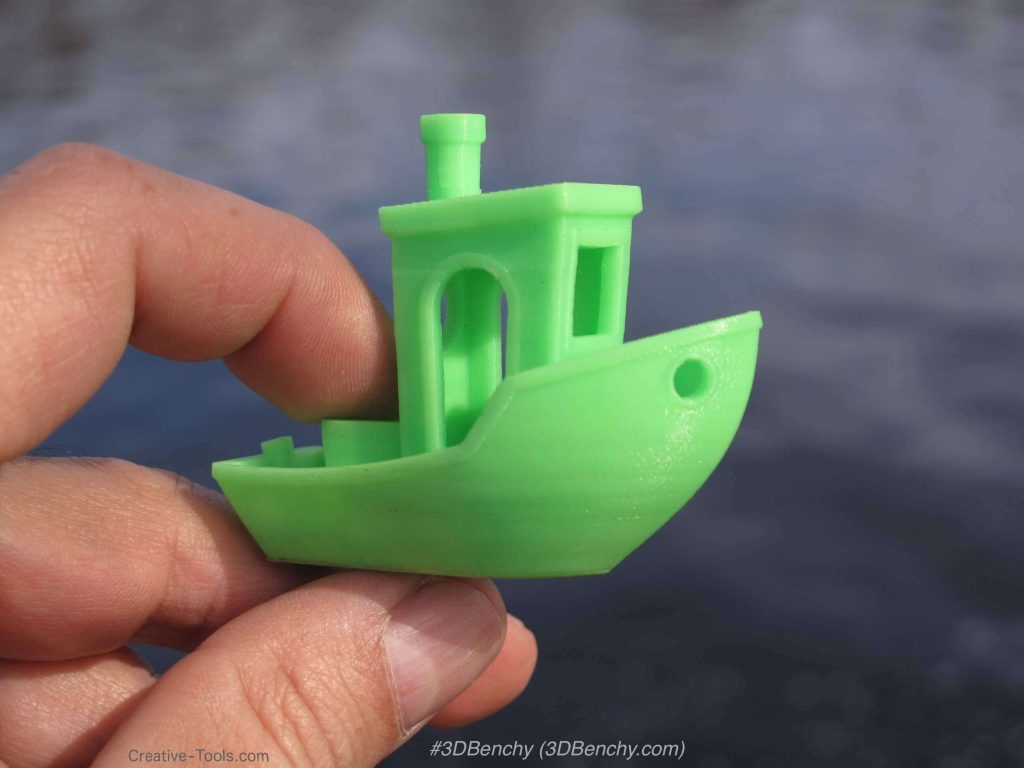 If you've been to any trade shows, fablabs or makerspaces recently, there's a strong chance you'll have seen one of these little tug-boats lying around the place. 3DBenchy is more than a cute trinket, it's a finely tuned model that's been specifically designed to test the capabilities of any 3D printer. Designed by the one and only Daniel Norée… Remember him? Stats are 6354 views, 84 likes, and a mind-boggling 12481 collections.
11) Baymax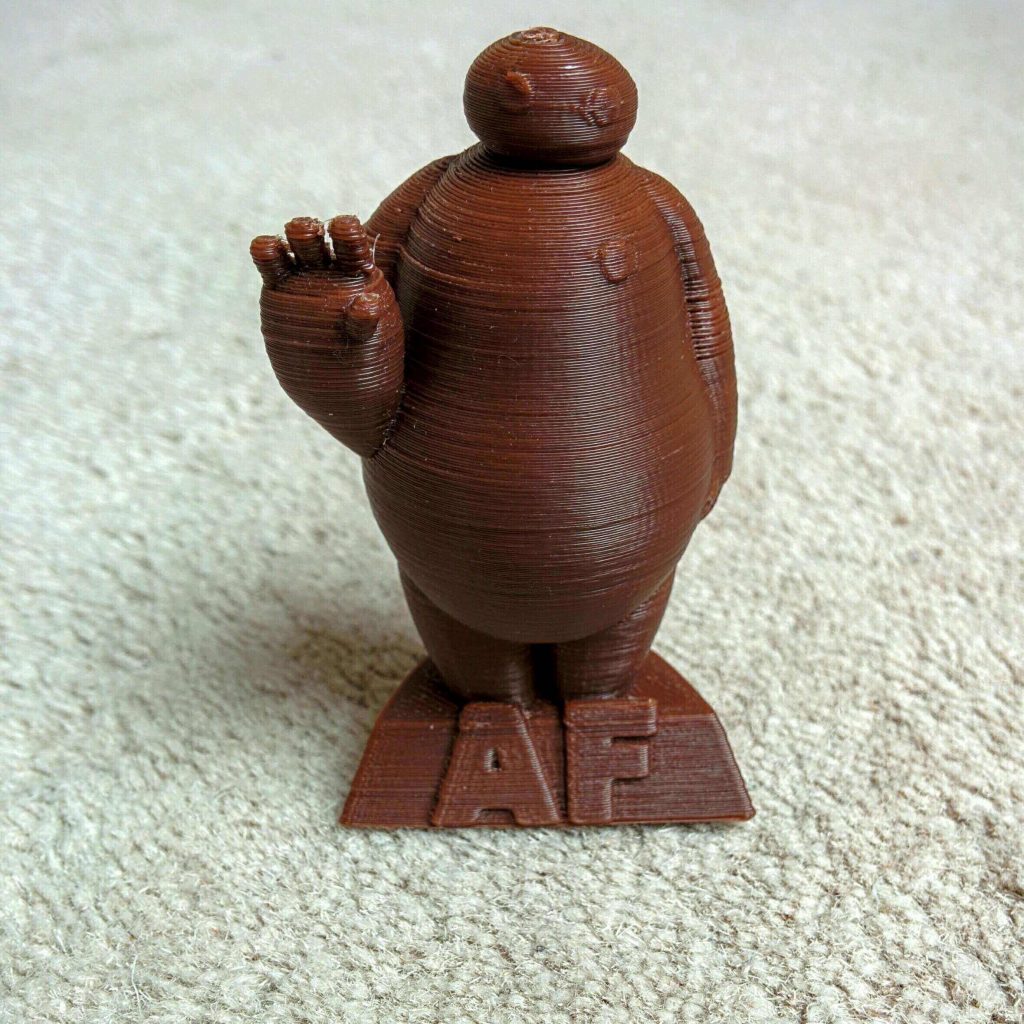 Another Disney property on the list, this time the cuddly character Baymax from the animated movie Big Hero 6. He doesn't move, and he certainly doesn't fly, but you can always count on Baymax to be a warm, reassuring presence in your life. 4096 views, 91 likes and 29 collections.
12) Low-Medium Poly Alduin from Skyrim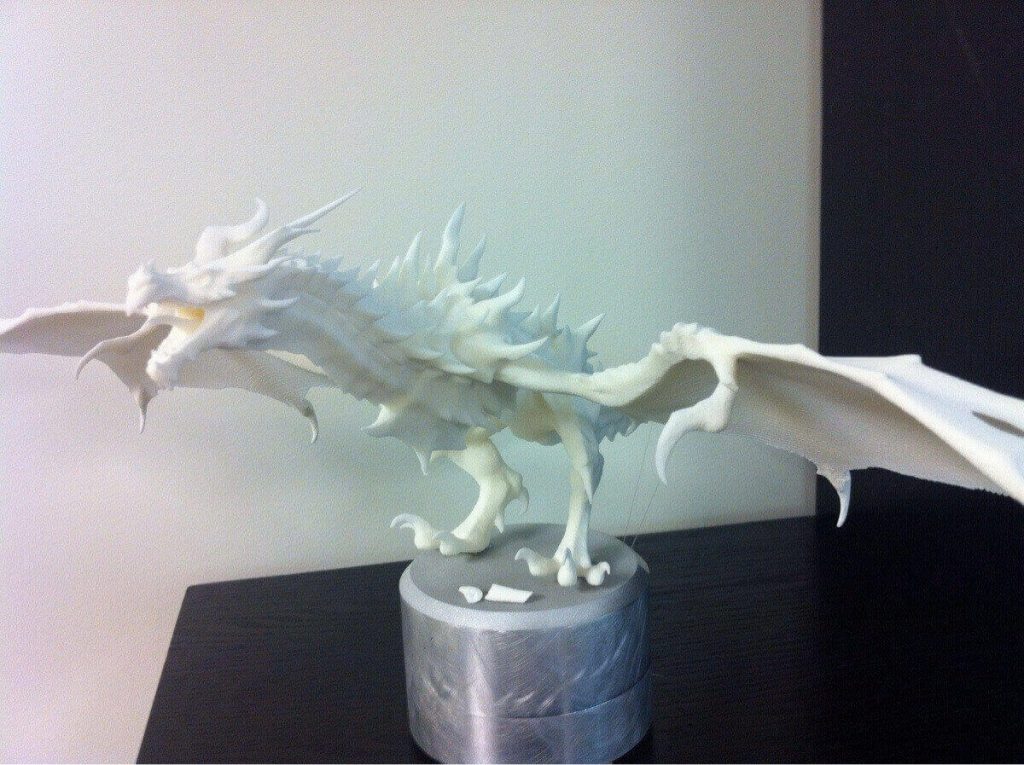 This impressive work of art is a sculpture of the dragon Aldiun from the video game series Skyrim. Not much else to add, except… that's a very impressive wing-span. 4865 views, 71 likes and 23 collections.
13) Halo/Tron Inspired Ring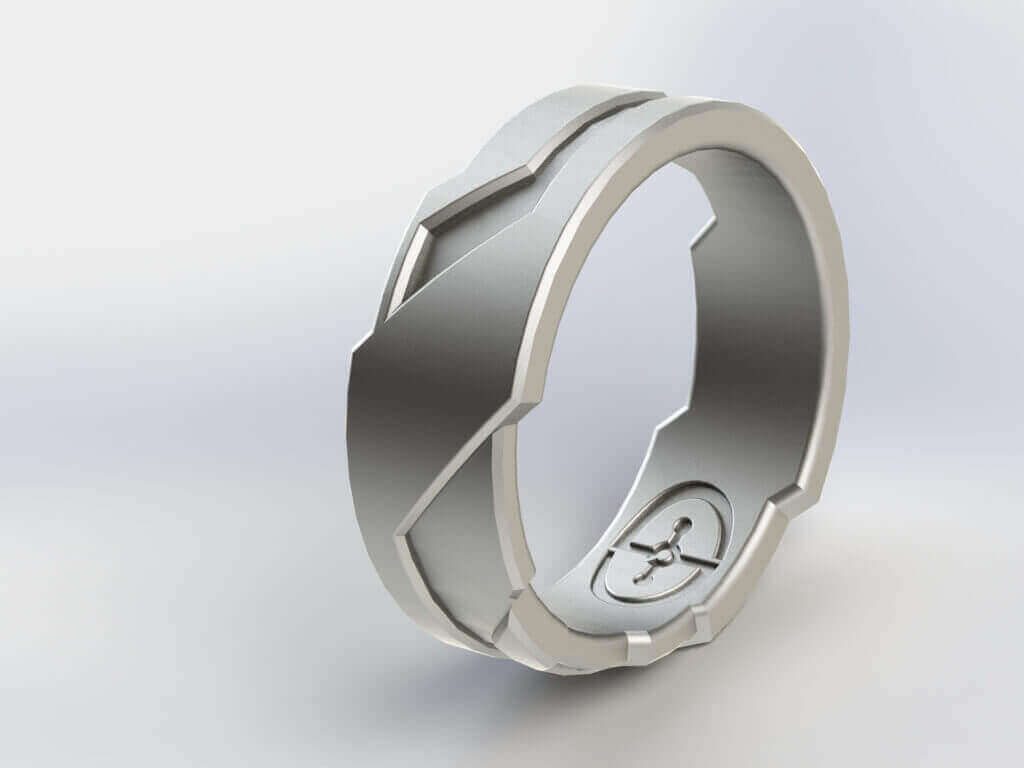 We've spared you the sight of hairy fingers and knobbly knuckles. Instead, make so with this pristine digital render of a ring that pays homage to not one but two revered franchises in popular culture; the Halo video games and the Tron movies. 4481 views, 64 likes and 62 collections.
14) Phone Holder Phone Stand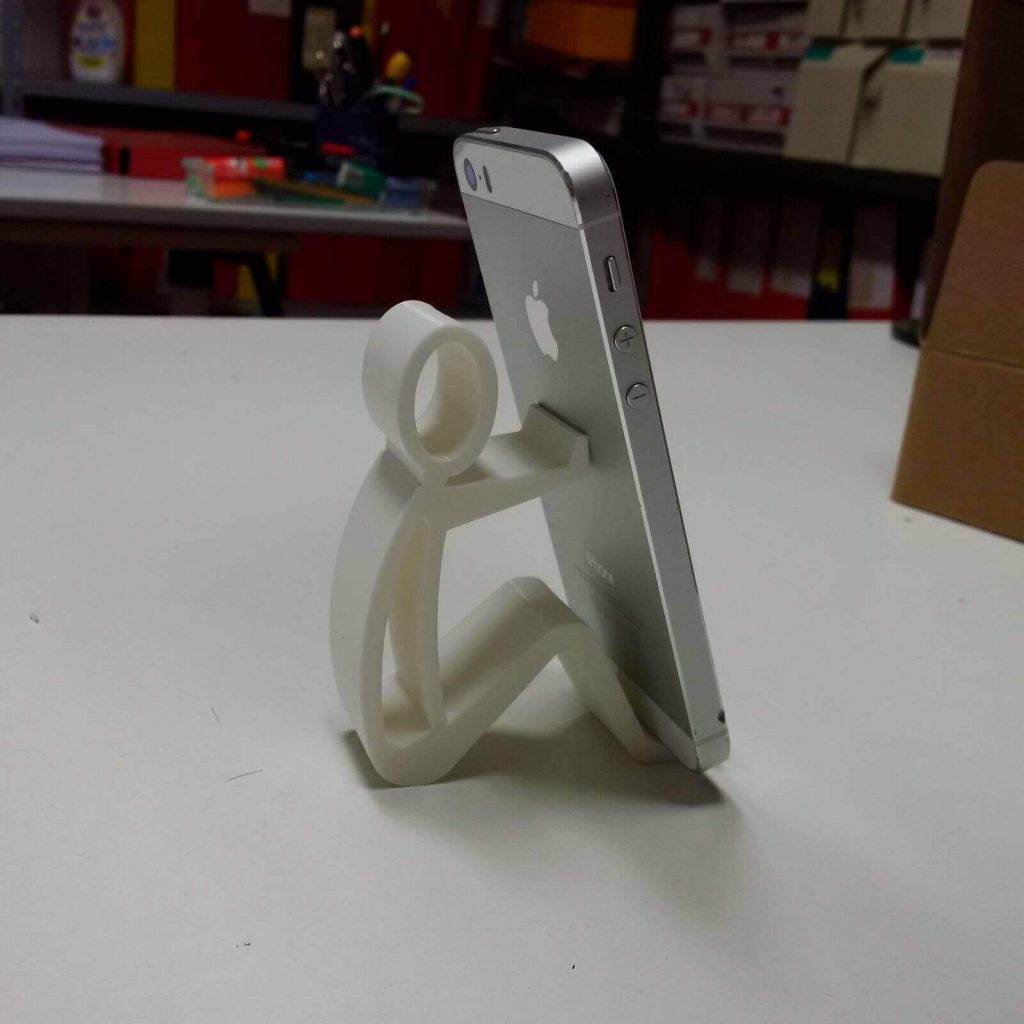 Got a phone? Prop it up with this dainty little stand. It looks like a human being, performing the Herculean task of keeping your black mirror (nearly) vertical. You can also print off multiple stands to hold up larger objects, like a tablet. Popularity rating is based on 3869 views, 33 likes and 19 collections.
15) Zheng3 Penny Ballista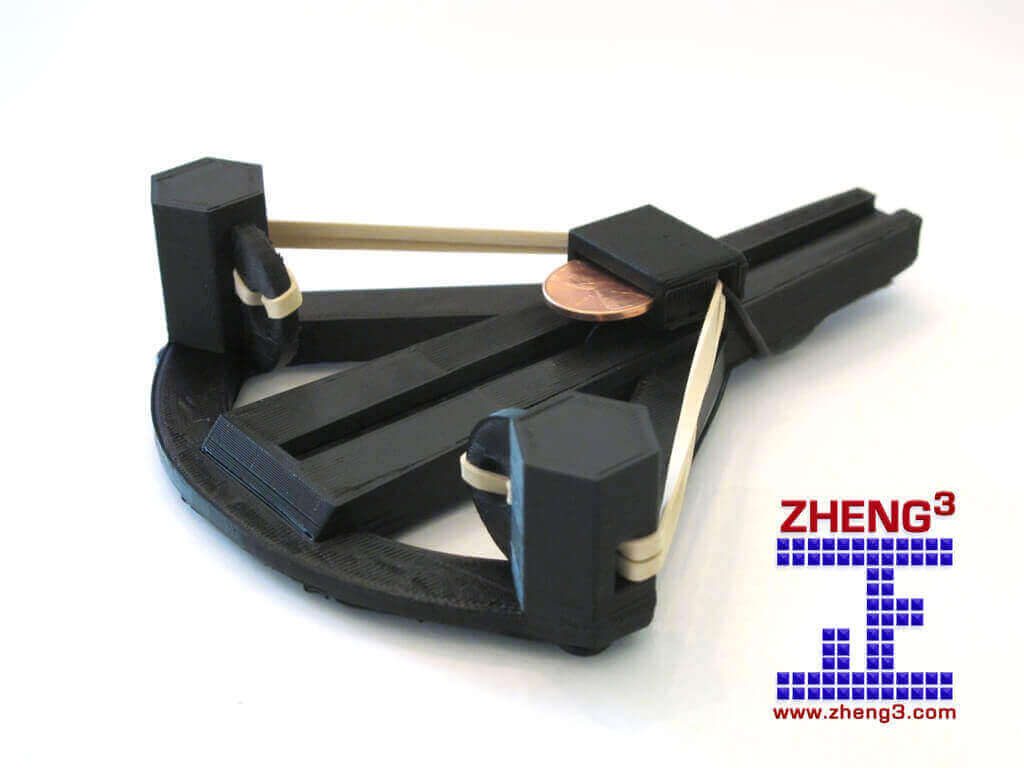 Oooh, we have reservations about this one. In the wrong hands, the Penny Balista could be a dangerous weapon. Certainly not something you'd allow your kids or the office sociopath to play with. Then again, it's proven very popular with the Pinshape community in 2015, so we can't argue with the numbers. Stats are 4277 views, 67 likes and 29 collections.
16) Thin Man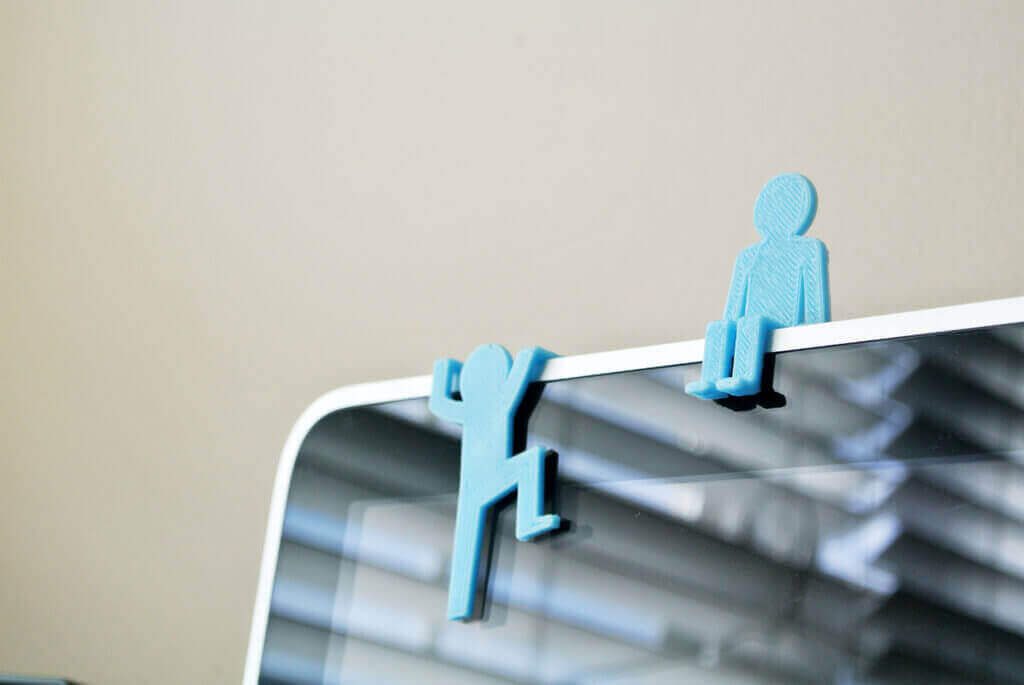 The Thin Man is the very embodiment of the 21st Century tchotchke. It's a series of small, flat figurines that can be perched around the home or office. They serve no discernible purpose, but the Pinshape community loves them. 3882 views, 81 likes and a staggering 12508 collections.
17) Islamic Christmas Ball
The concepts of Islam and Christmas might seem like strange bedfellows, but there's no arguing with the beauty of this Islamic Christmas Ball, adorned with a traditional Arabic pattern. Current standing is 3902 views, 68 likes and 19 collections. Happy Holidays!
18) Voronoi Style Bracelet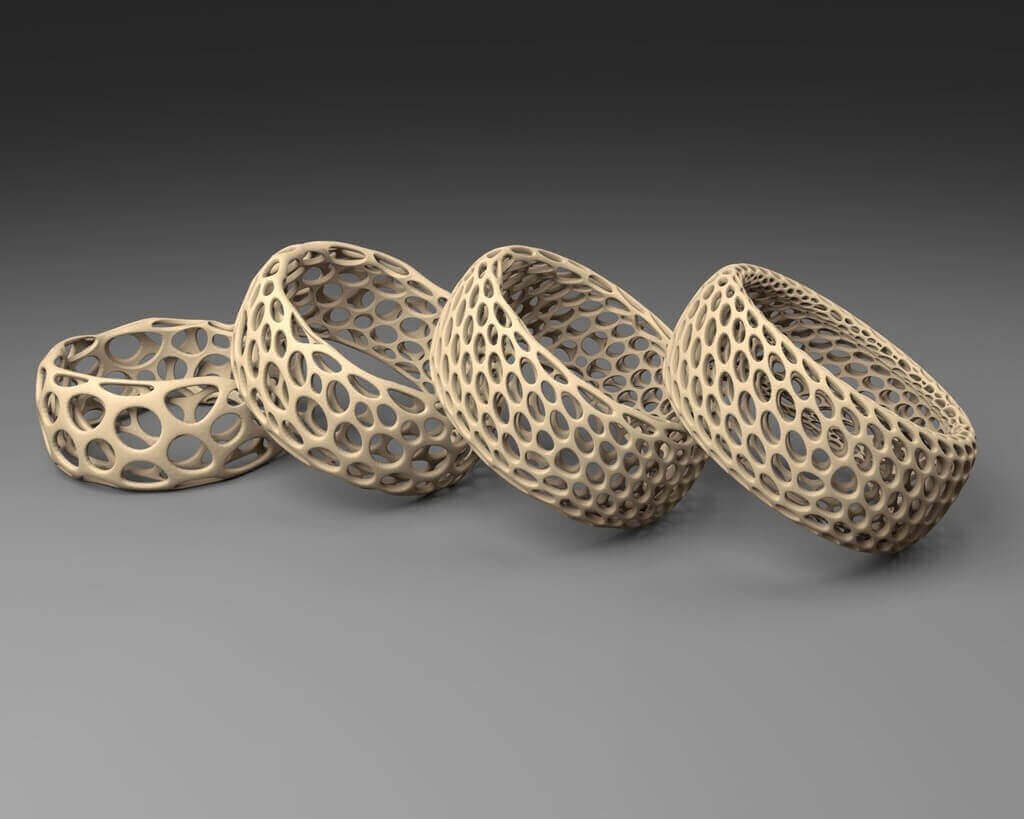 Festoon your arms with not one or two, not even three, but FOUR different voroni style bracelets. Perfect for fashionistas, math geeks, and 3D printing enthusiasts. Of which there appear to be many on Pinshape. Tally is 3148 views, 60 likes and 17 collections.
19) Spiral Chess Set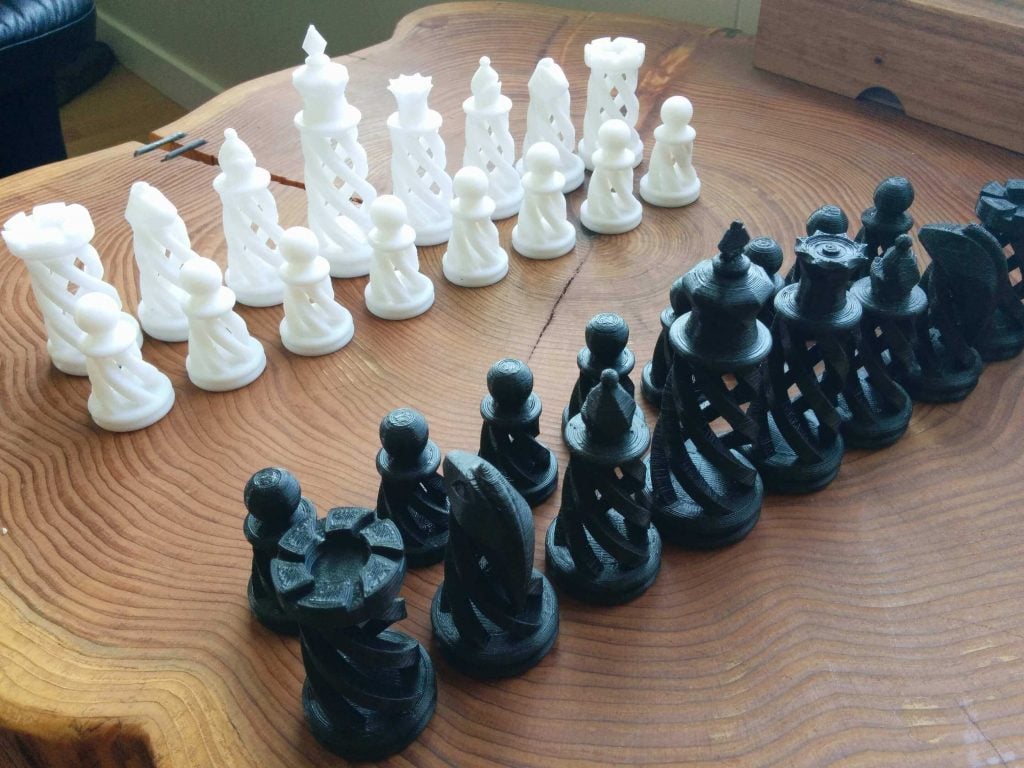 It's nice to see the appearance of at least one chess set in the top 20. It's the game for cerebral giants, after all. And look! The person who took this photo of the Spiral Chess Set is to clever, they don't even need a board to play the game! Tally is 3450 views, 71 likes, and a frankly impressive 12493 collections.
20) Heavenly Warrior Steel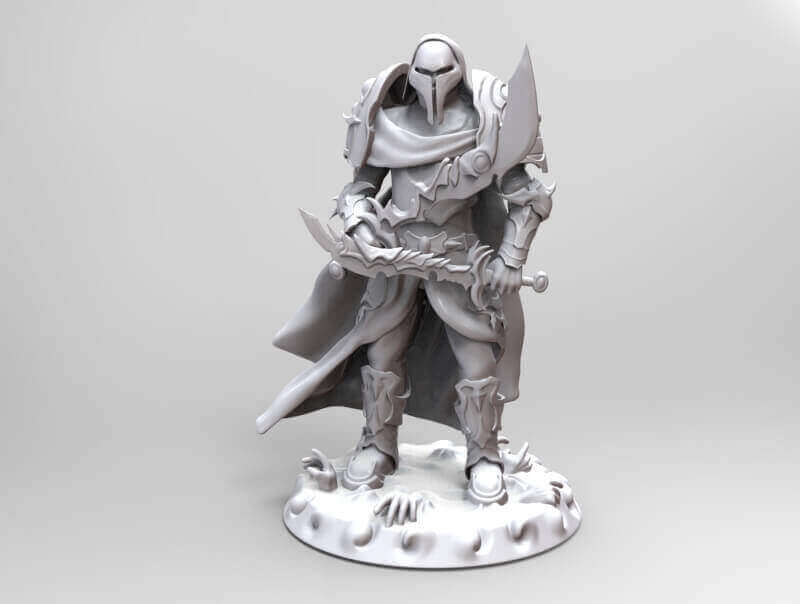 The last entry on the most popular models on Pinshape in 2015 is this fearsome Heavenly Warrior. How fearsome? He's bedecked in armor and clutching a bloody great sword, atop a small pile of limp hands. This chap has had 2707 views, 55 likes, 17 collections, and 666 fatalities.
License: The text of "20 Most Popular 3D Printing Models on Pinshape in 2015" by All3DP is licensed under a Creative Commons Attribution 4.0 International License.
Subscribe to updates from All3DP
You are subscribed to updates from All3DP
Subscribe
You can't subscribe to updates from All3DP. Learn more…