You can find the original, detailed PiKon guide here.
Physical Assembly
Mirror Assembly
The guide recommends starting with the mirror assembly, which should be assembled before attaching the mirror itself.
The Mirror Mount and Base are first connected by placing three 8mm nuts through the Mirror Base, then through the springs. After that, the bolts go through the Mirror Mount and then into the 8mm nuts, secured in place buy the hexagonal holes in the Mirror Mount.
Spider (Camera)
First, the lens of the Raspberry Pi camera needs to be removed – but make sure that when you do, the ribbon cable remains attached to the PCB. After that, the camera can be attached to the Camera Mount with four 2mm nuts and bolts.
After that, we can assemble the focusing mechanism: it consists of a cog, a threaded shaft, and a Focus Knob. Place the cog in the middle fo the assembly to start, then secure it in place with the shaft, capped at the end with the Focus Knob. Then, the Threaded Shaft is placed through the hole in the center of the seemly, touching the circumference of the cog – it might be stiff at first, but it should loosen up after a few passes.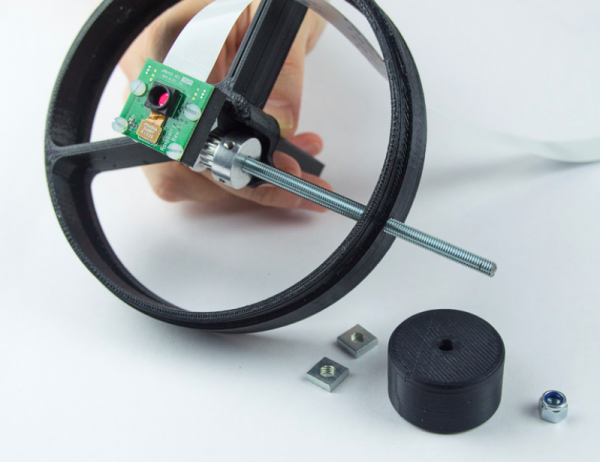 The Raspberry Pi Case
The Pi case is attached to the Spider by the Raspberry Pi mount and a single self-tapping screw after a hole is drilled to clear space. The hole should be drilled over one of the legs of the spider so that the self-tapping screw does not protrude. The two parts of the Raspberry Pi case then clip together, after the Pi is inside, and then insert into the Raspberry Pi Mount.
The Final Assembly
Before sealing it at the ends, you might want to paint the inside of the Tube black to improve performance. But once that's done, you'll want to add the tripod mount.
To do this, balance the tube in your hand to find its center of gravity, then mark the position of the two holes to drill using the Tripod Mount. After securing the tripod mount, you can replace the Mirror and Spider Assemblies – make sure not to fix the spider in place until you've tested the PiKon so that you can find the proper orientation of the camera.