TCT Show 2018 is just around the corner, meaning manufacturers across the breadth of the 3D printing industry are gearing up to let loose with shiny new devices for us all to salivate over.
Some, such as a certain Messr. Prusa, are content to tease us over Twitter. Others give it up early under the proviso of an embargo. And then there's Peopoly, which has just told us exactly what to expect when those conference doors slide open on a sunny Birmingham morn next Tuesday.
Say hello to the Peopoly Moai 200.
Peopoly has toyed with the idea of a large-format SLA 3D printer for some time, with the development project codenamed Project DFA explained in detail on the Peopoly website. While that machine purports to be a 300mm-cubed, top-down blade touting beast of a printer, the Peopoly Moai 200 appears to be a half-step — keeping the mechanics and bottom-up printing of the Moai and increasing the print volume.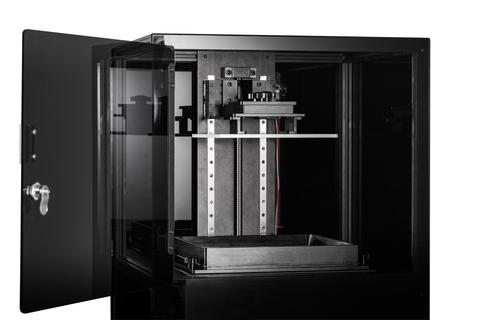 Peopoly Moai 200: What is it?
The original Peopoly Moai is one of our favorite SLA 3D printers. Coming in kit form, it simultaneously gives you a grasp of the mechanics behind SLA printing, while leaving you with a robustly excellent tool in the printer itself.
Since its release in 2017, small hardware improvements and upgrades have become available, such as an FEP vat, print chamber heater, and self-leveling print plate.
Throughout the form factor has remained the same, including the print volume of 130 x 130 x 180 mm.
The new Peopoly Moai 200, as you might divine from the name, gives this particular stat a shot in the arm. Supersizing to a generous 200 x 200 x 200 mm, the Moai 200 is quite possibly the largest, most affordable desktop SLA 3D printer going.
Certainly, it's the largest going with a price tag, rather than requiring a quote or consultation to buy.
Indeed, for the princely sum of $2,499 (akin the to the high-spec Lulzbot Taz 6 FDM 3D printer), the Peopoly Moai 200 retains the competitive pricing of its predecessor.
The other vital specs of this machine read largely the same as the OG Peopoly Moai, including the 70-micron spot size of its 405nm laser, meaning it is more a variant of the existing printer than an outright successor.
The FEP vat comes as standard. We're curious to see if the easy-leveling print plate — a quality of life improvement that vastly simplifies the original Moai's somewhat frustrating leveling process — features.
No word on a release date yet, but we expect to learn more about the machine when we visit TCT next week. Stay tuned.