Typically, when we look at a desktop 3D printer that is priced under $400, there's an inherent expectation that some features will be missing from the full package. With the Monoprice MP Voxel, however, the manufacturer has managed to pack some impressive attributes inside of this compact and low-cost machine.
Listed at $349, the Monoprice MP Voxel is an entry-level 3D printer that strives to offer an easy and feature-filled experience to beginners. It has a petite 150 x 150 x 150mm build volume, placing it somewhere in between the Monoprice Select Mini and Monoprice Maker Select on the manufacturer's size spectrum.
However, unlike those aforementioned Monoprice 3D printers, the MP Voxel has a full enclosure, which is somewhat of a rarity for an FDM machine at this price point. The clear panels help keep the print progress in clear view of the user. It also comes fully assembled right out of the box, meaning that users can have it up and running in a matter of minutes.
The Monoprice MP Voxel has a heated build plate that is both removable and flexible, making it easy to pop off finished 3D prints. There's also an additional build plate that comes with the printer, so users can start a new print job as soon as the previous project is completed.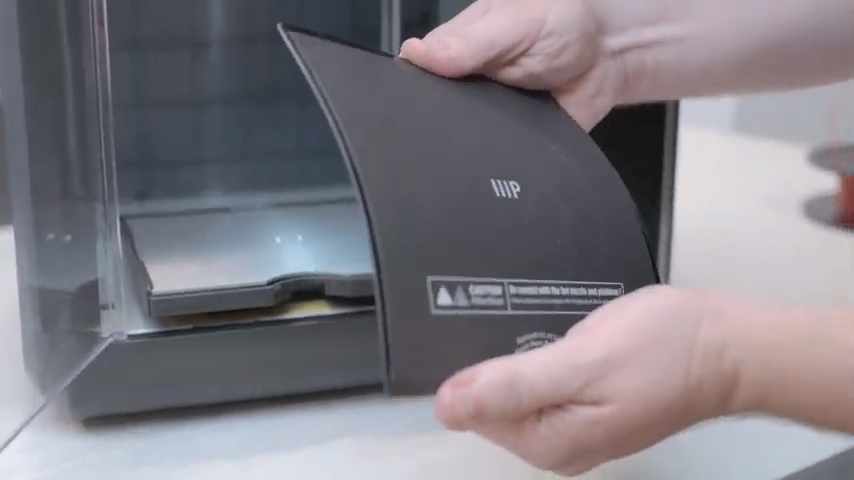 The build plate itself can be heated up to 60°C, which works just fine for materials like PLA, but could pose a problem for other filament types, such as ABS. Strangely enough, Monoprice hasn't listed the maximum extruder temperature, so we're unable to properly address which materials this 3D printer is compatible with. On the technical specifications sheet (which you can find in the following section), it claims that the Voxel works with ABS, PLA, and exotics.
Nonetheless, according to the manufacturer, the Monoprice MP Voxel is capable of achieving a minimum layer height of 50 microns. It can also reach a maximum print speed of 60mm/s.
A Strong Focus on Convenience
Many of the features found in the Monoprice MP Voxel were integrated to make the overall 3D printing workflow as convenient as possible. For starters, the machine offers assisted bed leveling, simplifying the crucial calibration process for the user. This feature can be accessed with a single tap on the printer's 2.8″ full-color touchscreen.
The Monoprice MP Voxel also boasts an automatic filament feed mechanism and easily swappable nozzles. There's also a built-in sensor that recognizes when the filament is running low, and in turn, will pause the print until the material is reloaded. Clearly, the manufacturer set out to reduce the amount of manual effort required to operate this 3D printer.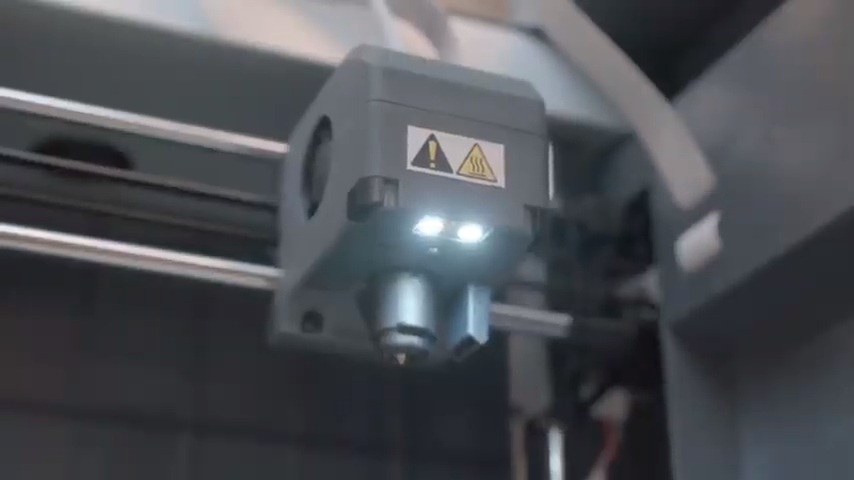 There's also a built-in filament compartment located on the side of the 3D printer, keeping the spool safely contained and out of sight.
Another noteworthy feature that the Monoprice MP Voxel is equipped with is a built-in camera, allowing users to monitor the entire 3D printing process remotely via WiFi. In addition to WiFi connectivity, the 3D printer also has 8GB of internal memory, which means you can start printing without tethering to a computer or inserting an SD card.
How Does it Compare to Other Budget 3D Printers?
In comparison to other budget 3D printers in the same price range, such as the Creality Ender 3 or Anycubic i3 Mega, there are some unique benefits that the Monoprice MP Voxel has to offer. The most obvious is the fully enclosed print area, which is highly advantageous for materials that require a stable printing environment.
Features like automatic filament feeding and assisted calibration should also be highlighted, as they greatly increase the overall usability of the 3D printer.
Of course, there are also some drawbacks, such as the underwhelming build volume and limited maximum build plate temperature. Additionally, while other low-cost machines like the Ender 3 are highly modifiable, the Monoprice MP Voxel appears to be more of a "what you see is what you get" 3D printer.
All in all, we'd say the Monoprice MP Voxel is an intriguing option for beginners that want to start printing without having to tinker around or overcome the learning curve that usually comes with budget 3D printers. If you don't mind sticking to PLA and being confined to a small build area, we'd say this machine is worth a look.