Overall, the Flashforge Finder has been surprisingly fun to print with. It's reliable and its prints are decent. It handles fine detail well and produces smooth surfaces. Where it falters is when using supports. They're incredibly challenging to get off entirely and leave a rough residue behind.
That said, let's take a look at some of the Finder's finest (and not so fine) handiwork.
3DBenchy
We printed the classic torture test 3DBenchy with the supplied proprietary Slicer FlashPrint. It turned out great, with only some minor, common flaws.
When we printed it using standard Cura settings, however, it wasn't as lovely and was scarred with small zits and layering.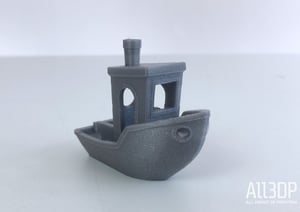 Autodesk Kickstarter Test
Next up was the Autodesk Kickstarter test, which looks at an FDM printer's precision. The Flashforge Finder achieved the following results:
Dimensional Accuracy: 4 of 5 points
Fine Flow Control: 2.5 of 5 points
Fine Negative Features: 4 of 5 points
Overhangs: 2 of 5 points
Bridging: 4 of 5 points
XY Resonance: 0 of 2.5 points (ringing detectable)
Z-Axis Alignment: 2.5 of 2.5 points (no layer registration effect visible)
Overall, the printer scored 19 out of a possible 30 points. (For comparison, a Prusa i3 MK3S scores 24.5 on this test.)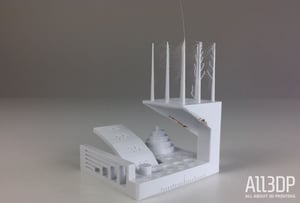 Fun Prints
Because this printer is geared towards beginners and kids, we tried printing a lot of toys on it. From flying PLA helicopters to more delicate PETG catapults, the Finder had no problem whipping out a variety of fun prints.

Where it struggled was with supports. A "big" teddy bear (it's actually quite small, but is as big as we could make it on the Finder) has beautiful smooth curves and is truly an excellent print — if it weren't for the crusty remains of supports we couldn't get off. Flashforge also put supports on the bear's tie, which we couldn't get all off and ruined the fine details.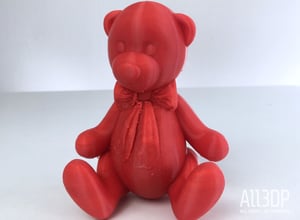 Same goes for the Space Man print, which needed supports under the car, but got supports everywhere in the default settings. This quickly became messy. Part of the problem is when you use supports it's a little too liberal with them. The other problem is when you use supports they are just really tough to altogether remove without gouging the print itself.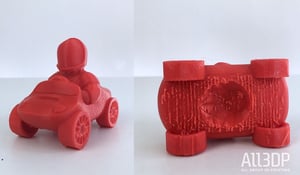 And again, with this creepy articulated baby. However, the printer handled all the articulated joints exceptionally well, so as long as you don't turn the baby over onto its stomach, you can't tell that the support structures ruined it.