So, what makes the M3D Crane Quad special? Let's dive into the specifications:
1. Get Started with Color Blending
The most obvious prominent feature is the capability of mixing colors in order to get colored prints. According to M3D, you can print up to 50.000 colors with the M3D Crane Quad, if you start combining all the four colors.
This technology differs from traditional color printing. Whereas professional binder-jetting color printers can print like a multi-layer color photocopier (and share much of their technology), the M3D Crane quad blends the FDM filament directly in the nozzle.
If you combine Cyan, Magenta, Yellow & Key (CMYK) filaments, you can theoretically print over 50,000 unique colors. The key filaments can either be Black, White, or Transparent. Using white creates different tints which lighten a color, using black creates shades which darken a color and using clear adds a degree of transparency and depth.
If you want to get the most out of this sophisticated color system, M3D offers a specialized assortment of "calibrated" filaments – but you are not stuck with their offering.
This method of "gradient 3D printing" differs from full-color 3D printing. As said, the M3D Crane Quad mixes up to four FDM filaments in its nozzle. The result will be color gradients that you can take control of. But if you are looking for a 3D printer that actually prints colored dots, this is not the right one. In order to get this "pixelated" result (think of a photo), you will have to resort to binder-jetting technology, which uses powder-based machines that cost $100.000 and more.
2. It's also a Multimaterial System
M3D premiered its "QuadFusion" print head as a Kickstarter campaign lately. At the time of writing, it has already hit its funding mark but is still ongoing for three weeks. It's the same extruder that will be used in the M3D Crane Quad.
Currently, there are just a handful of multi-filament extruders on the market (i.e. one for the Prusa Mk3). Most of them are only capable of 3D printing PLA.
The M3D Crane Quad differs significantly from them. First of all, it uses just one mixing extruder to 3D print instead of using four independent nozzles. Also, M3D claims that they can 3D print with different materials, which is highly unusual. So you would be able to blend filament types to get totally new materials.
As said, this is not an M3D Crane Quad review, so we cannot say how good the color and material blender really works. But M3D have a great reputation within the 3D printing community, so the M3D Crane Quad could become a really interesting new approach to color printing – and not end up in one gigantic nozzle clog.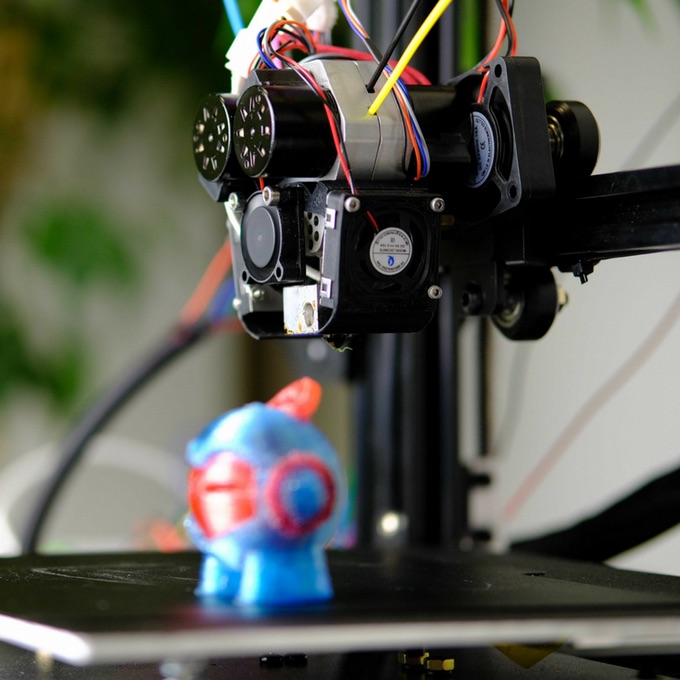 3. Good feature set
If you start looking at the M3D Crane Quad specs, you find additional positive points worth mentioning:
A medium sized print bed: Some innovative 3D printers come with a relatively small build volume, as it is complicated to get the temperature management consistent in large 3D printers. The M3D Crane Quad offers a bed that's big enough for most prints.
A heated bed: That's mandatory if you want to print ABS or even exotic filaments with the M3D Crane Quad.
Automatic calibration: Although it's pretty much a given for any modern 3D printer, it's good to see the M3D Crane Quad also frees you from painful bed calibration.
SD and USB: You print your 3D print models either via microSD-card or the integrated microUSB connection.
Software for all systems: In order to get the most out of this full-color system, you will need a dedicated and capable slicing software. We couldn't find any information what M3D will provide (most likely a version of Cura 3D), only a hint that it will be available for Windows, Mac, and Linux.