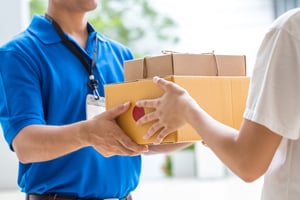 Like Amazon, the following major Chinese online retailers are proven, reputable vendors. Their pricing fluctuates a lot, so it's a good idea to compare between them and see if anyone has a significantly better offer than another. Be warned though — the cost of a printer can vary from one day to the next!
Customs
Please keep in mind that depending on where the 3D printers are being delivered from, they could get stuck at customs and you may have to pay customs fees on them.
Warehouses
Check the warehouses these vendors are using. If you're looking to get your purchase quickly and avoid the risk of customs, try ordering it from a warehouse that's in your region. Just be aware that it will probably cost a little bit more. If saving money is more important, order from a Chinese warehouse. The shipping time can be very long and there could be customs fees, but it will likely be cheaper. Just be aware that this will make returns more difficult/expensive!
Reputation: AliExpress is a very popular online retailer with a well-rounded 3D printer offering. Because it is a marketplace, with a collection of sellers, it has a mixed reputation. Be very careful about which seller you buy from and be aware of their shipping and return policies before making a purchase.
Prices: The prices can often be lower than on Amazon or other sites, but, as mentioned above, they fluctuate a lot. Depending on the seller, you can get free shipping.
Ease of Use: Though AliExpress offers a vast range of items, it's not the easiest online retailer to navigate. In fact, it's a bit of a mess. You should also be 100% positive that the item you're purchasing is the exact one you want because sometimes AliExpress carries many very similar items and their product names can seem like a jumble of conflicting keywords.
Return Policy: AliExpress' return policy lets you request a refund up to 15 days after your order has been completed. But when it comes to footing the return shipping bill, that varies based on the seller. In many cases, you may be liable for it. Sometimes, the cost of return shipping can be more than the product itself, so think twice about ordering from them if you think there's a possibility of returning it.
Selection: AliExpress offers a wide range of printers and, depending on what you buy, ships items out from different locations to reduce the shipping time. They often offer free shipping, but the amount of time it takes an item to get shipped to you really varies and is something to be mindful of.
3D Printers at AliExpress
Commissions Earned
Check price at
Reputation: Relatively solid in terms of its reputation, BangGood, sells a range of products and ships internationally. Between all the Chinese online retailers, it's the most similar to Amazon.
Prices: They often have deals on printers, so they're worth checking out to make sure you're getting the lowest price for your machine. The shipping fees vary.
Ease of Use: BangGood is relatively simple to use. Sometimes, the product descriptions can be confusing, especially in other languages than English, but unlike Aliexpress, the products cannot be confused. Lastly, the shipping time for products can range from anywhere between five days to 50 days, depending on the warehouse.
Return Policy: They don't offer the most generous return policy, but they have been accommodating in the past. You have three days after the delivery date to make your return. You'll also be on the hook for the shipping costs.
Selection: BangGood offers a decent range of printers, so they're worth checking out, especially if you're hunting for a deal. Act fast though — the prices tend to bounce around.
3D Printers at BangGood
Commissions Earned
Check price at
Reputation: Though GearBest is a site that specializes in selling electronics, according to voices on forums, its customer care can sometimes leave a bit to be desired. Keep this in mind when making a purchase.
Prices: Like the above stores, the prices fluctuate a lot, however, GearBest does have frequent sales and discounts. Be aware that some items may ship from the GearBest Chinese warehouse, where shipping will take longer and there could be customs fees.
Ease of Use: This site is generally quite easy to use. On average shipping can take from a few days to more than 20 days, depending on where you and the warehouse are located.
Return Policy: They offer a 30-day return policy, but do require you to pay shipping fees for both ways if you're sending back a fully functional item. If the item is defective you don't have to pay return shipping. As mentioned above though, their customer care is not the best and this could make the return process a headache.
Selection: They offer a broad range of printers.
3D Printers at GearBest
Commissions Earned
Check price at