It's been a few years since the FlashForge Dreamer was released, but there are still some intriguing features despite its grizzled age. Priced around the $800 mark, the inherent ease-of-use of this 3D printer comes at a cost.
Nonetheless, the FlashForge Dream is an appealing option for beginners who want dual extrusion capabilities without having to assemble and continuously tweak their 3D printer.
One downside that should be immediately noted is that the bed leveling process is completely manual. However, the touchscreen provides easy-to-understand calibration instructions, making it slightly more simple than other budget-priced 3D printers.
With that out of the way, let's take a look at some of this 3D printer's highlights:
Full Enclosure Means Full Control and Accuracy
Equipped with an off-white plastic alloy frame and full enclosure, this 3D printer is considered to be both safe and highly accurate. It has a door on the front and a removable top lid, preventing heat from escaping and dust from entering the build chamber.
The FlashForge Dreamer's enclosure is especially helpful for printing with difficult materials like ABS, which is prone to warping. The manufacturer claims that the printer's built-in heat controlling sensor also activates to stabilize the temperature in case things get too heated.
Dual Extrusion Capabilities (Before it Was Cool)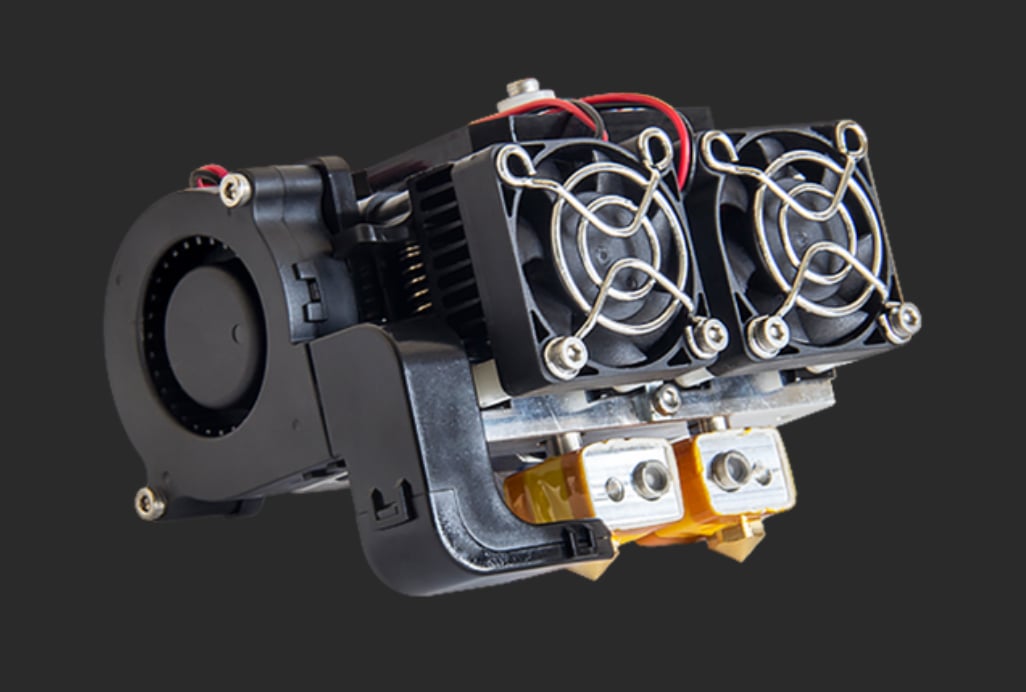 Of course, the hallmark feature of the FlashForge Dreamer is the dual extrusion 3D printing. The dual extrusion system allows you to print with multiple colors, or add support materials like PVA and HIPS into the mix, allowing you to successfully produce more complex designs.
At the helm of this multi-material system is FlashForge's "patented" dual direct drive nozzle design. Each nozzle is accompanied by a turbofan, which is mounted to help cool down the filament as its extruded. With a nozzle diameter of 0.4 mm, the FlashForge Dreamer is able to achieve a print resolution ranging between 100 to 500 microns.
The manufacturer claims that its 3D printer is compatible with a large medley of filament types, including PLA, ABS, PETG, TPU, HIPS, exotic materials, and more.
Petite Build Volume, Aerospace-Grade Aluminum Build Plate

Keep in mind that the FlashForge Dreamer has a rather minute 230 x 150 x 140 mm build volume, limiting what you can create – at least in terms of size. But one benefit of this compact build plate is that it's made of space-grade aluminum. With a sturdy 6.3mm thickness, the print bed is said to distribute heat across the entire build plate.
Other Features: WiFi Connectivity, Built-in Filament Chamber, and more!
The FlashForge Dreamer 3D printer also has some other neat features that are worth writing home about. Aside from the standard USB and SD card slots, there's also WiFi connectivity and 4GB of internal storage, so there's plenty of ways to prepare your STL files for printing. The machine also utilizes a built-in filament chamber, preventing your filament from tangling or getting caught on anything.
The FlashForge Dreamer operates using an ARM Contex-M4 CPU processor, which apparently makes its computing speed pretty quick. You'll also find a 3.5-inch full-color touchscreen situated on the front of the printer. On this screen, you can start a print, preheat the extruder, launch the bed leveling assistance, load or unload filament, and much more. There are also several languages you can prompt, including English, German, French, Korean, Japanese, among others.
FlashPrint Slicing Software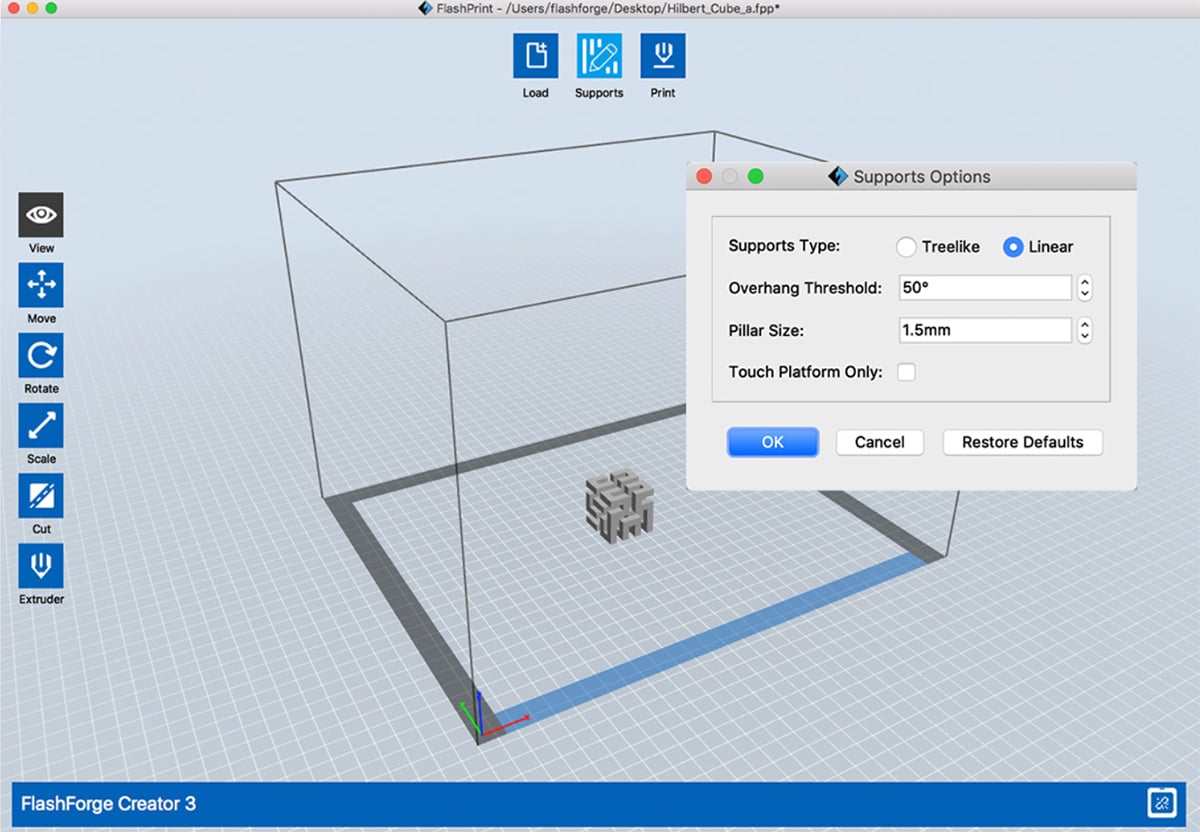 When it comes to the slicing process, FlashForge has its own official software called FlashPrint. You can also utilize a third-party 3D printing slicer, such as Cura or Simplify3D, but it may be worth giving this program a spin.
FlashPrint is specifically suitable for beginners, boasting a minimalistic interface with simple options to reposition, rotate, cut, or scale your 3D model. But advanced users can access more settings by digging into advanced mode, which provides more control over aspects like retraction, first layer print speed, and more.
You can also save custom settings for repeated use. There are several types of support structures you can use (treelike or linear), as well as an option to automatically divide objects that are too big for the build area.
Another advantage of using FlashPrint is that you can manage multiple FlashForge 3D printers simultaneously through WiFi connectivity. This is obviously useful for those planning to employ a fleet of FlashForge 3D printers. You can also share models with other users via FlashCloud.