Maya was used in many feature films like Transformers, and Harry Potter, in the TV series South Park, and Game of Thrones. So, any professional should at least have a basic understanding of what this powerful program is capable of. Autodesk generously made a free trial version of the program available for download.
What To Do When You Really Need Maya
What if you discover you want to keep the 3D modeling software after the trial expires the price tag is just too high? You have 3 options:
Consider purchasing Maya LT. This is a slimmed down version of the program that costs only a fraction of the full version. Accordingly, the feature set is trimmed down quite a bit. Take a look at this table on Autodesk's website to see if it offers the features you need.
In case you are a student, you can apply for a free version of Maya. The license offered by Autodesk is valid for 3 years.
If options no. 1, and 2 are out of the question, we have listed a selection of free 3D modeling software alternatives.
Download Maya For Free: How to Access the Trial Version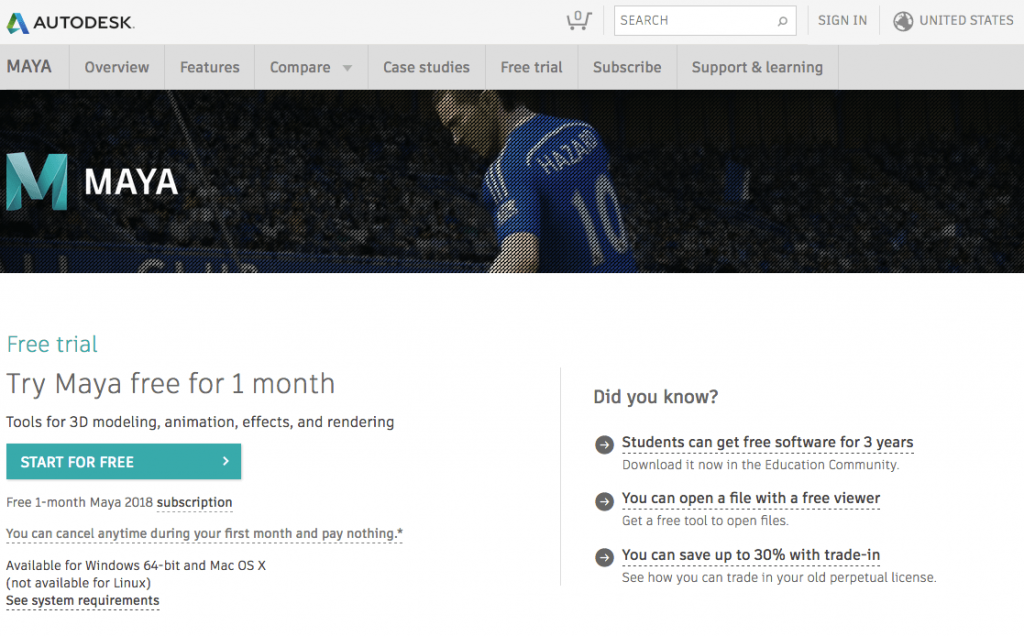 Autodesk hands out free one-month licenses on its website. To download the trial, you need to enter your credit card number. Unless you cancel within the first month, you automatically buy a subscription and the credit card will be billed $185.00 per month.
Click START FOR FREE to enter Autodesk's online store. There select Maya.
Choose a term: monthly, 1 year, or 3 years.
Click PROCEED TO CHECKOUT.
Enter your personal information to create an Autodesk account. Alternatively, sign in to your existing Autodesk account.
Enter credit card information. Please note that after 30 days the card will be charged!
Click REVIEW ORDER.
Click BUY NOW.
Download, install and start using the free trial of Maya.
Download Maya For Free: How to Access the Educational Version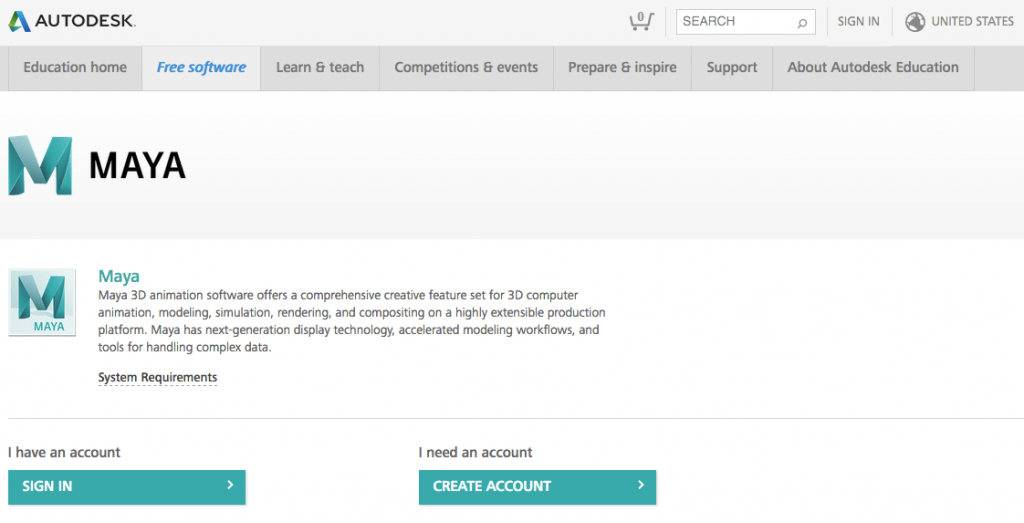 Autodesk offers educational licenses of Maya that are valid for 3 years. They are available on Autodesk's website.
Click SIGN IN to use your existing Autodesk account, or click CREATE ACCOUNT to create a new account.
Enter the required information on your educational institution and select your field of study.
You can now access the Autodesk Education Community.
Select the desired version, your operating system, and your preferred language.
The displayed serial number and product key are sent to your email address. Click BROWSER DOWNLOAD.
Install the free version of Maya.
When installing the 3D modeling software the first time, enter the serial number and product key to unlock it.
When you start Maya the first time, activate the license.
Download Maya For Free: Available Features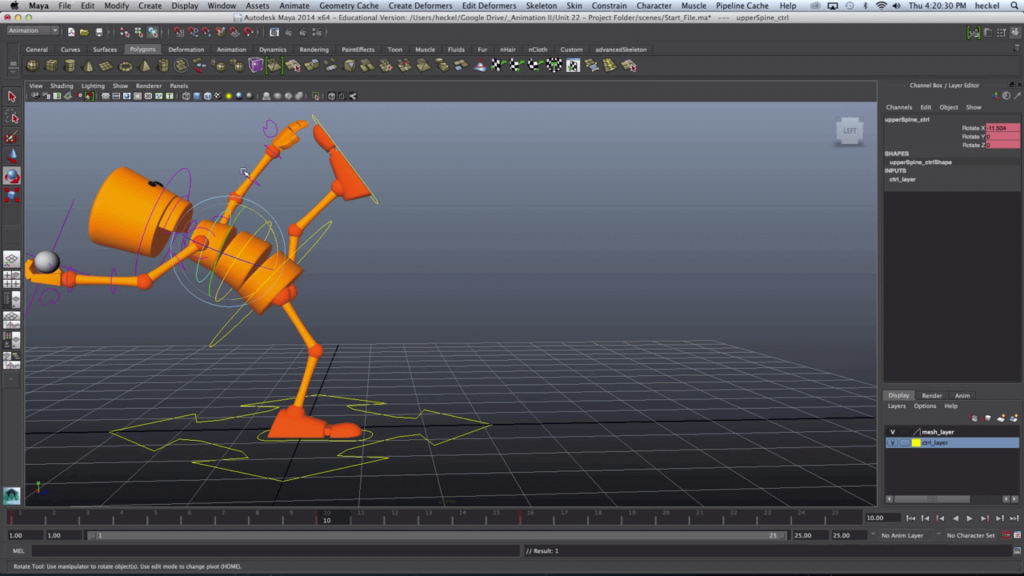 Because of its highly customizable user interface, Maya is an industry favorite among for both 3D modeling and 3D animators.
It is a very powerful 3D modeler: 3D models in Maya can be modified with its comprehensive node tool with only a couple of keystrokes. Even complex objects like fur, hair, clothing, fluids, and particles can be modeled with ease using its dedicated range of tools.
In addition, this 3D animation software includes a very easy to use an auto-rig tool, that can even process quadrupeds and winged models in no time. Maya also features various automation tools for animation along curves or paths making 3D animation almost child's play.
Last but not least, Maya comes with a sophisticated CG compositing program ("MatchMover"). By tracking the camera's movements it allows users to combine 3D rendered elements with shots filmed on set.