What is this 3D printed phone case source? Zetoff is another online phone case customization service.
How to create this 3D printed phone case? Currently, Zetoff only offers three iPhone templates. That's quite limited considering the vast selection of smartphones on the market. Anyways, once one of the three iPhone models (iPhone 5/5S, iPhone 6/6S, iPhone 6 Plus) is selected, you pick your color. The color picker tool is limited to black and white for some reason even though the example models, that can be selected, feature lots of different colors – kind of confusing.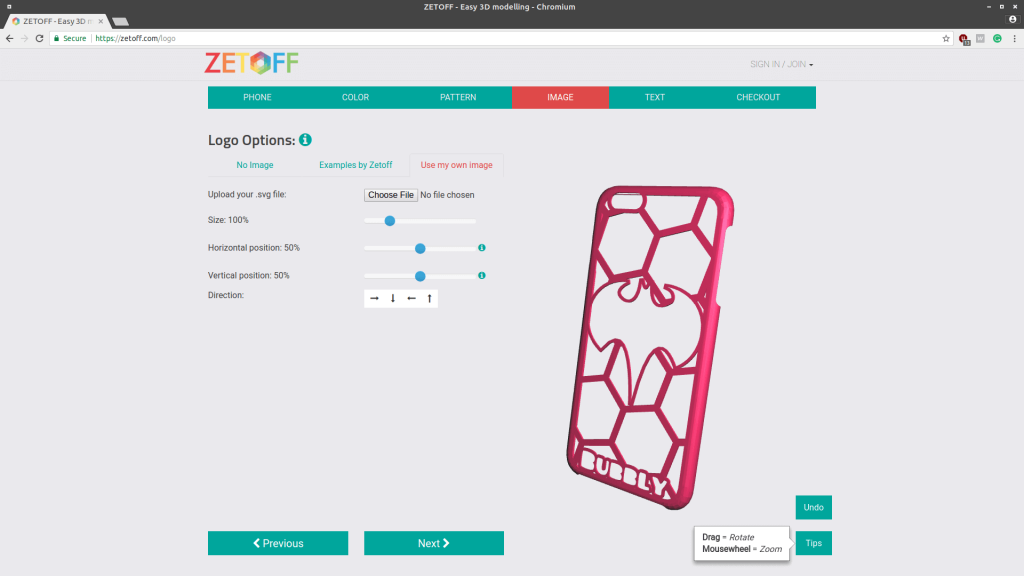 The following steps include picking the pattern and image. There are eleven patterns to pick from. The patterns can be altered and further customized by changing some parameters. The customization tool has a good selection of images that can be laid on top of the selected pattern. The size and position of the image can be changed using the sliders in the menu. There is even an option to upload your own SVG file. However, we couldn't get this option to work properly, so after various different SVG files and settings we gave up and just stuck with the provided images.
After the 3D printed phone case has been configured, the user has the option to purchase and buy the designed phone case. The model will be 3D printed and shipped to the specified address.
The phone case costs roughly $25 / $30 excl. shipping.
All in all, we must say this phone case design tool looks kind of abandoned. That's a shame because it's actually quite easy and fun to use.
Visit the site: Zetoff