In celebration of the late Zaha Hadid, the Architecture Biennale in Venice will showcase her innovative work, including a 3D printed chair.
Running until 27 November, the 15th Venice Biennale will devote 10 rooms to a special celebration of the life and works of the world-renowned Iraqi architect Zaha Hadid, who passed away in March.
Hadid was renowned for her architectural designs, but she also created innovative pieces of furniture, using 3D printing to create some of her works.
Visitors can admire Hadid's work from throughout her life including paintings, a collection of her drawings, architectural models, and even some of the works themselves.
In addition, there will also be a display of a 3D printed chair which was made in collaboration with Patrick Schumacher, director of Zaha Hadid Architects (ZHA), and Stratasys.
The Evolution of the 3D Printed Zaha Hadid Chair
Naomi Kaempfer, Creative Director for Art Fashion Design, Stratasys, explained:
"The Zaha Hadid retrospective in Venice provides an opportunity for us all to pay tribute to the iconic, award-winning architect. Zaha Hadid is undoubtedly the greatest female architect of our time. We are honored to have collaborated with her and her team of extraordinary architects. Together with her partner, Patrick Schumacher, Zaha pioneered a revolution in the world of architecture and design. She defined parametricism and created a unique signature style that engages and inspires creativity around the world."
First printed in 2014 using a Stratasys' large-scale Objet1000 Multi-material 3D Printer, the chair has been featured in various museums and exhibitions across Europe.
Together with her partner, Schumacher, Hadid designed the lightweight chair in order to explore the potential of multi-material and multi-color 3D printing technology.
In the video above, you can see how ZHA considered the "loading condition" of a person sitting down, and then created a structural pattern that deploys material density and depth where needed.
What do you think? Does this legendary 3D printed Zaha Hadid chair look comfy to you? Let us know in the comments.
(Source: Stratasys)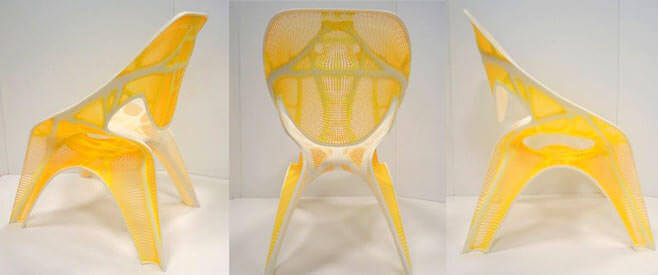 License: The text of "3D Printed Zaha Hadid Chair at Venice Biennale" by All3DP is licensed under a Creative Commons Attribution 4.0 International License.
Subscribe to updates from All3DP
You are subscribed to updates from All3DP
Subscribe
You can't subscribe to updates from All3DP. Learn more…