Would you like to make your own 3D printed disc shooter? By following YouTuber Austiwawa's latest project, you may soon be able to.
Austiwawa is a YouTuber with 33.000 subscribers. For his latest video, he begins with an apology for his irregular uploads but his latest invention, which he's been working on the past month, is worth the wait.
In fact, Austiwawa has been working on a disc shooter which can shoot 3D printed discs. His inspiration was a foam disc shooter for children, but his own design should definitely be kept away from little ones.
He explains: "I thought it would be cool to make something similar but take it to the extreme! This disc shooter will eventually get transformed into a completely 3D printed version so make sure you stay tuned for part two!"
Currently, the prototype design for the 3D printed version is "pretty crude looking" and is one of the most time-consuming projects Austiwawa has worked on to date. He puts this down to changing the design often throughout the build.
Components of the Austiwawa Disc Shooter
To make the disc shooter work, Austiwawa has a 250KV Brushless Motor mounted onto the end of the shooter. The motor is then hooked up to a 120amp brushless ESC which is powered by a LiPo battery.
The maker explains that coming out of the ESC is a battery eliminator circuit which he used to supply five volts of power to an Arduino Nano.
The Arduino Nano is used to control the speed of the brushless motor using a potentiometer. The battery for the Eliminator circuit also provides power for the DC motor speed controller. When Austiwawa holds the trigger, the small motor, hooked up to the board, spins, and 3D printed discs are shot out after being fed into the fast spinning belt.
As well as this, he explains that it's possible to adjust the fire rate too. Currently, 27 discs can be held in the plastic tube on the disc shooter. However, Austiwawa hopes to include a lid for the next design so the discs are secure.
Although this project isn't fully 3D printed (yet!) Austiwawa does use 3D printed components to provide pressure and power. To design and print, Austiwawa has been using Fusion360 and an Autodesk 3D printer.
If you'd like to find out more about the design and the future 3D printed version, make sure to subscribe to Austiwawa on YouTube.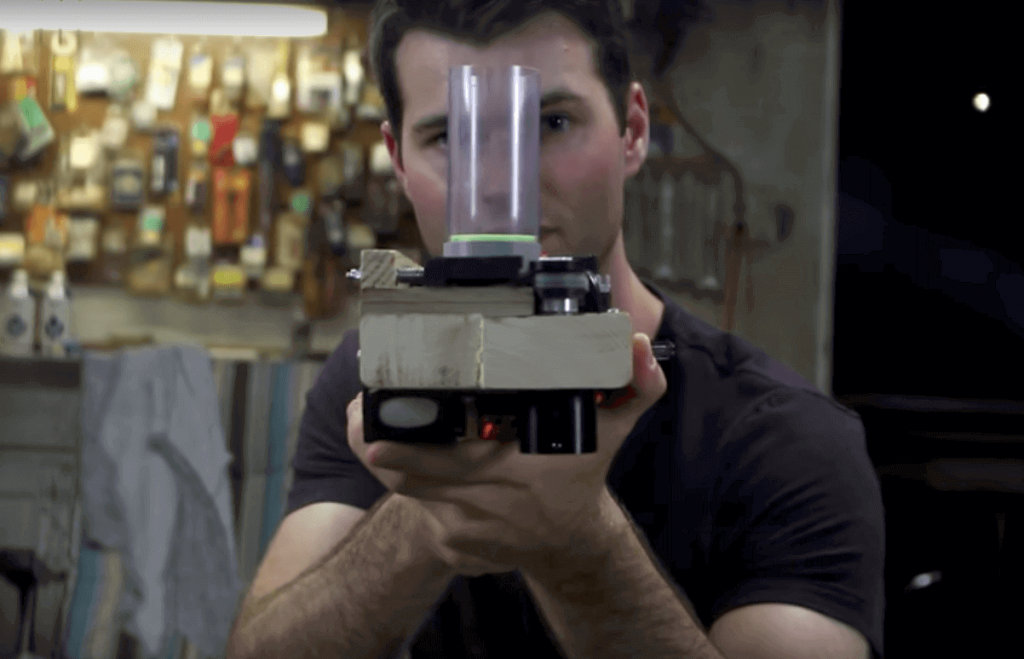 License: The text of "YouTuber Creates 3D Printed Homemade Disc Shooter" by All3DP is licensed under a Creative Commons Attribution 4.0 International License.
Subscribe to updates from All3DP
You are subscribed to updates from All3DP
Subscribe
You can't subscribe to updates from All3DP. Learn more…