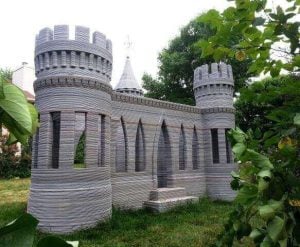 Chinese company Winsun Decoration Design Engineering is recently making headlines with 3D printed houses. Recycled trash from construction and industry waste is used as a concrete additive, and the resulting houses come at a price point of only about $5,000.
But the idea is not new. American craftsman, architect, and mechanical engineer Andrey Rudenko worked on this as a more or less personal project for more than 20 years­ his latest result being an incredibly beautiful castle with lots of different shapes. He considers selling his 3D printer and estimates it may be around the cost of a car – not much if you consider what value you can create owning one.
So what kind of big deal is 3D printing when it comes to construction?
In its essence, printing houses is not much more difficult than printing with desktop FFF (fused filament fabrication) 3D printers or decorating a cake with frosting from a forcing bag. The material is applied in a viscous liquid state and has to dry or harden fast enough to build the desired layers. It's a piece of cake if you will.
Not just a brick and mortar business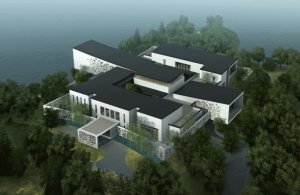 Actually, not only bare walls can be built: Insulation and piping can be included from the start as well as electricity, which significantly speeds up the construction process as many steps are combined.
Material such concrete, mortar, clay, mixtures of classic materials, or experimental mixtures with plastic or glass particles, are what makes the 3D printed buildings sturdy, sustainable and more cost­- and energy­-effective than regular buildings. Winsun claims to gain immensive savings on material, time and labor. Building ten small houses took only 24 hours in 2014. Their new announcement is a three­-story, 1,100sqm luxurious villa that can be built within one month and only costs about $160,000.
The greatest difficulty when 3D printing buildings seems to be the size of the needed printer. Always needing a printer that has to have greater dimensions than its product creates immense costs and makes it impossible to "build" seamlessly between existing buildings. Winsun uses a printer with dimensions of 150 x 10 x 6m. Their solution is to prints the parts that are assembled later – almost like prefabricated house parts are made and then combined at the desired location.