Taiwanese 3D printing company XYZprinting is targeting the professional and consumer markets with four new 3D printing products in February.
While the consumer 3D printing market has not yet boomed as expected, some companies have found success by focusing on integrating the technology into an affordable desktop product.
This has certainly been the strategy of Taiwanese 3D printing company XYZprinting. Their product range has continued to expand over the years, taking aim at both the consumer and professional markets.
After unveiling the da Vinci Nano last month, XYZprinting has unveiled four more 3D printing solutions in February. Each product takes aim at the various demands of their customer base.
XYZPrinting Continues Conquest of the Consumer Market
The da Vinci Jr. 2.0 Mix offers dual-PLA color capabilities, equipped with a dual-feed single extruder module that can print with two filament color types at once. The XYZware software enables "Multicolor Mode" and "Mixer Mode", allowing users to experiment with different gradients and tones. Designed for consumers and artistic designers, the Mix features a 5.9 x 5.9 x 5.9 inch build volume and auto-calibration. The retail price is $449.95.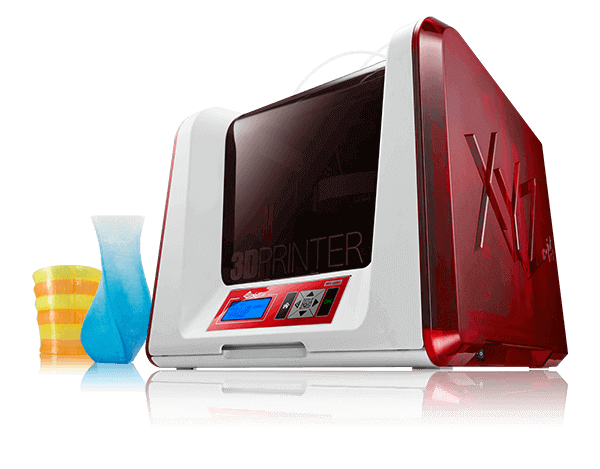 A sizable step above the Mix is the improved da Vinci Jr. 1.0 Pro model, a compact machine that XYZprinting created for the professional market. What makes this printer unique from most of their products is third-party 1.75mm PLA filament capabilities. On top of that, the company is also separately selling a compatible .3mm diameter extruder entailed for more intricate printing projects. This enclosed printer offers the same build volume as the Mix, and also costs $449.95.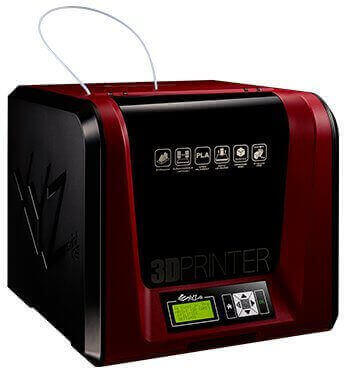 Nobel 1.0A: Fusing Affordability and Professional-Grade Technology
The Taiwanese company's knack for affordability is also infiltrating the SLA 3D printing market. XYZprinting has also upgraded the original Nobel 1.0 into the Nobel 1.0 Advanced. This second-generation model is equipped with an enhanced Laser Scanning Unit, improving precision with an X/Y resolution of 130 microns, as well as 25 micron layer thickness.
The Nobel 1.0A also includes an auto-filling resin system, and monitors both the printing process and the amount of material remaining in the chamber. It's compatible with a multitude of XYZ materials, including multi-colored acrylic resins, castable resins, and also flexible resin. The downside to this is dependence on proprietary materials. At $1995.95, the printer could potentially be a steal for those willing to sacrifice flexibility with resins.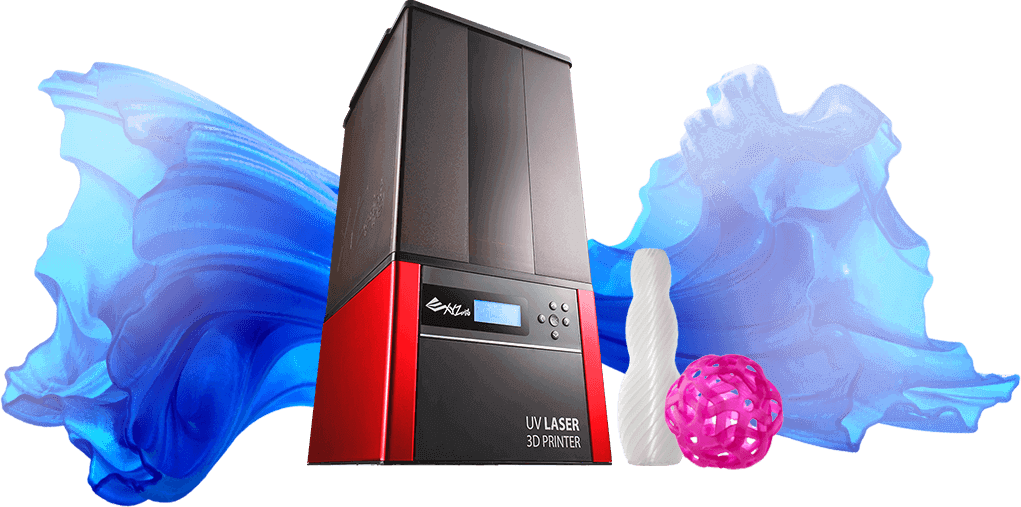 The final product XYZ rolled out in February is a UV Curing Chamber, another improvement to their SLA product range. Equipped with a 360-degree turntable and reflective inner mirror, this chamber enables speedy curing of photopolymer resin prints. The most noteworthy advantage over other devices includes the use of UV LED diodes, an environmentally-friendly source that consequently produces zero ozone.
The company claims that wavelength ranges of 370 to 405nm makes the UV Curing Chamber compatible with most SLA printers on the market. Clocking in at $399.95, this device serves as more proof that XYZ is beginning to look further beyond the consumer market.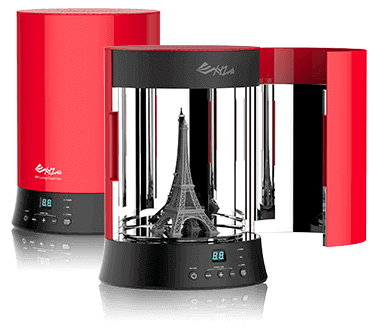 Needless to say, it's becoming increasingly clear from the Taiwanese company's ever-expanding product range that affordability is a key factor that results in consumer market success. While XYZ's products can certainly be seen as ideal for someone on a budget, sometimes a low-cost machine can offer the most bang for your buck.
License: The text of "XYZprinting Rolls Out Four New 3D Printing Products in February" by All3DP is licensed under a Creative Commons Attribution 4.0 International License.
Subscribe to updates from All3DP
You are subscribed to updates from All3DP
Subscribe
You can't subscribe to updates from All3DP. Learn more…