Fidget spinners are the newest craze on the web. As of today, some interesting fidget spinner campaigns have launched on Kickstarter.
"Reduce stress and enhance focus with a simple flick of the finger" – that's what fidget spinners promise. They appear to have the potential to be bigger than the yo-yo and hula-hoop combined. You can buy a decent assortment on Amazon or the web. Their drawback: They aren't customizable. Also, there are plenty of DIY options available. But not everyone is into making things.
So, what can you do if you want a really exclusive spinner? One idea is to turn to Kickstarter or Indiegogo for a fitting crowdfunding campaign. Here are two interesting models.
Fidget Spinner Kickstarter #1: The Flashlight Spinner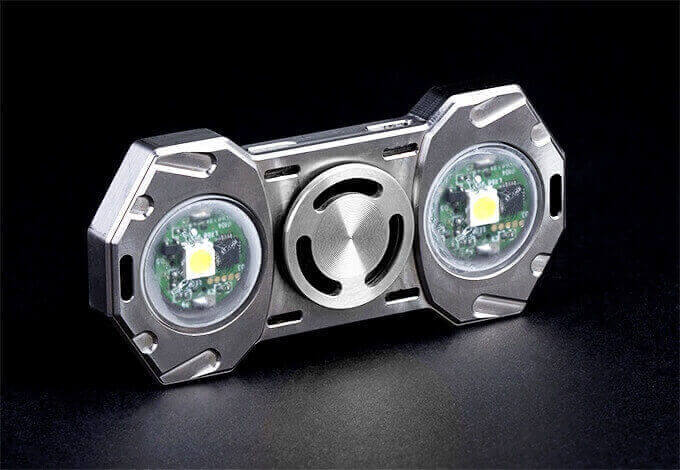 The Zerohour Rebel fidget spinner is unusual. It may look like a modern PC graphics card, but it's got some nice tricks upon its sleeve. First, it uses ceramic bearings that go – according to the makers – "from 0 to 60 in a flick of the finger."
But the real beauty us the LED microlights which are built into the fidget spinner. There's a switch that you click to cycle through Low, Medium, High, and Strobe modes, or click-and-hold to power off.
When fully charged, the two LEDs are powerful enough to work as a flashlight. The microlights use standard CR1620 batteries, which can be removed and replaced. There are three colors and materials available: black, polished titanium and sandblasted titanium.
The Kickstarter is already funded ($46.076 of $10.000) and has 26 more days to go. Here's the link.
Fidget Spinner Kickstarter #2: Spin it 'round Your Birthstone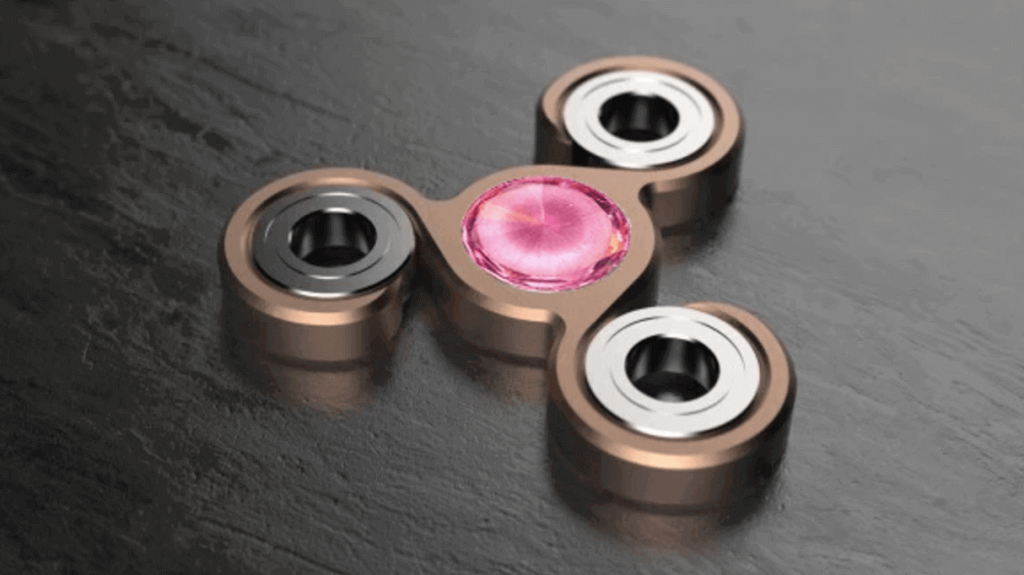 Cameron Murtagh' campaign just started recently. It reached $70 from its $8000 goal and still has 27 days to go. His fidget spinner with birthstone caps is a little different to many on the market.
Murtagh includes a locally produced birthstone of high quality to adorn the spinner with (if you want to know more about birthstones in general, please continue here.) It will be attached to a flat cap that will sit on the front of the spinner and can easily be removed if needed.
Murtagh, who already offers 3D printed goods, explains his reasons for starting a Kickstarter campaign, saying: "I have 4 printers running at once all day every day to stop me from running out of stock which seems to be a major problem with even big manufacturers such as Noblespin or Torqbar which are constantly out of stock for months on end."
Murtagh adds: "I will be offering different weight attachments for the arms on the spinners for people who prefer heavy or even light spinners." If you want to visit the campaign, this is the place to go.
Want more designs? Please check this page – you'll find the best fidget spinner designs we could find. Some of the models are 3D printable – simply upload these hand spinner designs to All3DP's price comparison service to get the price for which you can have them 3D printed professionally.
License: The text of "3D Printed Fidget Spinners Are the Newest Craze on Kickstarter" by All3DP is licensed under a Creative Commons Attribution 4.0 International License.
Subscribe to updates from All3DP
You are subscribed to updates from All3DP
Subscribe
You can't subscribe to updates from All3DP. Learn more…