Chinese 3D printer manufacturer Wanhao just bought US-based software company Datatree3D. Together, they want to further develop the SLA-centric software "CreationW3D".
DataTree3D provides 3D solutions for industrial manufacturers, hobbyists, and students alike. Their software, CreationW3D, offers a toolkit that lets users draw upon to control, monitor, and drive 3D printers and industrial control equipment. They also offer UV projectors with resolutions as high as 1080p, along with a full line of FDA registered resins.
Effective now, Chinese 3D printer manufacturer Wanhao will take over all trademarks, the legal property, and also the team of CreationW3D. The two companies will merge under the brand name Wanhao North America. Through this transaction, Wanhao has right to use Creation Workshop and it's most recent Version 10 of CreationW3D.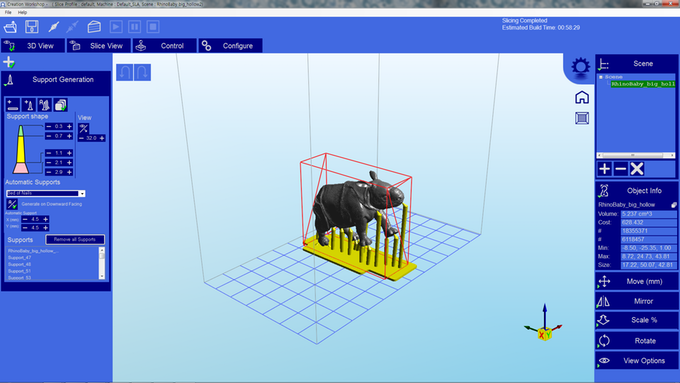 What's the Benefit for SLA 3D Printer Users?
Wanhao is an important player in the desktop printer market. The company started out as early as 2011; according to the Context Report 2017, the company managed to climb up to No. 3 sales in the FDM printer market. Also, their LCD SLA printer Wanhao Duplicator 7 offers an SLA 3D printing for an affordable price.
With the acquisition of Creation Workshop, Wanhao can now bundle its SLA 3D printers with the slicer and host controller application for SLA, DLP, SLS, LCD printers. Creation Workshop is available for Windows, & Linux. It can also host FDM, CNC, and Laser Cutters. Currently, the full license per year costs $495.
The Creation Workshop's developer version has been most widely used all over the world. This software will surely enhance the competitive edge of Wanhao and bring customer incomparable user experience and more exciting features for SLA 3D printing.
(Source: Wanhao)
License: The text of "Wanhao Strikes Deal With Datatree3D for Better SLA Printing Software" by All3DP is licensed under a Creative Commons Attribution 4.0 International License.
Subscribe to updates from All3DP
You are subscribed to updates from All3DP
Subscribe
You can't subscribe to updates from All3DP. Learn more…