Cristina Franceschini (AKA Crystif) can make it happen through her design abilities and Shapeways 3D printing services. She lives and works the small city of Fermo, which is one of Italy center for traditional shoecraft, with many top international brands based here.
Over the last few years, Cristina has turned to 3D printing, both at home for prototyping and through Shapeways for final production, as an affordable way to create amazing custom-made shoes (and jewelery), in unique shapes inspired by beautiful flowery figures, complex geometries and ancient mythological images. Bacco and Eva are only her latest creations. "I am making the Eva model, if I can do it in time, for the MICAM international shoe exhibit in Milan," says Cristina, "every year the Chamber of Commerce sets up a small exhibit and the often ask me to contribute with my models."
3D printed gods at your feet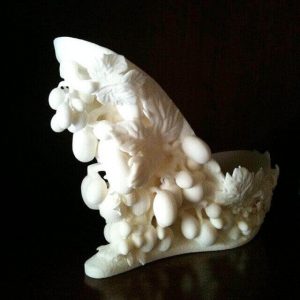 The other new model, Bacco, is inspired by the Roman God of wine, and it is represented by a grapes and grapevines. Making these figures with any other technology would impossible or really expensive at best. With 3D printing even one talented designer can make her creations real all on her own. Either just for show, or even for sales at prices starting at just around $2.The way Cristina specially designed heels work is by using the 3D printed nylon sculpture as an external cover for a regular steel stiletto heel. This way she can optimize the weight, comfort, solidity and stability of the shoe.
Cristina digitally "sculpts" her creations using Zbrush, the 3D modeling software that she learned through an online course by Zbrush Italy expert Daniele "Danko" Angelozzi. "I realized that if I wanted to start creating my own desgins the first thing I would have to learn how to do was 3D modeling, so I found out about the course taught by Daniele and it was the best decision I could take;" Cristina explained. "I was able to follow the lesson in streaming online or watch the recorded versions if I was not able to make it in time. Daniele was also extremely supportive and, although it was not easy, learning Zbrush manageable."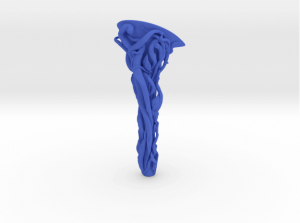 The next step in Cristina's creative process is to 3D print the first prototype of a new creation on her desktop. She uses a PowerWASP 3D printer, one of the very first created by Italian 3D printer manufacturer WASP. "I bought it as soon as I found out that there were affordable desktop 3D printer models on the market. With this approach I can create any quantities I want and change them as many times as I like," Cristina says, adding that her model in 3D printed shoes is desinger Iris Van Herpen, especially for the way she is able to experiment with different materials.
The finish of Cristina's shoes is done by local experts. They can either be colored or have a metallic finish applied to them, to make them feel just like metal and yet as light as plastic. Judging by how fast Cristina's creations are evolving, I'm pretty sure we are only at the beginning of something great.
[ff id="2″]
License: The text of "Walking on 3D Printed Works of Art" by All3DP is licensed under a Creative Commons Attribution 4.0 International License.
Subscribe to updates from All3DP
You are subscribed to updates from All3DP
Subscribe
You can't subscribe to updates from All3DP. Learn more…