Unveiled at Beijing Design Week 2015, VULCAN holds the Guinness World Record as the world's largest 3D printed architectural pavilion.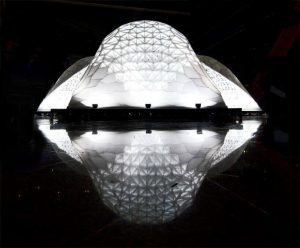 History was made at the Beijing Design Week with a 3D printed architectural pavilion named VULCAN.
Designed by architects Yu Lei and Xu Feng of Beijing's Laboratory for Creative Design (LCD), VULCAN was awarded with a Guinness World Record for the biggest 3d printed architectural pavilion in the world.
The architectural feat was shown at Parkview Green Complex, the high-tech commercial and office complex that hosted the Design Week.
The event has been running since 2011 and blurs the lines between technology and art.
The white structure is supposed to resemble the mushroom cloud that forms during a volcanic eruption. The word "vulcan" in Latin is the term for a volcano.
But VULCAN was also inspired by a much smaller aspect of nature — the silken, webbed filaments were drawn from LCD's research of cocoons. It is supposed to be a symbol for the unpredictable forces of nature, and the fragility of human civilization.
How the 3D Printed Architectural Pavilion was made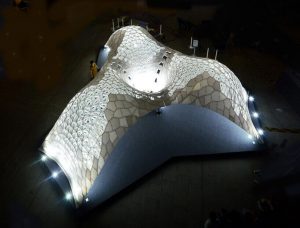 VULCAN is eight metres long is comprised of 1,086 different 3D printed constructive units, making the structure nearly three meters tall.
The arched pavilion took 30 days and 20 large-scale 3D printers to complete each of the units. This was then followed by 15 people taking 12 days to assemble the pieces on site into the final structure.
The pavilion can also be divided into three identical modules, in order to be able to fit the requirements of the exhibition area. As with the natural feat that the pavilion was based on, Vulcan shows us that a structure can be intricate and elegant while still being incredibly strong.
The team explained to Design Boom:
"In extrapolating the form from the cocoon's biological parent body, we seek to combine the 3D printing and spatial construction processes with the activities at the beijing international design week. It will create an open plan 'parent body' that can accommodate various activities for the public."
VULCAN was the most impressive 3D print at Beijing Design Week, and shows us yet another way in which 3D printing can change the world.
License: The text of "VULCAN: The World's Biggest 3D Printed Architectural Pavilion" by All3DP is licensed under a Creative Commons Attribution 4.0 International License.
Subscribe to updates from All3DP
You are subscribed to updates from All3DP
Subscribe
You can't subscribe to updates from All3DP. Learn more…