Scientists working on a paleontological dig are using 3D printing and virtual reality to teach Australians about the dinosaur bones found in their backyards.
A team of students from Deakin University are using technology to capture a paleontological dig called Eric the Red West. The dig is taking place at what used to be a Gondwanan riverbed.
Both scientists and volunteer dinosaur enthusiasts have found more than 200 dinosaur and mammal bone parts in just 12 days.
However, the findings won't be on display in the usual manner. Instead, the exhibition will make use of virtual reality to showcase the behaviours of the dinosaurs. A 3D printed dinosaur will also be the centrepiece of the experience. It will be based on one of the most complete skeletons ever found in Australia. But unlike a regular museum, visitors are encouraged to touch it.
When all the work is done, it will be displayed at Geelong's National Wool Museum. Deakin's Virtual Reality Lab head, Ben Horan, and industrial design lecturer, Kaja Antlej are the project's founders.
Dr Horan explains:
"We're looking at how we can use virtual reality and 3D printing to help with providing educational experiences in a museum context. Dinosaurs are something that excites most people, including myself. So we thought 3D printing, dinosaurs and virtual reality would be a great combination."
3D Printed Dinosaurs Take Over Museums
The museum will use virtual reality in order to allow visitors to look around the dinosaur's natural habitat, see the dig, and then even reach down and touch the tactile 3D print.
Right now, Horan and Antlej are working on how to best 3D print dinosaur skin. They want visitors to be able to understand the contour of the skin as well as the geometry and size of the dinosaur.
The dinosaur on display is called the Leaellynasaura. It is small dinosaur and lived in Victoria, Australia, 100 million years ago.
Palaeontologists believe its skin was similar to an eastern blue tongue lizard. Dr Horan explains:
"We have scanned an eastern blue tongue lizard and we're 3D printing the scales as best we can. Then we'll take that to the experts and handlers of blue tongue lizards and ask them which best represents the lizard and then we'll just place that skin onto the dinosaur."
The Leaellynasaura is supposedly a shy creature, so this will also apply to the VR experience. Approaching the creature will need to be done with care. However, Dr Hornan says: "Eventually if you get to know it maybe it could be a friend you could take out on a lead for a walk."
Professor Vickers-Rich has uncovered several dinosaurs in Australia throughout her career. She says 3D printing is an exciting way to showcase her work and engage Australians in new ways. She said: "I think what we're trying to do is wake up the Australian public to the fact that we have some really cool unique material here."
Source: ABC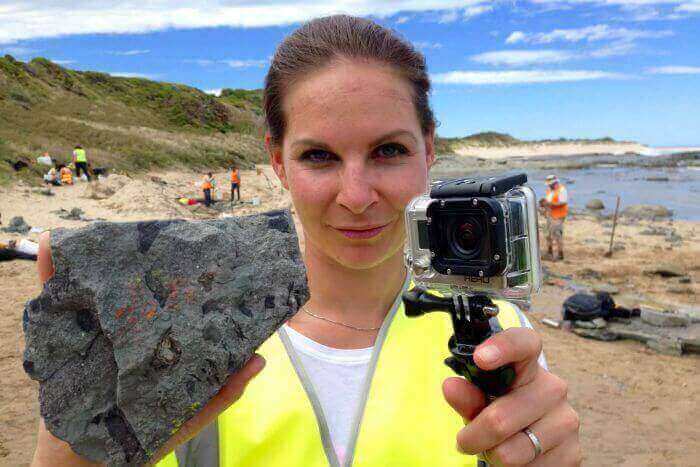 License: The text of "Using Virtual Reality and 3D Printing to Learn About Dinosaurs" by All3DP is licensed under a Creative Commons Attribution 4.0 International License.
Subscribe to updates from All3DP
You are subscribed to updates from All3DP
Subscribe
You can't subscribe to updates from All3DP. Learn more…